Mass. Restaurants And Bars Prepare To Shut Down To In-Person Diners
02:22
Play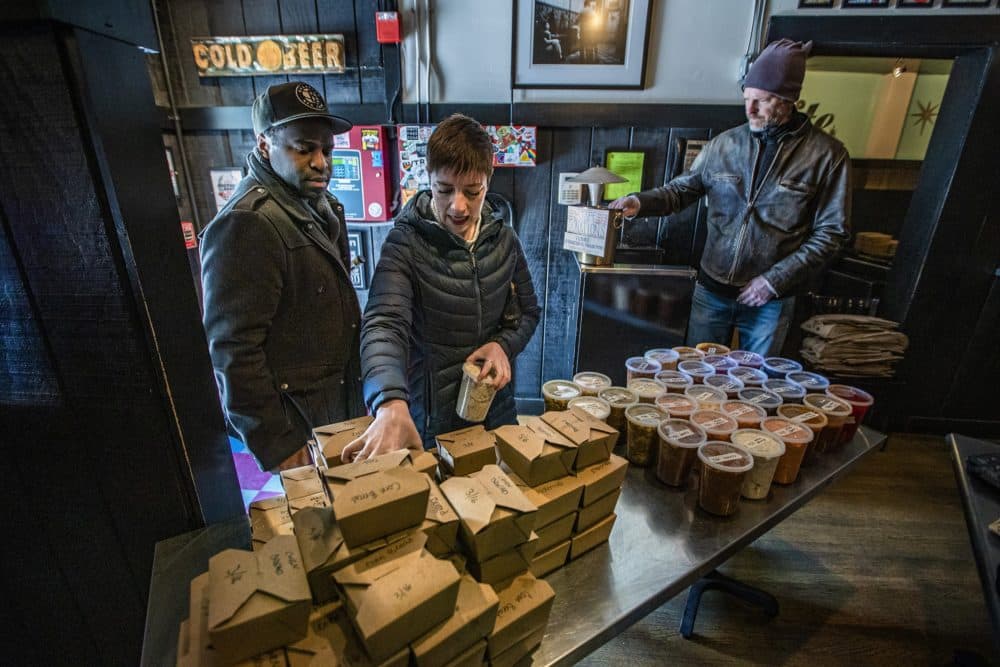 Governor Baker on Sunday ordered all Massachusetts restaurants and bars to limit their business to takeout and delivery until April 6, in an effort to slow the the spread of the novel coronavirus. For many local establishments, the new restrictions mean they must temporarily close down.
On Monday, as restaurants prepared for the shutdown, the door to Trina's Starlite Lounge in Somerville was open. In the entryway was a donations bucket, a hand sanitizer dispenser and a table crammed with containers full of food.
The food in the Trina's kitchen wouldn't keep for three weeks, so the restaurant decided to give it away.
"We're a neighborhood restaurant, neighborhood bar," said Trina's co-owner Emma Hollander. "And we wanted to make sure ... that our staff took as much as physically possible yesterday because, you know, everybody is going be out of a job for three weeks. And then we just cooked the rest off, so the neighborhood could come and take as much food as they wanted."
As customers filtered in to chat and load up on mac 'n cheese and coleslaw, they dropped cash into a bucket labeled "staff donations." Trina's non-salaried front-of-house employees would be effectively out of a job while the bar, which doesn't offer takeout or delivery, was closed. And the business itself would take a hit, too.
"I think everybody's terrified," Hollander said. "We're really just trying to keep our spirits high and do the best we can. But I mean, this is this is something that's never happened in our industry before. So I think everybody's pretty worried."
That includes the bar's regular customers, like Kate Heffernan and Omar Robinson, Somerville residents who came to load up on food and donate to the staff.
"We get to know the servers by name, we hug them, we say hello, we say goodbye. We care about their lives," Heffernan said. "And you know, you see people you love and they're struggling. And we understand that it has to happen. But I'm glad that we can come in and grab some food and Venmo them to help support them during the time they have to be shut down."
"I'm just happy we got to see them, more than anything," Robinson said.
A mile down the road in Somerville's Davis Square, Diesel Cafe prepared to scale back its operations. The popular lunch spot, which is usually packed with people sipping lattes and working on laptops, was preparing to close to diners, though it would continue to offer takeaway throughout the ban.
Michael Mirabella was working Diesel's sandwich station on Monday. He expected sales to slow down, but not stop. "We're the sort of place where there are takeout orders and that's something that, you know, we do a fair amount of," he said. "So I don't think the takeout-only thing will affect [employees] in a way where I won't be able to work at all." Some of his coworkers, he added, had even offered to take salary cuts so that hourly staff could keep working. Customers had been kind, too. "People are sort of making up for the fact that we are not busy with either buying more things or buying gift cards or tipping us really, really generously," Mirabella said.
Others weren't so lucky. The owners of the popular Cambridge establishments Christopher's Bar and Restaurant, Toad, Cambridge Common and the Lizard Lounge decided to suspend pay for their over 100 employees, even those who work full time, during the ban.
"We're losing income now for at least three weeks," said the restaurants' director of operations Nicholas Emmons. "Even the salaried folks, we can't — including myself — we can't afford to keep on paying people."
When restaurants were allowed to reopen, Emmons said, it could be a challenge to rebuild.
This segment aired on March 17, 2020.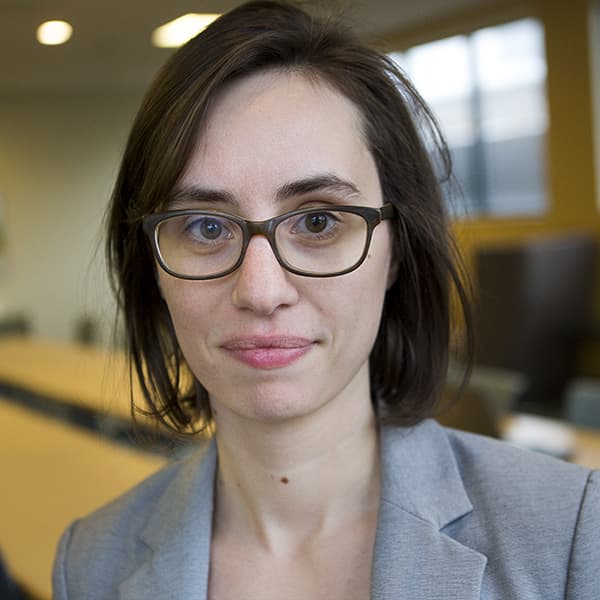 Amelia Mason Arts And Culture Reporter
Amelia Mason is an arts and culture reporter and critic for The ARTery, WBUR's arts and culture team. She covers everything from fine art to television to the inner workings of the Boston music scene.