Introducing The ARTery's Living Room Livestream
Massive closures of museums, venues and other cultural spaces have impacted the arts and culture landscape in many ways. The ARTery had to cancel our own events highlighting Boston creatives because of the coronavirus pandemic. Local artists have been pushed to the edges of monetary security due to the loss of gigs, tour dates, performances, lectures and more. Now, many are turning to the virtual world to continue to connect with their audiences.
We didn't want to let the closures of venues stop us from 1) continuing our programming with local artists and 2) connecting with arts lovers in Boston and beyond. Over the coming weeks on Instagram Live and Zoom, we'll be highlighting some creatives here in the city who are finding virtual ways to expand their artistic practice.
May 22: The ARTery Film Critic Conversation on "Between the Lines"
Join film critic Sean Burns and The ARTery editor-at-large Ed Siegel for a conversation about the comedy, which explores the "waning days of a Boston alt-weekly newspaper." Starring Jeff Goldblum, Stephen Collins and Jill Eikenberry, "Between the Lines" asks some contemporary questions about the state of journalism. Register here.
May 12: Quarantine Sourdough Starters At Home
Join Andrea Shea, reporter for WBUR's The ARTery, and America's Test Kitchen's Andrew Janjigian for a look into creating sourdough starters from scratch. Since the beginning of quarantine, yeast packets have flown off the shelves as people bake more and more bread at home. Andrew Janjigian will walk viewers through the process of creating your own sourdough starter, the old fashioned way. Register here.
May 8: Behind the Scenes with Somerville Band Parsonsfield
Join us for a live performance and a behind-the-scenes look into Somerville band, Parsonsfield. Lead vocalist Chris Freeman will walk viewers through his artistic and musical process. (Check out the video for Parsonsfield's new "Now That You're Gone" here)
April 23: Finances for Artists with Ngoc-Tran Vu
Artist and arts organizer Ngoc-Tran Vu will lead us through a Zoom workshop that covers finances and taxes for artists. This hour-long class will lay down some of the basics of how to handle finances as a creative.
April 17: Porsha Olayiwola
Boston's poet laureate joins us for a conversation about creating during this time before performing poetry and pieces from her new book, "I Shimmer Sometimes Too."
April 10: DJ Real P
DJ Real P has set the sound for so many cultural spaces across Boston. We'll be talking with him about the power of music to build community before he takes over for a live DJ set.
April 3: OJ Slaughter
OJ Slaughter has worked with the ARTery on a number of projects, including our Sound On and The ARTery 25 series. They'll give us a peek behind the curtains while conducting a live photoshoot.
This article was originally published on March 30, 2020.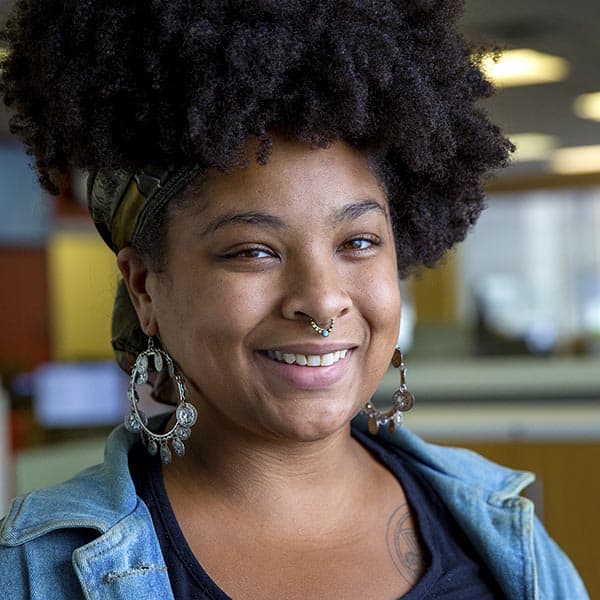 Arielle Gray Arts Engagement Producer
Arielle Gray is the Arts Engagement Producer for The ARTery. She manages its social media, events and curated content.