Even Without An Audience The Gardner Museum's Nasturtiums Are In Bloom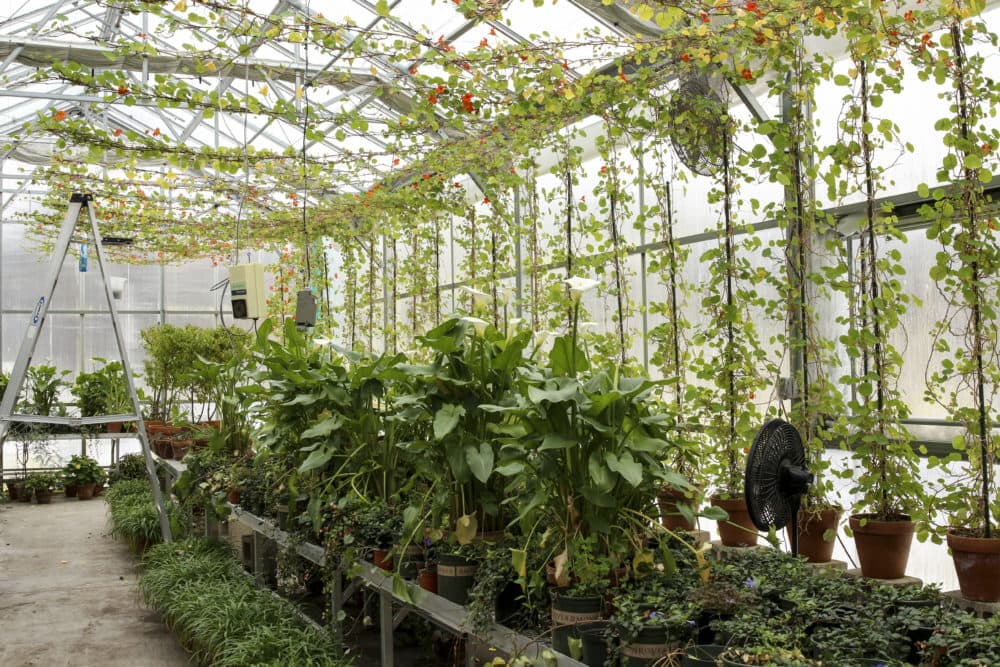 In April the Isabella Stewart Gardner Museum usually celebrates its namesake's birth month by installing a cascading display of 20-foot-long nasturtium vines in the historic building's indoor courtyard. Alas, this year visitors can't see the vibrant, orange blossoms in situ because the museum is closed due to the coronavirus. Without patrons, the decision was made to keep the nasturtiums where they were born, off-site, in the museum's Hingham nursery.
But fans can catch a glimpse of their current glory through a new video. It offers a tiny snapshot of the months of work that went into nurturing this year's hard-won crop of delicate tendrils.
The behind-the-scenes tour is led by Erika Rumbley, the Gardner's director of horticulture. She takes viewers through the 10,000-square-foot heated greenhouse space built in 2011. Hundreds of plants are grown there before being transported to Boston. Rumbley ends her walk at the nasturtiums, rooted in clay pots, their flowers, leaves and vines climbing towards the sun on ladders.
"The plants give us a sense of seasonality and the passage of time," Rumbley said, "This can be grounding at a time when our experience of time is unmoored. For many of us the routines that structure our lives have been disrupted. It is a small solace, but there's a bright, ostentatious joy in that saturated orange flower."
Rumbley acknowledged how it feels odd for her and the team of growers not to be readying the plants for "public delight." But she hopes people will get pleasure and comfort by seeing them virtually.
Mrs. Gardner first showed her nasturtiums in 1904 and they've been grown at the museum for more than 100 years. Her birthday was April 14, and for many, the flowers' annual debut are an anticipated harbinger of spring.
While Rumbley described the nasturtiums as common flowers, she said the way they're grown is spectacular and unusual. "We've been giving this gift to the public for over 100 years," she said, "and this year is no exception."
Rumbley and her team began nurturing the nasturtiums in June. They sowed seeds and cuttings in the greenhouses where they also trained the vines throughout the winter. Each year about two-dozen of strongest, most vibrant plants are cast to be the stars of the courtyard.
"The vines require continuous care in the greenhouse to ensure dramatic length and require up to ten workers to install in the Museum," Rumbley said, "The result is a stunning display that cannot be found anywhere else."
Museum director Peggy Fogelman expressed sadness over not being open to the public this spring. In a statement she echoed Rumbley's words about the nasturtiums. "It's heartening to remember their cyclical growth; this season's flowers will ultimately yield next year's blooms, which we hope will again provide the beauty and inspiration that has heralded spring in Boston every year since Isabella's own time," she said, "We're grateful to the entire horticultural team who are still doing essential work to maintain our living collection during closure."
A new blog post on the Gardner's website expands on what it takes to manage the hundreds of plant varieties that populate the iconic courtyard. Like the nasturtiums, they're all grown and cared for off-site before the horticulturalists transport them to Boston in a climate-controlled box truck. Some plants take years before they're ready for the courtyard. Earlier in April the growers potted campanula pyramidalis which which won't come into bloom until August 2021.
This unprecedented April also brings the first nasturtium season without the museum's beloved gardener Stanley Kozak. He died in November 2019 and had sculpted the blossoming vines for nearly 50 years.
When asked what she thought her ever-humble predecessor would think of having to shares the nasturtiums online now Rumbley replied, "Stan often reminded us that as a grower no two seasons are the same."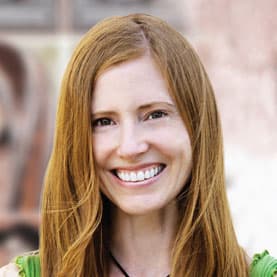 Andrea Shea Senior Arts Reporter
Andrea Shea is WBUR's arts reporter.