On New Album 'Goldie,' Indie Rock Band Tuxis Giant Explores Brighter Sound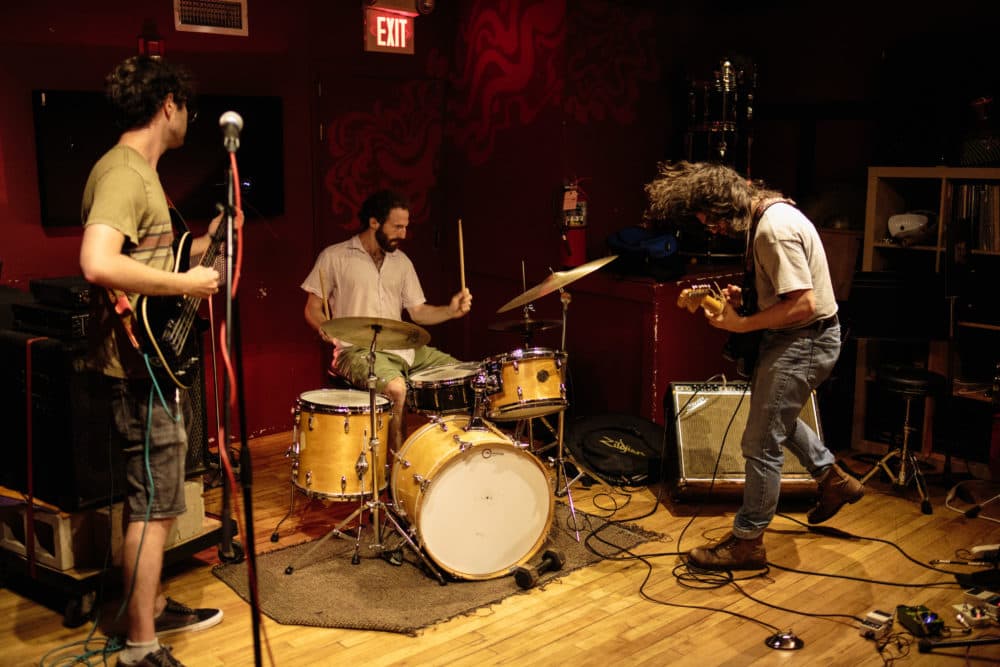 Indie rock band Tuxis Giant planned on hosting a record release show for "Goldie" at Pink Noise Studios, embarking on a solo tour, and selling tapes and merch at shows. However, the COVID-19 pandemic derailed those ambitions for Matt O'Connor, James Steinberg and Ted Chafizadeh, who moved away from Boston but was involved in the album. Like every other band, Tuxis Giant is adapting to a new world of digital-only releases and livestreamed shows. "Goldie," originally slated for a May 8 release, will now be released on Bandcamp May 22. All pre-order sales for "Goldie" will be donated to the Massachusetts COVID-19 Relief Fund.
"Goldie" departs from Tuxis Giant's last record "Here Comes the Wolf." That album is more somber, drawn-out, sprawling slowcore, while the brighter "Goldie" features shorter arrangements and experiments with elements like flute, violin and synth. In their single about dreaming called "Unliving," Chafizadeh spliced together flute and synth for a jarring but ethereal sequence. "We're also stretching out into different sounds we haven't before and always staying curious and trying new things...On this record, there are a lot of textural things that we had never done anything with before so Ted added a lot of flute parts to this record," O'Connor said. "I think it might be my favorite thing on the record, that flute part. It's just so wild...He layered a synth with some flutes and harmonized them in a weird way and just kind of synced it up with a guitar part and the rhythm."
On "Goldie," Tuxis Giant plays a lot with dynamics, altering between slow and fast, quiet and loud. "Bethlehem," which they've already performed live, is a quiet song that builds up to a crescendo. "It's fun using dynamics to create different moments of impact throughout the song whether it's getting really loud or intense or getting really quiet and kind of sucking people in to pay attention to those moments," O'Connor said. The change in their sound is also reflected in the album art that features a sun-drenched photo of flowers, incorporates bright red lettering, and plays around with layout.
Tuxis Giant, which started out as a solo project in 2013 for vocalist and guitarist Matt O'Connor, started writing "Goldie" as they were preparing to release "Here Comes the Wolf" in 2018. They played a few "Goldie" songs live at the "Here Comes the Wolf" release show and have been tweaking them since. Last year, they spent six months recording their latest album. O'Connor said he draws musical influences from Bill Callahan, Hop Along, Krill, Neil Young, Pile and Songs: Ohia.
Tuxis Giant's record release plans came to a screeching halt with the COVID-19 pandemic. Now the band is adjusting to a dystopic new normal devoid of the live shows that are so important to the DIY and music communities. "I mean it's a real bummer that we can't play live. We were getting really excited for the release show. We found a bassist to fill in...And then I was going to go on a big solo tour just around the country...It sucks that all that work kind of gets put away and then on top of that, it's kind of difficult to get tapes made because a lot of those places aren't open because of social distancing," O'Connor said. "But at the same time, I mean I'm home and I'm listening to a lot of music and I'm getting excited when new music comes out so, hopefully, people like it and if they plan on listening to it hopefully it will be a nice thing to have while they're stuck at home."
O'Connor said that while it is a hindrance their band couldn't perform live, the community is still there despite taking some hits like Great Scott closing because their landlords Oak Hill Properties, LLC will not renew their lease. "I think especially the stuff with Great Scott, it sort of is a sucker punch in that sense because...Live shows are a huge part of our music community. It's kind of the backbone in a lot of ways," he said. "Now it only exists on the internet, we can't be around each other and...some of our community spaces are taking a hit too so it's a scary thing. But again, it's nice to see people showing up and playing these virtual shows. It's times like this that weirdly reminds you there is a good community and people are looking out for each other, which is nice. That is, I guess, the silver lining if there is one."
The full band isn't able to get together to do a virtual show to celebrate their release due to social distancing guidelines, but O'Connor said he may do a solo set close to the release day. O'Connor has been participating in virtual open mics like the Bummer City Open Mic.
"This whole thing is bigger than our band. People are at serious risk and I think that's one part of the reason why we're donating all the money so far...it's more important for us to not tour and to not play live and to stay inside because this is a global emergency and we got to look out for people who are at high risk," O'Connor said. "Maybe objectively it seems like things are the end of the world but this record is not. Not going on tour is not the end of the world."
To support musicians during the pandemic, O'Connor suggests buying their records, tapes and merch. "If there's a band you find yourself listening to on Spotify a lot, buy something from them on Bandcamp or their website...Nobody makes money from Spotify," he said. "I know there are some bands doing livestreams and putting up their Venmo or their Paypal. Send them some money. A lot of bands whose income depends on touring and selling records, they're really hurting right now. So definitely try to cut out the middle man. Get the money to the bands. I think that's the biggest thing you can do."