At The Prudential Center, A New Public Art Installation Aims To Inspire Joy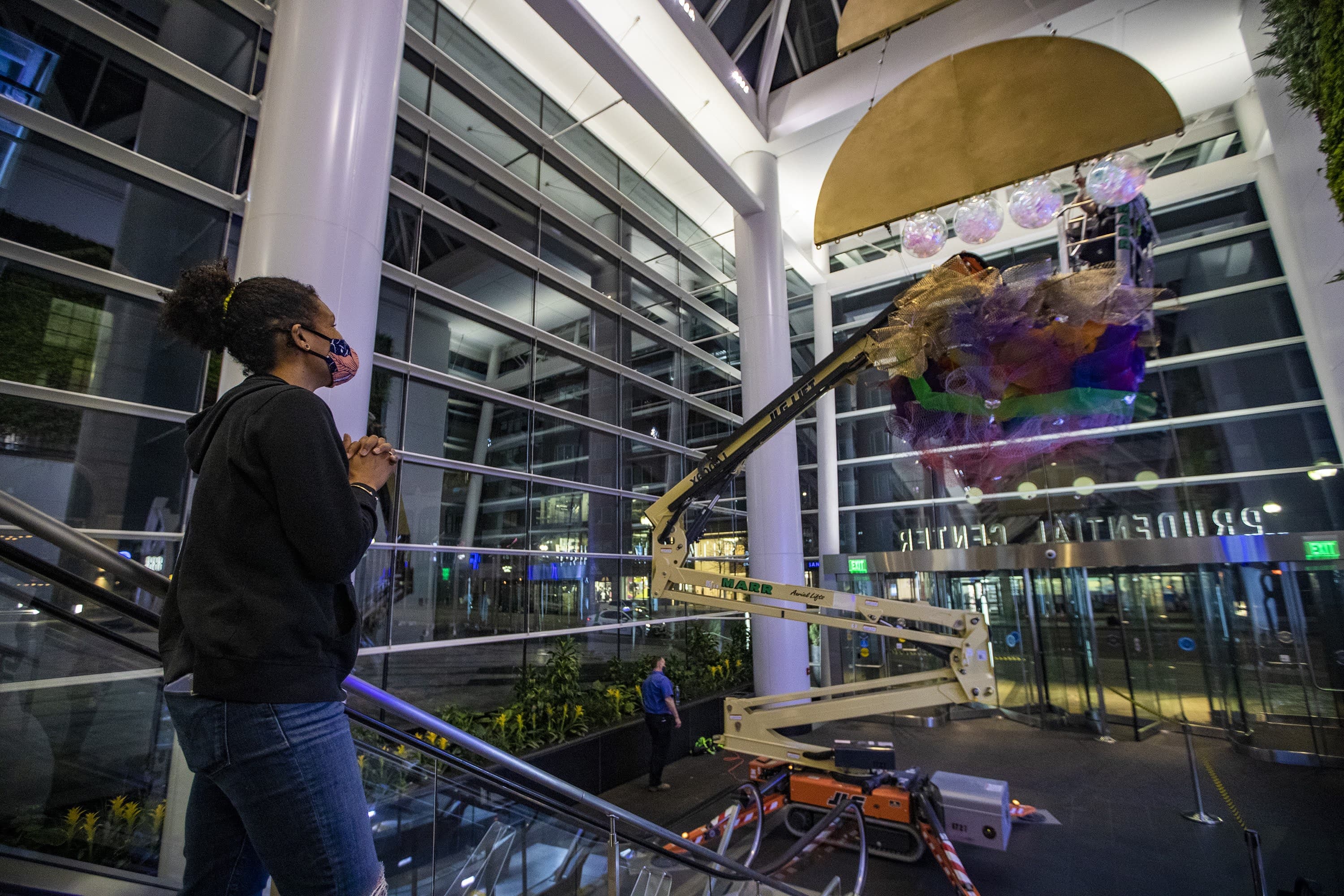 For artist Cicely Carew, process and presence might be just as meaningful as the remarkable artwork she creates. The visual artist, mom and yoga practitioner paints, works in mixed media and monotype printmaking and talks of loving, forgiving and healing as though living is art itself. She spends much of her time developing her work, cultivating happiness and making space to forgive herself and others for mistakes.
"When I try to control things, that's when it gets messy. My art reminds me of that," Carew says. "So, I let those mistakes stay there, or the messy things stay there because it reminds me to stay light and to laugh."
That outlook informs the L.A. born, Cambridge-based artist's newest project, "Ambrosia," a dance of color and light that feels like walking beneath brilliantly hued clouds of red, green, orange, purple and yellow. The public art installation opens March 15 at the Prudential Center and was commissioned by Boston Properties and curated by Now + There, a public art organization that brings site-specific, temporary works to Boston neighborhoods.
Totaling more than three tons, "Ambrosia" is anchored by two sculptures suspended in the Pru's Center Court and Boylston Street entrance. The work has been in the making since last June and has morphed a little along the way. But the journey to her dreamy piece pushed her to think about what she needed and what we all needed during this time: joy. She wanted to develop a piece that ushers people into "some other cerebral space or heart space."
The exploration of bliss, liberation and possibility anchors Carew's body of work. Each piece, she writes on her website, "contains a record of the process, informing the next as a roadmap to bridging the heart and mind."
It's fitting then, that "Ambrosia," with its multiple elements can feel other-worldly, like a constellation of sorts.
"We wanted her to think about the architecture, the way that the light comes through here, and how we can create these like little pockets of comfort for people," says Leah Triplett Harrington, assistant curator at Now + There. "Boston Properties really wanted something that will create a sense of adventure through the space."
After Harrington discovered Carew's work and met with her, she knew Carew was the right spirit to bring into the space. With this project, she wanted to feel like she was standing in a 3D Cicely Carew painting. "I think we've achieved that," Harrington says.
For "Ambrosia," hundreds of crystals, tulle-like sculptures, colorful beams and plexiglass come together for a multisensory experience high above the thoroughfares in the Pru. The iridescent film on selected panes of glass in the ceiling will catch the light.
The hope is to "activate the floor with rainbows," according to Meg Kelly, the project manager for BRM Production Management. She and her colleague, Bianca Mauro, BRM's owner, helped Carew construct this work. The trio has been working on the production of "Ambrosia" since December. Before showing up to build, they worked over Zoom to view Carew's concept sketches and hear more about the maker's vision.
"She's not creating renderings to look exactly like this. She's creating conceptual ideas and themes and feelings," Mauro shares.
Part of the excitement is taking "a two-dimensional thing on a piece of paper and helping Cicely get to the point where you can touch it and physically feel it. And it's alive," Mauro says. Kelly and Mauro also had to figure out how to stay within budget for the volume of materials required and how to make the piece structurally sound and safe for the public, Mauro says. To do this, they purchased flame retardant items such as chicken wire, window screens and more.
In January, BRM's maker space overflowed with spray cans, purple-painted cords, silver sheets and ribbons of what looked like colorful gauze cascading from high above. Closer to the ground, they were building buoyant pieces inspired by flowers with healing properties that promote mind, body and spirit alignment.
At the Prudential a week before the installation opens, the flower-inspired sculptures constructed in January have loosened up a bit in form and ooze like frosting on a warm cake. Inside of what used to be an Ann Taylor store, the huge astral pieces — each consisting of four rolls of window screen mesh — wait to be hung. There are gold discs, wire and multicolored circles on countertops. A small crew of people from the organizations involved are scattered throughout the store and the mall's hallways, spray painting, organizing and installing the work bit by bit.
The flurry of activity feels hopeful. It's been a year since the pandemic hit, forcing museums and galleries to close their doors. It's made Harrington a sharper, bolder curator, she says. It's also made Now +There staff's relationships with the artists deeper, says Kate Gilbert, the organization's executive director.
Due to COVID's impact, BRM lost 90% of its business so this project gave Mauro a sense of purpose.
"It was easy to get lost when you're trying to make art when no one else wanted to and the world was a scary messed up place for months," she says. This project, though, "was a bright spot. It was literally like a little pile of glitter in a very dark place."
Purpose is why Carew creates. She had to explain to her 7-year-old son, Luciano, who comes to work with her often, that she makes art because it fills her up, and that one day he'll share his vision and ideas with other people in whatever way he chooses.
The award-winning abstraction artist — who counts Wangechi Mutu, Beatriz Milhazes and Julie Mehretu among her inspiration — has been finding ways to share art through multiple avenues. In addition to showing her work in galleries, she was recently invited to create a public art installation viewable at two Peloton stores in New York, and provide cover art for Boston Art Review's Issue 06. Carew's work can also be found in private, corporate and university art collections.
But she hasn't done anything quite like this before. Some of her work, such as "Samadhi" — defined as the highest stage of meditation where a person experiences oneness with the universe — and "Hide and Seek," seems to foreshadow this new direction; popping off gallery walls, angling for bigger spaces. With "Ambrosia," Carew's work — fully free of canvas and wall — soars in the mall's sky.
Carew hopes that passersby at the Prudential take a moment to stop and be with the work. When developing "Ambrosia," she focused on "transcending from the idea of separation to oneness," she explains. "If I could cast a spell on everybody, that would be the thing…unity consciousness. You go into the space…and you feel that you are part of everything and everyone."
---
"Ambrosia" opens to the public on March 15. On March 25, Now + There will host a virtual "Ambrosia" Opening Talk with Cicely Carew.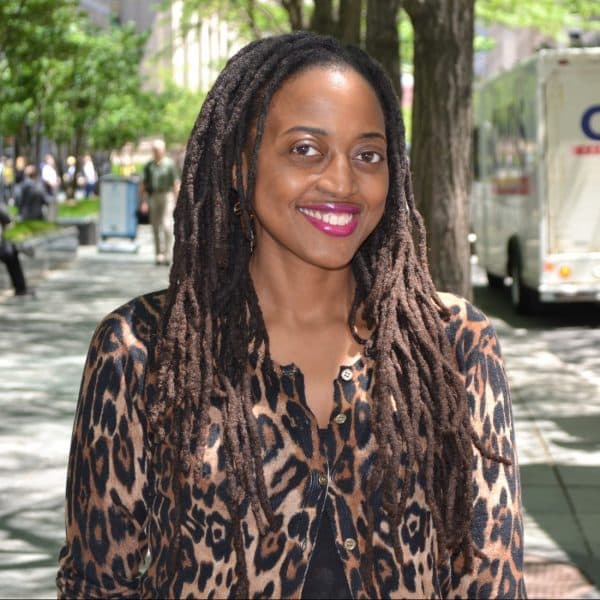 Jacquinn Sinclair Performing Arts Writer
Jacquinn Sinclair is a freelance arts and entertainment writer whose work has appeared in Performer Magazine, The Philadelphia Tribune and Exhale Magazine.