Demonstrators Call On Boston Companies To Bolster Black Employment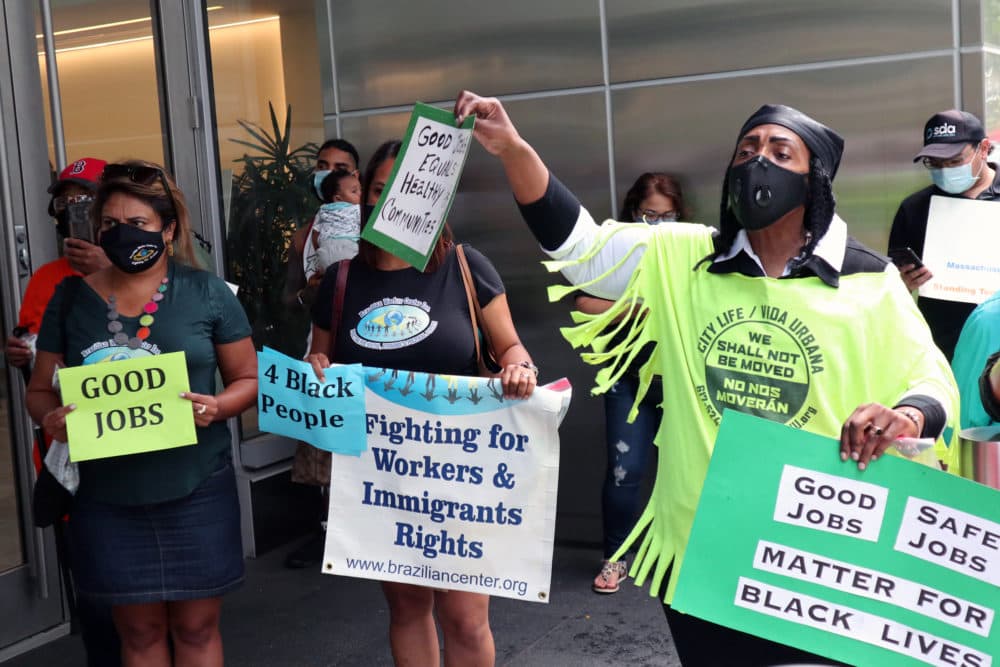 About 30 people from an array of community groups demonstrated in front of the Seaport headquarters of the biotech firm Vertex on Tuesday, calling for changes that they say would give the city's Black residents greater access to jobs in the tech and biotech sectors. Organizers of the rally pointed out that Black residents have been historically excluded from these industries due to systemic racism.
The advocates included representatives from the organizations City Life/Vida Urbana, MassCOSH, New England United 4 Justice, and the Roxbury Neighborhood Council, and Brazilian Worker Center. A little before noon, the demonstrators gathered on the sidewalk. A couple of them held signs that read "GOOD JOBS FOR ALL!" and "GOOD JOBS EQUALS HEALTHY COMMUNITIES."
In a written statement, the organizer of the rally, a group called Action for Equity, called on large, Boston-based companies such as State Street, Liberty Mutual, GE, and Vertex to "join us in increasing employment of Black residents and residents of color in your company and in your industry."
"It is well documented that employment in technology, biotech, pharma and financial services is overwhelmingly white," the statement read. "Responding to this historic exclusion is part of today's moment."
A recent report by Mass Technology Leadership Council estimated that in 2018, Black or African American people made up only 5% of tech workers in Massachusetts, which fell below the percentage of tech workers who were Hispanic or Latino (7%), Asian (20%), or white (67%).
To that end, organizers are asking the companies to do three things: share demographic information on their employees; commit to diversity hiring and retention goals for specific positions; and work with Action for Equity to develop outreach and training pipelines that would help prepare residents for future job openings.
If companies will work with his group to make significant changes, Marvin Martin, executive director of Action for Equity, said it could create momentum for other employers to do the same. "Hopefully, it will be a domino effect," he said.
Reached for comment by WBUR, a spokesperson for State Street Corporation said the company's chief diversity officer, Paul Francisco, plans to connect with Mr. Martin in the coming days. Meanwhile, Vertex spokeswoman Heather Nichols told WBUR that the company is committed to "developing Black people and people of color across our organization."
A spokesperson for Liberty Mutual did not respond to questions about Action for Equity, but said that the company has sponsored several events that focus on diversity in tech, such as Hack.Diversity. As for GE, a spokesperson for the company said it has received Action for Equity's statement and is working to schedule a meeting to learn more about the group's efforts.
"Maybe new programs have to come up, which are specifically geared to teaching the youth technology," he said. "In a billion-dollar industry, I'm sure there's a way."
This article was originally published on July 14, 2020.