Navigating The Digital Divide While Preparing For Public Radio's Future
As we explore what the future might look like for public radio, we can't forget that as technology advances, it inevitably leaves people behind.
The possibilities for public media inside the smart-speaker space, for example, are endless. But it's crucial to remember that the barrier to entry is surprisingly high. It means at least one device — plus a fast, reliable, and generous internet connection. At WBUR, we are always telling listeners to "ask your smart speaker" to do this or that. It's reasonable to assume many of them have a smart speaker and an upper-tier internet service provider. But it's probably not a reasonable assumption for all of Greater Boston. And it's definitely not a reasonable assumption for large swaths of the country.
Millions of U.S. households still don't have broadband internet, which means Wi-Fi-powered smart gadgets like an Amazon Echo or Google Home are out of the question. And while 81% of Americans have a smartphone of some kind, many people can't afford a luxurious unlimited data plan that supports endless streaming services like NPR One. And it's easy to get excited about the possibility of blazing-fast 5G internet. But 5G won't be available to all Americans for some time, and the wait will likely be even longer for people in rural areas.
As a frustrated public radio employee in Alaska pointed out in a closed Facebook group, data is costly in their region — as much as $25 per gigabyte. At those prices, it's not as simple as just telling your smart speaker to "play NPR."
The greatest thing about radio, on the other hand, is its accessibility. It's free, and available on devices that are cheap, ubiquitous and don't require an internet connection or, if your radio runs on batteries, even an electrical outlet. That makes local public radio the invaluable community asset that it is: a dependable source of relevant and accurate information at absolutely no cost to the listener.
So until high-speed connections become more widespread and akin to a low-cost utility, how can we ensure public radio's future is inclusive of all the listeners who rely on it — including those who are less connected?
Our team has thought about some ways to do that.
Digital-First Doesn't Need To Mean Digital-Only
Even with digital listening on the rise, radio isn't going anywhere. Over 90% of Americans listen to the radio every week, making it the country's highest-reach medium. The landscape is no doubt changing, but terrestrial radio remains a reliable and accessible source of information.
That said, if you're going to the trouble of creating new digital-first content, why not also repurpose it for the radio? ("Reusable" is part of the Project CITRUS acronym, after all.) Showcasing innovation on the air could also be an opportunity to promote new platforms to your listeners who haven't tried them yet. For example: "If you enjoyed this piece, you can find more like it from WBUR on your smart speaker."
Think Outside The Broadcast Box
Certain types of audio with a longer shelf life than straight news could be distributed via another dated-but-reliable medium: the compact disc. Think podcast seasons, or children's programming your kid will want to listen to over and over again (like episodes of WBUR's award-winning kid podcast Circle Round).
Many cars on the road still have a CD player. And who knows, distributing fan-favorite audio content in physical formats could have a broader, and marketable, appeal. I hear records are cool again — "driveway moments" on vinyl, anyone?
Don't Count Out Feature Phones
While not everyone has access to a good data plan, most people in the U.S. — 96%, to be exact — do have some kind of cellphone. Regardless of whether those phones have "smart" capabilities, they can still help connect listeners to your on-demand content.
PodLP, a podcast app developed for KaiOS-enabled feature phones, is free for listeners to download and allows them to browse hundreds of thousands of shows like they would on Apple Podcasts or Overcast. Radio hosts often ask listeners to subscribe "wherever you get you podcasts." A line about feature phones could easily be added to the credits. To quote PodLP's tagline, it provides "podcasts for the next billion."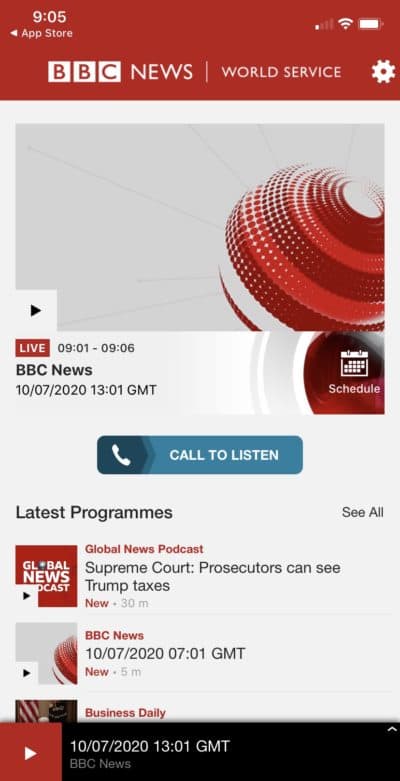 Another company, Zeno.FM, on the other hand, doesn't require listeners to download an app at all. Zeno, which began as an inexpensive service to connect immigrant communities with radio stations from their home countries, only requires a basic mobile phone or landline and a healthy minutes plan (the majority of phone plans now include unlimited talk and text). Listeners can dial up their favorite station via its Zeno-assigned U.S. phone number and listen for hours on end. For listeners with smartphones, Zeno Media teamed up with the BBC last year to create a new BBC World Service app that prominently features a "call to listen" button for listeners in areas where mobile data is expensive or nonexistent.
Public radio organizations in the U.S. could consider adding themselves to directories like Zeno's or include convenient "call to listen" features in their apps.
Continue Encouraging FM Listening
Many feature phones include built-in FM radios, meaning listeners have the capability to tune in to radio broadcasts wherever they are, without eating into valuable data plans.
The majority of smartphones also have these FM radio chips built in, though most phone manufacturers and providers in the U.S. leave the feature locked. In 2018 there was a push to unlock FM capabilities in all new Samsung phone models to let listeners hear their favorite FM stations via the NextRadio app. Unfortunately, within a year, NextRadio ceased operations, possibly because it was unable to get Apple on board with enabling FM-powered apps on iPhones. The NextRadio app is still available on smartphones with unlocked FM chips, though service is spotty, according to reviews.
The Federal Communications Commission has been a strong advocate for enabling FM capabilities in smartphones as a potential asset to public safety. (For example, there's a natural disaster and cellphone towers are down. How are you going to access crucial emergency information without data? Answer: FM radio.) And, public media organizations like NPR and APM have helped spearhead efforts in the past to unlock FM capabilities in smartphones, including a public education campaign that involved local public radio stations. So hopefully NextRadio isn't the last we'll see of FM/smartphone hybrid listening.
You could also consider providing radios as an incentive. Why not encourage listening (and membership) with a trendy, customized radio? One example is The Public Radio, a personalized, single-channel radio housed in the cultural moment's favorite all-purpose receptacle — a Mason jar. Also, The Public Radio comes pre-tuned, so your listeners won't have to fidget with a dial to find your signal.
Keep Going There
This last one should be a given, but remember that engagement is a two-way street. If you want to engage digitally underserved communities, you need to report on them. So, be sure to regularly seek out voices and perspectives from those underrepresented corners of your signal's reach.
Heck, that digital divide could even be the story.
In the midst of the coronavirus surge in Massachusetts, WBUR's Carrie Jung reported on how rural students and teachers were coping with the switch to online learning despite many households not having broadband connections.
Another good form of outreach coverage would be an "on the road" series. Here's an example from Oregon Public Broadcasting. Over the course of a year, the station's flagship daily news program, "Think Out Loud," took a number of trips down the backroads of Oregon and southwest Washington and talked to anyone they found along the way. WBUR did a similar series of broadcasts in 2010 from cities and towns along Massachusetts' Route 9 to document how the state outside Boston was coping with recovery from the 2008 recession.
Here's one story from a visit to the small town of Ware:
And the original series trailer:
Your peers at other hyperlocal or non-English publications in your area are also invaluable resources. By working with highly trusted community news sources, your station could begin reaching corners of its potential listenership that had previously been closed off due to language barriers, limited outreach or simply a lack of relevant coverage.
For example, WBUR recently struck a deal with El Planeta, a Boston-based Spanish-language media group. The original arrangement was that El Planeta journalists would translate WBUR stories into Spanish which El Planeta could then publish on its own platforms. The collaboration was successful in making WBUR web and audio content more accessible to a community the station wanted to reach but hadn't historically
The team effort's value grew further still when the coronavirus pandemic closed in on Massachusetts. El Planeta began to hear from its sources in the medical community that Latinos were being impacted by the virus at disproportionately high rates. The media group's owner and CEO Javier Marin reached out to WBUR reporter Simón Rios and the collaboration was expanded into a full-blown reporting partnership.
Marin says many of El Planeta's readers access their journalism on smartphones, often using a work or library Wi-Fi connection. With the public health crisis raging on and many of the usual public internet access points closed, it was imperative El Planeta be able to disseminate crucial information about the pandemic to its 150,000+ readers by any means necessary. WBUR's airwaves provided one such outlet. Meanwhile, the inclusion of essential Spanish-language content made WBUR accessible to thousands more ears in its listenership area.
So, What's Next?
Public radio has been bracing for a migration of listeners from broadcast to digital for years now. Due to the coronavirus pandemic and the loss of commute listenership, this transition appears to have been accelerated, as reported by NPR's David Folkenflik.
But despite the drop in listeners tuning in via traditional radio, many are relying on public radio journalism now more than ever to help navigate the complex historical moment we all find ourselves in. They're just accessing that content — you guessed it — digitally.
Folkenflik reports that NPR's podcast downloads and usage of NPR's listening apps increased by nearly a quarter this year. Not to mention, as more people accessed NPR reporting from home, NPR.org users increased by 76%.
Digital audio is without a doubt vital to your station's strategy for the future, but it's no replacement for the great community journalism and accessibility public radio is known and loved for. We must continue to meet listeners and potential listeners where they are to ensure this invaluable public resource (as we believe it to be) remains readily available to all — whether that's over the air, smart speaker or somewhere in between.