The President Should Be Talking To Congress — Not Costco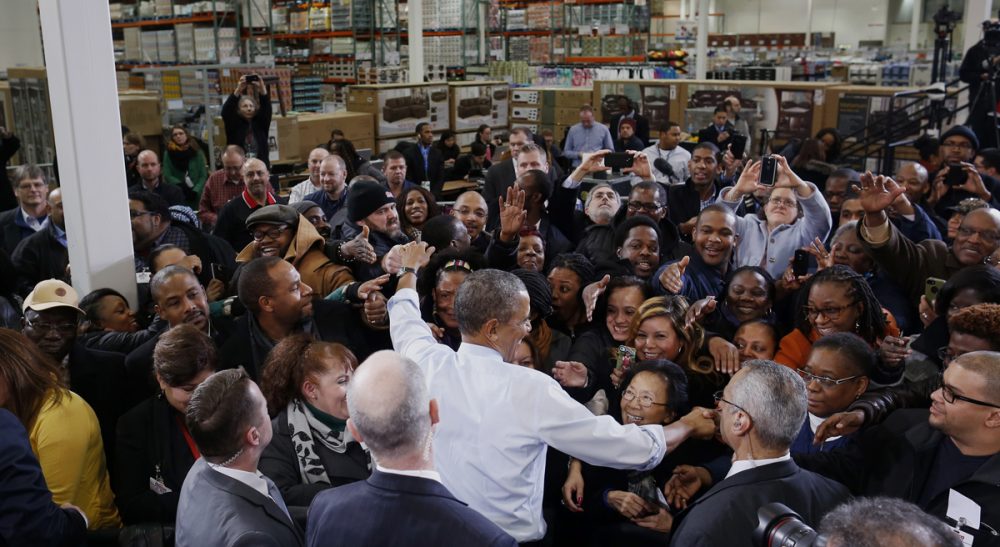 This article is more than 7 years old.
President Obama's agenda is not the problem. His refusal to fight for it is.
He'd like to raise the minimum wage for everyone but, until Congress agrees, he'll settle for raising it for employees of federal contractors? He'd like every child to have access to preschool but, in the absence of congressional action, he'll celebrate the states that have taken steps in that direction? He'd like to see comprehensive immigration reform but, until Congress moves on the issue, he'll settle for slowing deportations through executive order?
Instead of engaging with an obstructionist Congress two miles down the road, the president this week is taking his preferred route, avoiding Capitol Hill altogether and traveling across the country to trumpet ideas from his State of the Union address that his audiences already support.
President Obama's agenda is not the problem. His refusal to fight for it is.
The president is not going to find his absent leadership chops at rallies in a Costco warehouse in Maryland or a steel plant in Pittsburgh or a high school in Nashville or a manufacturing plant in Wisconsin. The applause that will greet his calls to raise the minimum wage, to extend unemployment benefits, to require tougher background checks on gun sales, to expand access to early childhood education won't get any of it done. Neither will a few anemic executive orders.
In order to lead, a president needs to engage those — even the most venal — who would thwart him at every turn. Disdain for the opposition isn't a political strategy. That there are those on Capitol Hill committed to undermining Obama at any cost is beyond dispute, but that is all the more reason to refuse to yield. Obama invariably does the opposite. Rather than capitalize on public fury at fringe Republicans who shut down the federal government last year, Obama simply savored the satisfaction of being right. In doing so, he squandered an opportunity to mobilize the public and to form productive alliances with those Republicans on Capitol Hill who were as disgusted as he by the destructive grandstanding of the Cruz-Paul wing of the GOP.
"America does not stand still, and neither will I," a defensive president with dramatically diminished dreams said Tuesday night. "So wherever and whenever I can take steps without legislation to expand opportunity for more American families, that's what I'm going to do."
That is simply not enough. Isolating himself in the West Wing, crafting incremental changes to avoid the big policy fights, is precisely not what Americans elected, and then re-elected, him to do. Working with Congress, no matter how distasteful a president might find its component parts, is in the job description.
Working with Congress, no matter how distasteful a president might find its component parts, is in the job description.
Barack Obama is not the first president to face political intransigence at the other end of Pennsylvania Avenue. The founders expressly envisioned a fractious relationship between the executive and legislative branches. But for the system to work, a president has to show up prepared to fight. Plenty of Obama's predecessors did. The minions of Wall Street in Congress opposed Franklin D. Roosevelt on everything from creation of the Securities and Exchange Commission to rural electrification. Southern segregationists tried but failed to block Lyndon B. Johnson on civil rights. A Democratic majority in the House could not thwart Ronald Reagan's determination to expand military spending.
Whining about Republican obstructionism, no matter how real it is, will not win President Obama much sympathy. The man who, six short years ago, promised to bring the red and blue states together in a post-partisan Washington could not get out of the Federal City fast enough after outlining his shrunken ambitions in the House chamber. His rolling rally will be stopping only in communities that voted for his re-election.
---
Related: