A Bargain, A Deal And A Steal: Notes From A Yard Sale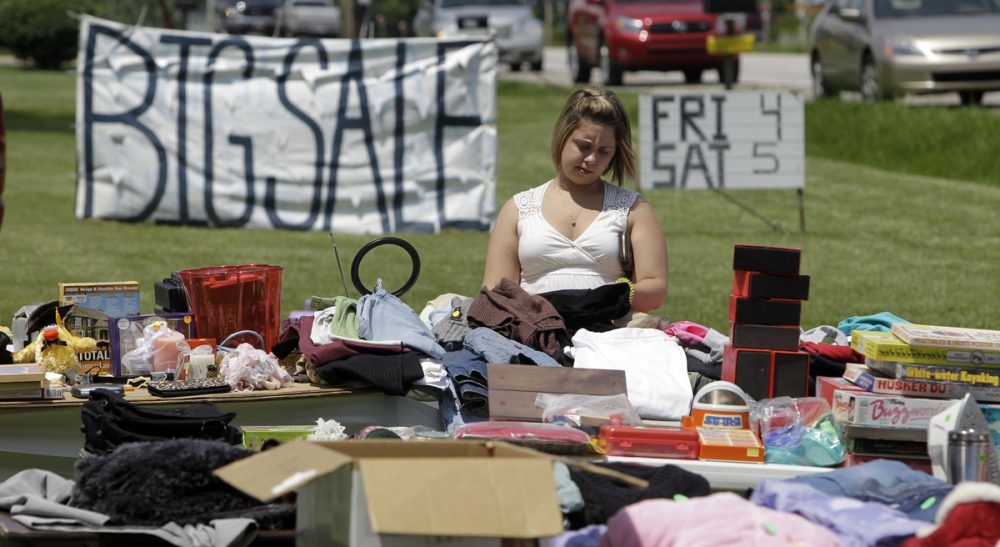 This article is more than 6 years old.
The yard sale was a necessary evil we were all dreading.
My aunt passed away last year and left her estate to her nieces and nephews; the day had finally come when the house sold and we had to clear it of her possessions.
It was time to get down to business: How much should we charge for the dish set with the Adirondack chair motif? The ugly pink vase with the gold trim? The collection of Rat Pack LPs? Should we even try to sell the '70s-era life-size plastic Santa and reindeer set?
Setting all of someone's worldly goods onto folding tables with fluorescent $10, $5 and $1 price stickers on them is a humbling task. My aunt was a career woman, and everything she had was hard-earned. Watching things she touched and wore and cherished walk away under the arms of strangers was not going to be easy.
Our first "customer" turned out to be a doozy. A husky guy wearing a leather Harley Davidson jacket, he introduced himself as "Popeye." He told us he was a "picker," someone who picks through stuff at yard sales, looking for treasures to resell.
It didn't take long before he pronounced our operation "treasure free" but left a couple of hours later with, among other things, an armload of 45s, a Mickey Mouse phone, three small statues of Edwardian ladies, a lamp and two delicate, blown glass perfume bottles he feared he would break on the way home, "you know, cuz I'm Popeye."
And with that, the character cavalcade had begun.
Yard sales are the great equalizer. People from all walks of life want a bargain, a deal, a steal. It's the thrill of the hunt for some, a necessity for others and pure entertainment for all.
Nearly everyone who walked through the doors had a story: "My son needs stuff for his new apartment. I finally got rid of him!" declared one shopper. (I sold her four wine glasses, successfully arguing that red Solo cups would only get him so far with the ladies.)
"I have the biggest Christmas light display in Revere!" announced another. (Even if he didn't buy the ancient Santa and reindeer set, he was going to leave with it. Who better? It was our civic duty to add to his collection!)
Another woman shocked us all by asking if the crumbling Mary-on-the-half-shell religious statue in the backyard was for sale. "I collect Marys," she explained.
We'd forgotten Mary was out there guarding the long-gone garden where my grandmother once grew basil and tomatoes. Ancient, weather-beaten and peeling, she looked forlorn and desperately in need of a change of scenery. She was like a part of the family, though. We had all posed with her in our Communion and Easter outfits, so we hemmed and hawed, but finally agreed to let her go. Before we did, we solemnly gathered around her for a final group photo and then waved goodbye as her new owner rolled her into a hatchback and drove away.
I was surprised by how much fun the weekend was, in spite of its sad beginnings. People were kind and funny and delightfully kooky, like the guy who literally ran through the house like he was chasing an invisible dog. Was he looking for something in particular? Coins? Stamps? Hot Wheels? Hot chicks? He never said. He was gone — swoosh — as fast as he came.
One woman stayed for hours on both days of the sale and left with armloads of this and that. She was lovely but seemed deeply lonely. We concluded she may have been a hoarder and we felt a tad guilty for indulging her. Still, she left contented.
And then the jockeys showed up.
My aunt lived very close to the Suffolk Downs racetrack in East Boston, where my father was once a jockey. I nearly picked up the young female jockey and swung her around when she told me what she did for a living. After talking shop with us for a while, her boyfriend arrived to help her bring home the snow blower they bought — and the cedar trunk they received as a bonus for helping us round the turn and cross the finish line. The house was empty and cold, but our hearts were full of warm memories old and new.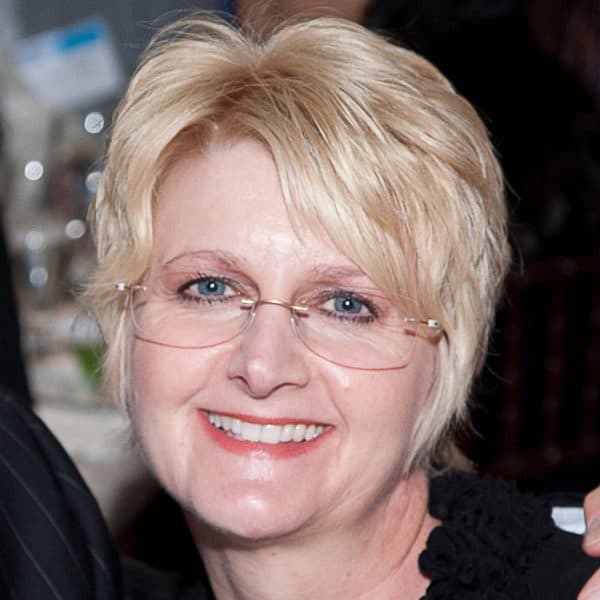 Doreen Iudica Vigue Cognoscenti contributor
Doreen Iudica Vigue is vice president of public relations at Comcast, Greater Boston. She is also a former Boston journalist.