The Clothes That Made Us Men: A Sartorial Reminiscence Of A Boyhood In Haiti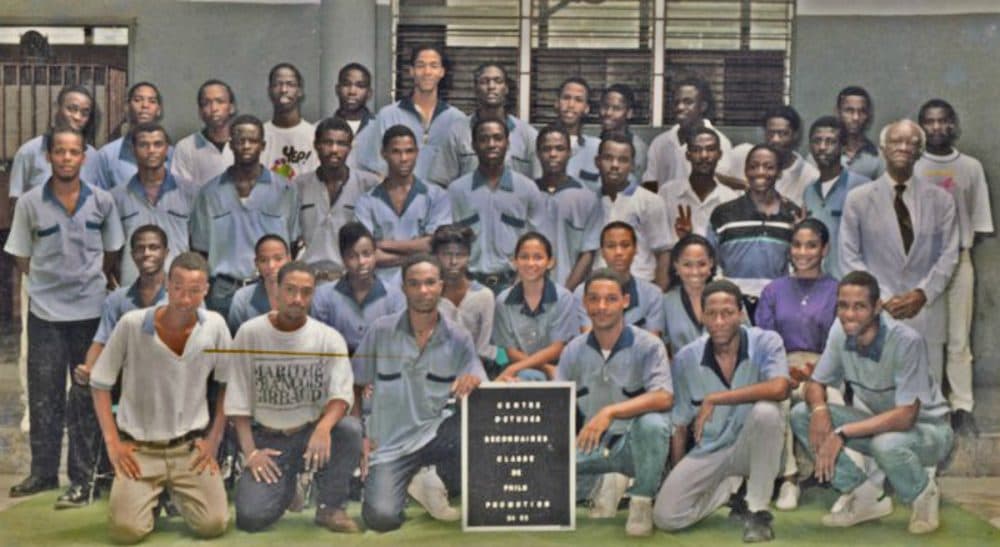 This article is more than 6 years old.
Mondays at 5:30, I would wake to the ring of an alarm clock and the aroma of hot breakfast, mayi moulen ak aranso, polenta and smoked herring. Once open, my eyes fixed on the sight of my tailored uniform, ironed and hanging outside my closet, my black polished dress shoes nearby. It was what mornings were for me when I was in secondary school in Haiti 20 years ago. Once dressed, I submitted to inspection and editing by my parents and, later, by my peers and others in the community at large. It was the process that taught me early in my life the power of clothing on perception.
It was quite normal for Haitian teenagers to iron our clothes -- trousers to the sharpest crease -- and polish our shoes to a military-worthy shine.
When I was growing up, most schools in Haiti, whether private or public, required uniforms. A selfie with my friends on the grounds my old school, the Centre d'Etudes Secondaires (C.E.S.), would have shown us in matching navy outfits and having the best time of our lives. Our uniform was a short-sleeve popover gingham shirt with solid dress pants for boys, knee-length skirts for girls. It was important to the school's founders — and to us — that we be easily recognizable as C.E.S. students. We took pride in holding up their standards and abiding by the dress code.
It was quite normal for Haitian teenagers to iron our clothes — trousers to the sharpest crease — and polish our shoes to a military-worthy shine.
During the 1990's, when the U.S. embargo on Haiti made gas prohibitive, my parents could no longer afford to drive me the two hours to school. With bus and lunch money in hand, I joined the ranks of those who walked and took public transportation. C.E.S. was a small school; we all knew who was dropped off and who wasn't. No matter how many times I stopped to wipe the sweat from my face or dust off my shoes, my more fortunate peers knew that my circumstances had changed. Even so, I was among many who still tried to impress school leaders and avoid the ridicule of fellow students.
Trends came and went. Pants got baggier, American sneakers replaced street shoes. The constant, however, was a desire to dress like our fathers. I can still see the pride in my father's eyes the day I walked into his room, pulled a tie from his closet and asked him to teach me how to tie it. Alas, this wasn't to impress him, it was to impress a girl. We all knew that girls our age were attracted to older men, and nothing gave me more confidence than wearing my father's Givenchy and Yves Saint Laurent linen shirts.
All Haitians, regardless of economic class, dressed to impress. The farther down you were on the economic spectrum, the more you wanted to look "bon moun," meaning, from a good family. L'habit ne fait pas le moine, roughly: you can't judge a book by its cover. But no matter your status or your family name, you would not be treated with respect if you did not dress like you deserved it.
All these years later, dressing well still matters to me. I'm not alone. Esquire Magazine's Rule No 1: "Most people, most of the time, judge you by what you're wearing, and if you care about what people think, you should care about what you wear. Life doesn't get much simpler than that."
Twenty years ago, my brothers and I cracked the code of the power of clothing. In a country where opportunities were limited, we aimed high. People's perceptions were influenced by our self-confidence, which we derived, in part, from the clothes on our backs. Maybe our fathers did not mind our wearing their expensive shirts because they knew they were building a legacy of smart — and smartly-dressed — men.
I'm a father now, and I wonder if I will pass the dress code for success on to my son and daughter. One recent morning, during the 7:50 am rush hour in our Boston home, my kids' breakfasts sat unfinished on the table — not herring, but oatmeal, banana and milk. We were running late for school and work. Like a drill sergeant, I issued directives to get moving. That's when my self-sufficient 4-year-old son, dressed in his beloved green and orange Teenage Mutant Ninja Turtle hoodie, appeared, bulldog printed brown clip-on tie in hand. "Papa," he said, "aides-moi avec ma cravate." Daddy, help me with my tie.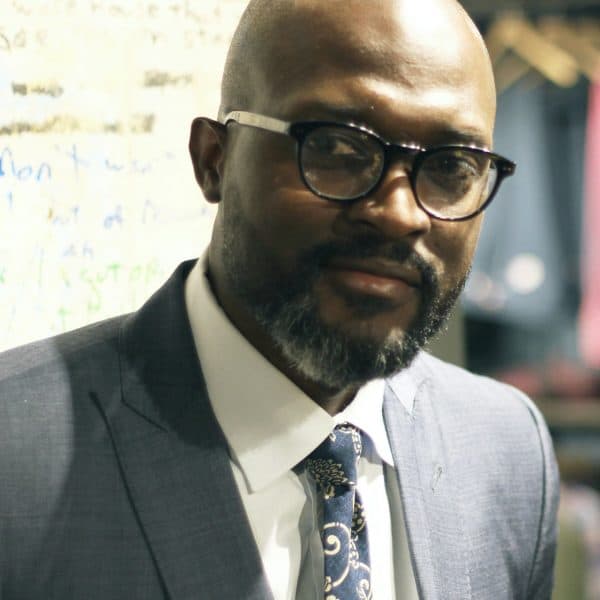 Jeff Lahens Cognoscenti contributor
Jeff Lahens is the founder of DressCode Boston.