The Man That Would Be King: Rajon Rondo's Slide From Celtics Glory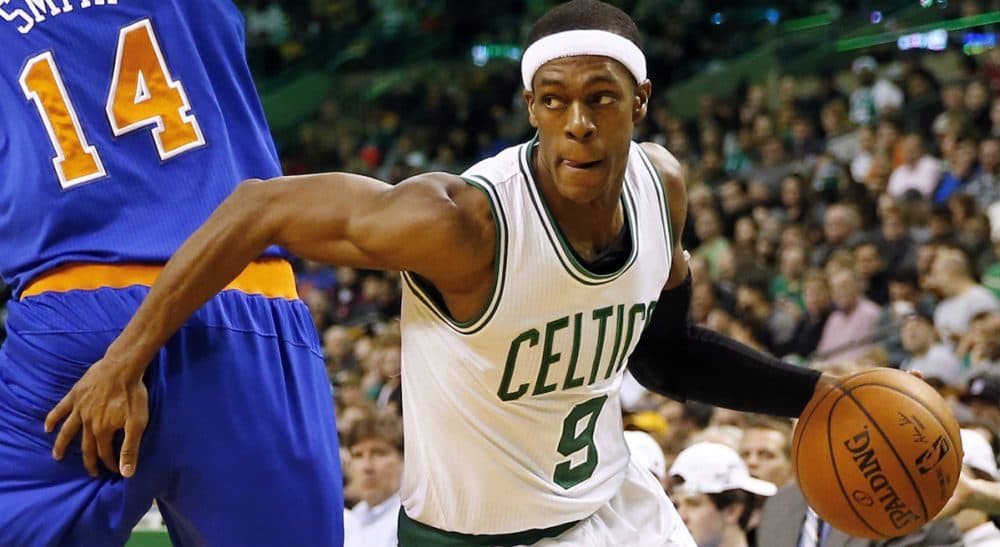 This article is more than 5 years old.
If Rajon Rondo were a country, he would be Greece.
The ex-Celtic, once considered one of the elite in the NBA, has dropped so far, so fast and, in the process, lost millions he may never recoup. The four-time All-Star, who once envisioned himself as a player deserving of a maximum contract (in excess of $100 million, had he stayed in Boston) settled for a one-year, $9.5 million contract with the Sacramento Kings.
...the case with Rondo was always tricky, because it never was just about Rondo the player. It was even more about Rondo the enigma.
That tells us two things about today's NBA:
1. A one-year, $9.5 million contract is now deemed to be beneath most free agents because...

2. A one-year, $9.5 million contract is walking around money in the NBA of 2015 (and will be pocket change next year and beyond).
A year ago, Rondo was entering the final year of his Celtics' contract, which paid him a lot more than what he will earn next season. But a big payday surely loomed, or so most everyone thought. He seemingly had recovered from a torn ACL that had limited him to 38 games in the 2012-13 season and just 30 in 2013-14. He was making nice with new Boston coach Brad Stevens.
He wasn't the Rondo of Yore in the first two months of the 2014-15 season. But he averaged 8.3 points, an NBA-best 10.8 assists and 7.5 rebounds a game. He was still only 28. The Celtics understood his position of waiting for free agency to maximize his earning potential. Little did they, or he, know that, in the end, he would go to the Clown Show in California's capital.
How did a player with his credentials end up making far less money than DeMarre Carroll, Khris Middleton, Reggie Jackson, Tobias Harris and Robin Lopez? And how did a player with his credentials end up signing with a horrible team whose coach (George Karl) will almost certainly tire of him? The Rondo camp will say the deal positions him great for next July, which assumes he will play well for a bad team, not get into trouble, and somehow make people forget that he will be 30.
So what happened?
As is the case with many teams — and not just in the NBA — the executives tend to think more of their own players than other teams do. It was more than conceivable to see Rondo resigning with Boston in July, much the same way Kevin Love did with Cleveland, for a boatload of cash. It was just as conceivable to envision the Celtics' management happily handing over the motherlode and insisting Rondo was going to lead and highlight the next championship run.
But the case with Rondo was always tricky, because it never was just about Rondo the player. It was even more about Rondo the enigma, the player who got thrown out of games, the player who clashed with teammates and coaches, the player who seemingly showed up for only the real big games and cruised through the others.
Doc Rivers wanted no part of a locker room in which Rondo would be the senior voice, the spokesman, the — dare we say it? — captain. And he knew that was going to be the case once Kevin Garnett and Paul Pierce were traded. So he got out.
Rondo the enigma, Rondo the irascible, was not exactly a trade secret around the NBA. (There are no trade secrets.) But he still was a wonderful performer who did things no one else did on the floor. He would cash in during free agency, right?
The December trade to Dallas was a shocker, both for the timing and for what the Celtics got in return. The Mavericks got themselves a point guard, and ESPN analyst Jalen Rose pronounced them as one of the favorites to make it to the NBA Finals. The surprisingly barren return — three Dallas reserves and a couple draft picks — seemed hideously low. Two weeks after the trade, Rondo returned to Boston and scored a season high 29 points, 15 in the first quarter. He made a career-best five three-point field goals. Dallas won easily.
All still seemed to point to a big payday in July. Dallas has a reputation for taking care of its players. But Dallas also has a no-nonsense coach in former Celtic Rick Carlisle, and, soon thereafter, Rondo the enigma surfaced, this time with disastrous results.
Rondo wanted to call his own plays. Carlisle preferred that he, the coach, have that power. Rondo couldn't make free throws or jump shots. His defensive game had slipped.
Rajon Rondo went from possible big-big-big salary guy to a one-year rental on a bad team in Nowheresville, USA.
Six weeks after his Boston return, Rondo was suspended for a game after a public dust-up with the coach. In 46 games with the Mavericks, he averaged 9.3 points, 6.5 assists and 4.5 rebounds. By the time the playoffs rolled around, the Mavericks had dropped to No. 7 in the Western Conference and Rondo played only 37 minutes in the first two games before Carlisle announced that the point guard was finished (supposedly due to a sore back) and would never again play for the team. Dallas lost the series to the Houston Rockets.
So there went the big payday from the Mavericks. When free agency opened on July 1, basketball guru Chris Sheridan, who ranked the top 50 free agents, had Rondo at No. 23. (He had Rondo ranked No. 9 in March.)
Sheridan delivered a blistering broadside, which pretty sums up how, in the space of one year, Rajon Rondo went from possible big-big-big salary guy to a one-year rental on a bad team in Nowheresville, USA. "The discernible drop off in his game since returning from an ACL injury, the frightening free-throw shooting, his inability to knock down jumpers in a space-the-floor league and his stubbornness bordering on stupidity has cost him tens of millions of dollars. Whichever team signs him likely will be regretting it by Thanksgiving."