The Twilight Of An Early Riser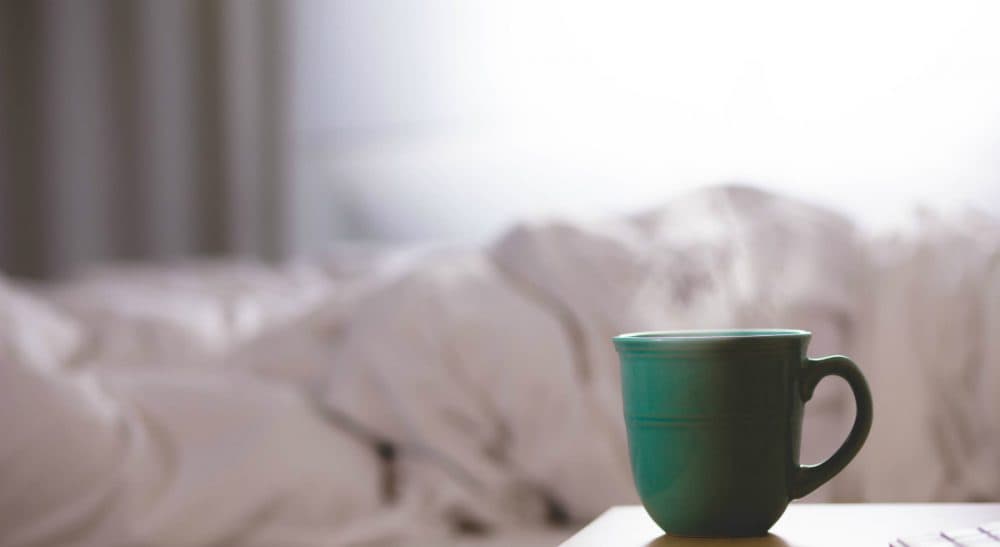 This article is more than 5 years old.
The early morning light seeps in through the tops of the windows, above the shades. It's 5:40 a.m., and as much as I'd like to go back to sleep, I know I am up for the day. This is the hour that puts me most in mind of my mother-in-law, the original early riser.
Sunlight at this hour is like a spotlight on a movie set, illuminating the top of the trees against a bright blue sky. Even though it is already August, the early morning light reassures me that summer is still here.
My husband is fast asleep, and I can hear the dog's gentle snores from down the hall. I have the house to myself for at least an hour. I go outside and water the potted plants, inspect the garden. There is zucchini to pick and tomatoes ripening. The potatoes and garlic are nearly ready to harvest.
But this morning the raspberries capture my attention — so plump and heavy, they are weighing down the canes. In just a few days' time, the fruit has changed from pale pink to deep crimson, and when I test a few, they fall right into my hand. If I don't pick them today, they will be gone tomorrow. I grab a bowl and get to work.
My mind feels free and slow, not at all like it will be after the first cup of coffee hits, the phone begins to ring, and the day starts in earnest. This is stolen time. Before I know it, I need a bigger bowl, because when I stoop down and look at the undersides of the vines, I discover hundreds of ripe berries. I get on my knees, down onto the dewy grass, and begin to pick, seeing the world and the raspberry patch from a whole new perspective. I tell myself to remember this idea: that one can find a new way of looking at things, simply by shifting position.
I tell myself to remember this idea: that one can find a new way of looking at things, simply by shifting position.
I think of my mother-in-law as I pick the berries. In past summers, when my daughters were young, we spent the month of July with her at a funky, run-down beach rental. By the time I woke up and made my way to the kitchen, she had already experienced what seemed like an entire day, and she was anxious to talk about it. There were dreams to talk about, and writing she had done, and thoughts she had, and things she had figured out, and it all needed to be reported. She had the energy of a child, excited to share all that had happened while we slept.
I remember how I would often resent her energy, while I moved sleepily through my own morning rituals. I felt that she didn't give me time to think about my own dreams and thoughts before I had to listen to hers.
But now, she is recovering from a stroke far from my home. She will be 92 this year and is holding on. But really, in so many ways, she is gone.
This woman — who was never quiet, who always had a story to tell, a thought that needed voicing — now sleeps most of the day, and can only string together short sentences.
This woman — a professional photographer, who traveled the world and made friends in Nepal, Paris, Rome, California, Katmandu, Bangkok — now lies in a bed, unable to walk.
Her slow departure makes it both easier and harder for us all. We are grateful that she is still around, but it is painful to see her this way, too. For once, I'm never sure what she's thinking. She is unable to articulate most feelings beyond physical pain. But she is still here. And she is with me as I pick berries, early on this summer morning. I would like to bake her a pie and listen to her tell me the details of her dreams last night. She will tell me every single detail, and I will want to hear them all.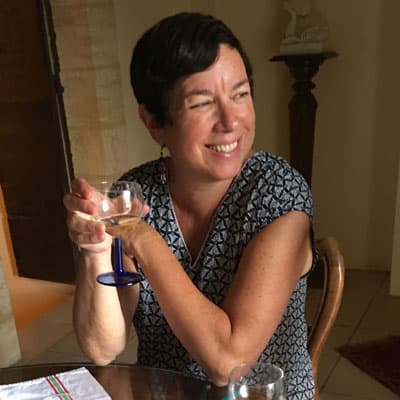 Kathy Gunst Here & Now Resident Chef
Kathy Gunst is a James Beard Award-winning journalist and the author of 15 cookbooks.