Venti Ado About Nothing? Starbucks And The Froth Over Inclusivity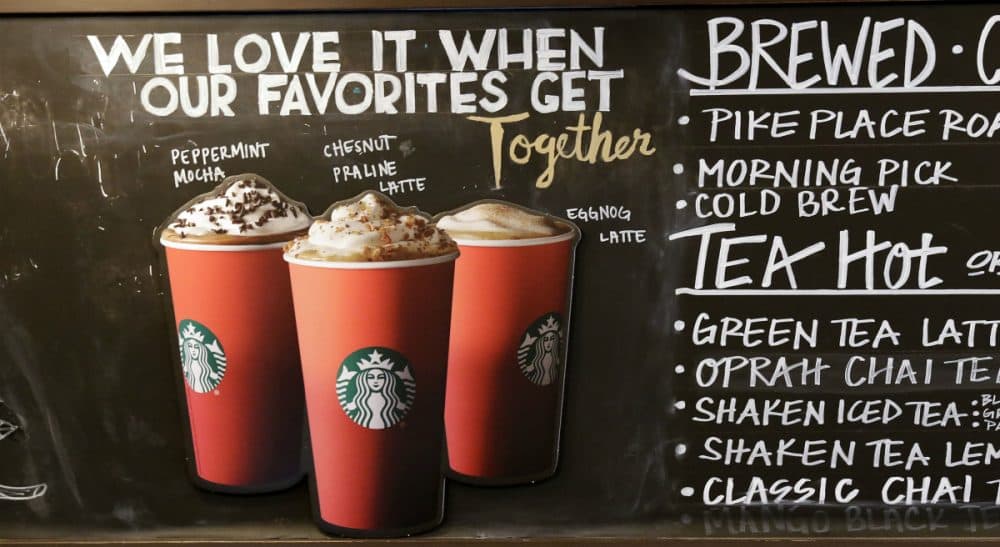 I stood in line at my local Starbucks last weekend, oblivious to a brewing national controversy. Maybe it was because I brought my reusable plastic cup and wasn't fixated on the new paper holiday cups, which a Starbucks news release described as "...the classic Starbucks holiday red that is bright and exciting."
I had no idea that this red cup with the green Starbucks logo was supposed to send me into an uproar because — gasp — it doesn't include the words "Merry Christmas."
I had no idea that this red cup with the green Starbucks logo was supposed to send me into an uproar because -- gasp -- it doesn't include the words 'Merry Christmas.'
Now caught up on the news of the moment, I know that a former evangelical preacher from Arizona was so upset about the new cups that he created a Facebook video headlined: "Starbucks REMOVED CHRISTMAS from their cups because they hate Jesus."
Starbucks doesn't put written greetings on its holiday cups and opts for images of reindeer, ornaments or trees, according to its website. Facts, though, didn't stop millions of Americans from watching Joshua Feuerstein's Facebook video and from embracing the idea that they should protest another attempt to take Christ out of Christmas. On Monday, Republican presidential candidate Donald Trump joined the fray, suggesting a Starbucks boycott and promising that, if elected, "we're all going to be saying Merry Christmas again."
For his part, Feuerstein bragged that he tricked the company by telling the barista that his name was "Merry Christmas," so that it was scrawled on his cup. The joke may be on him. A Starbucks news release points out that the blank part of the design is meant to encourage customers to doodle their own messages on the cups.
According to the press release, "...creating a culture of belonging, inclusion and diversity is one of the core values of Starbucks." Gee, then shouldn't I be more miffed than Christians about the design of this year's cup? How does a red and green cup, representing traditional Christmas colors, include me? I'm Jewish, and I celebrate Hanukkah around this time of year. Well, sometimes it's in November, and other times, it's December. And I don't really associate a particular color with Hanukkah, even if stores have picked blue and white for Hanukkah wrapping paper and decorations. Blue and white, to me, represent the colors of Israel's flag.
I'm not offended by the cup. It's just, well, a cup. But Starbucks also says in its news release that it "...will continue to embrace and welcome customers from all backgrounds and religions." Since the company mentions that admirable concept, why not make it happen? Why not design a cup that represents America's diversity of religions? That means that the cup would still pay homage to Christianity, given that roughly 70 percent of Americans are Christian. But the cup would also give a nod to the unaffiliated, roughly 23 percent of Americans referred to as the "nones." The remaining 6 percent includes Jews, Muslims, Buddhists, Hindus, Sikhs and people of other faiths. Nearly 1 percent of Americans have no idea what they are.
How to represent multiple faiths without words? Starbucks could mimic the popular "coexist" bumper sticker and use several religious symbols. Or maybe craft a cup with a rainbow of colors and write "Happy ___."
I don't agree with the former preacher's contention that Starbucks is obligated to announce Merry Christmas in words. But if a company is going to insist that its holiday cup has a "...purity of design that welcomes all of our stories," maybe they should try something else.
...shouldn't I be more miffed than Christians about the design of this year's cup? How does a red and green cup, representing traditional Christmas colors, include me? I'm Jewish.
I like what suburban Boston grocer Wilson Farm does. Each year, the 131-year-old family business designs shopping bags meant to recognize the growing diversity in the town of Lexington, where it is based. Last year, one half of the bag bore the greeting, Merry Christmas under illustrations of ornaments, presents and prancing reindeer. On the other: Happy Hanukkah below a pair of dreidels and a Star of David. On one side of the bags' gussets was Merry Christmas in Spanish, French, Italian, German and Chinese, and on the other, an homage to other December holidays, with Happy Solstice, Happy Kwanzaa and Happy Bodhi Day, a Buddhist celebration. It threw in an overarching Happy Holidays!
Starbucks couldn't fit that much verbiage on a paper coffee cup. But it could get creative as it looks for ways to make its holiday cup design match its promise of inclusivity. That former preacher might like my idea even less. Maybe he could see if Hobby Lobby and Chick-Fil-A, both companies which tout their Christian values, will open up coffee bars.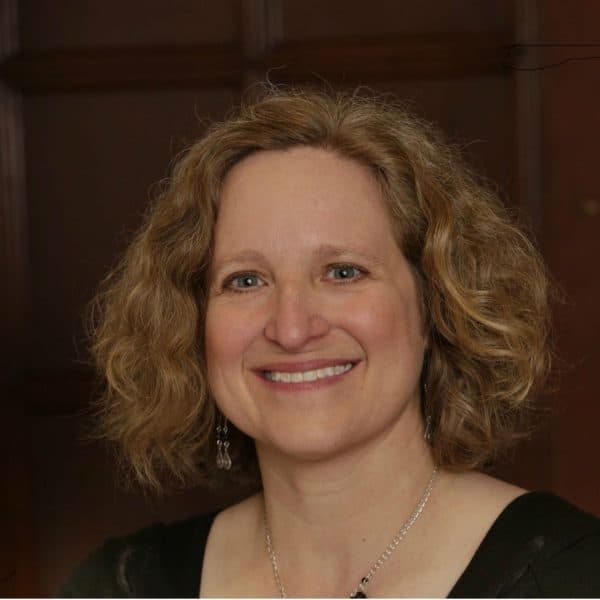 Linda K. Wertheimer Cognoscenti contributor
Linda K. Wertheimer is the author of Faith Ed., and an education reporter