Heavy Meddle: I Don't Know How To Live Without My Dying Cat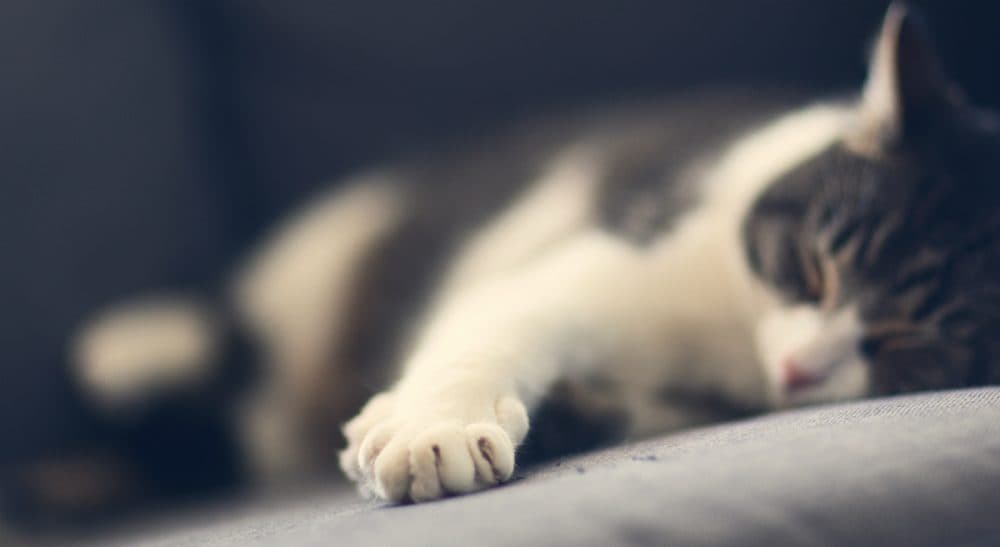 This article is more than 4 years old.
Welcome Meddleheads, to the column where your crazy meets my crazy! Please send your questions. You can use this form, or send them via email. Not only will you immediately feel much better, you'll also get some advice.
Hugs,
Steve
…
Dear Steve,
I am a 24-year-old woman and I live with my 19-year-old cat, Pussywillow. We welcomed her into the family when I was 5. I don't have any siblings, so she's always felt like a sister to me. I've gone to her for support, love and peace throughout many of the difficult times in my life. I've learned to meet her in presence, respect and love. We've moved around a lot, and she's come with me everywhere except for a few years at university. I feel like with her, to a greater extent than with anyone else, I've known love.
Naturally, she's started getting some health problems in her old age. I give her medicine every day and I take her on walks and pet her a lot. Every moment I'm with her, the thoughts in my mind go quiet and I just love her.
I've never lost someone I love to death before, and I've never loved someone as much as I love her.
What will I do when she dies? I've lost so much in my life and don't have many friends, except ones that live far away. I don't want to have a romantic relationship for a while because I'm healing from some abusive ones, working with an excellent therapist. There are a lot of things I love in life, and beautiful dreams I have for the future. But the thought of Pussywillow's inevitable death makes me feel like the grief could be too huge to walk through, especially since I'm alone.
I've never lost someone I love to death before, and I've never loved someone as much as I love her.
Do you have any advice?
Already Grieving
…
Dear Already Grieving,
I'm going to assume that you are a real young woman with a real cat named "Pussywillow," and not a drunk 19-year-old frat boy with way too much time on his hands. But even if you are just a drunk 19-year-old frat boy, I'm glad you wrote. Because the death of a beloved pet is a profound, and too often ridiculed, experience.
I, too, had a cat when I was growing up. His name was Greg Almond. He was not named after the rock musician Greg Allman. He was named Greg because he was gray and had an egg-shaped white splotch on his chest (gray + egg = greg). He slept on my bed, often on my head, almost every night for a decade. And, like certain animals, he seemed to be able to read my moods. When I was upset, he would walk into my room and curl up on my lap. His love was unconditional and uncomplicated. It would not be stretching the truth to suggest that my relationship with Greg Almond was the most stable and fulfilling of my childhood. When he died, I went through a period of quiet mourning.
Most pet owners have had a similar experience. My wife, for instance, had two cats that lived well into their teens. They saw her through her 20s and half of her 30s and when they died, she was heartbroken.
it can be hard to feel that we have the right to mourn [our pets] as we would the loss of a friend or lover or relative. Your heart, in this case, knows the truth.
The thing about pets is that often our relationships with them are intensely personal. They are measured out in subtle moments of affection and quiet company, not with eloquent words or other forms of human tribute. And for this reason, it can be hard to feel that we have the right to mourn them as we would the loss of a friend or lover or relative.
Your heart, in this case, knows the truth. You love Pussywillow, and when she dies, you will experience the loss of that love as grief, perhaps even a sense of abandonment. This will be especially intense because, as you note, Pussywillow played a sibling-like role in your family.
There's nothing anyone can say to undo this grief. But it might help to know that millions of people endure the same cycle of mourning. And it might help to connect with folks who know what you're feeling, whether it's the Humane Society, or another online organization that offers resources and support. What matters most is that you allow yourself to experience this loss.
Aside from this, it sounds to me like you're doing exactly what you should be: working with a good therapist, who is helping you contend with feelings of isolation and your pattern of abusive relationships.
No cat, or human, is ever going to replace Pussywillow's place in your life. But ideally, you will be able to connect with other people and/or pets with whom you can find that sense of peace and love you're after.
That won't happen immediately, but if you honor your own feelings and remain openhearted, it will happen eventually.
My heart goes out to you,
Steve
Author's note: Wow. Greg Almond. I haven't thought about him for a few years. He once jumped out of our car five miles from our house. It took him three days to find his way home. I loved that about him. Anyone else who's lost a cherished pet, please share your thoughts in the comments section below. And feel free to send a letter to Heavy Meddle, too. You can use this form, or send your questions via email. I may not have a helpful response, but the act of writing the letter itself might provide some clarity. — S.A.
♥
Steve Almond is the author of the book "Against Football." He is the co-host, with Cheryl Strayed, of the WBUR podcast, Dear Sugar.