Basketball And Bigots: Unfair Play In North Carolina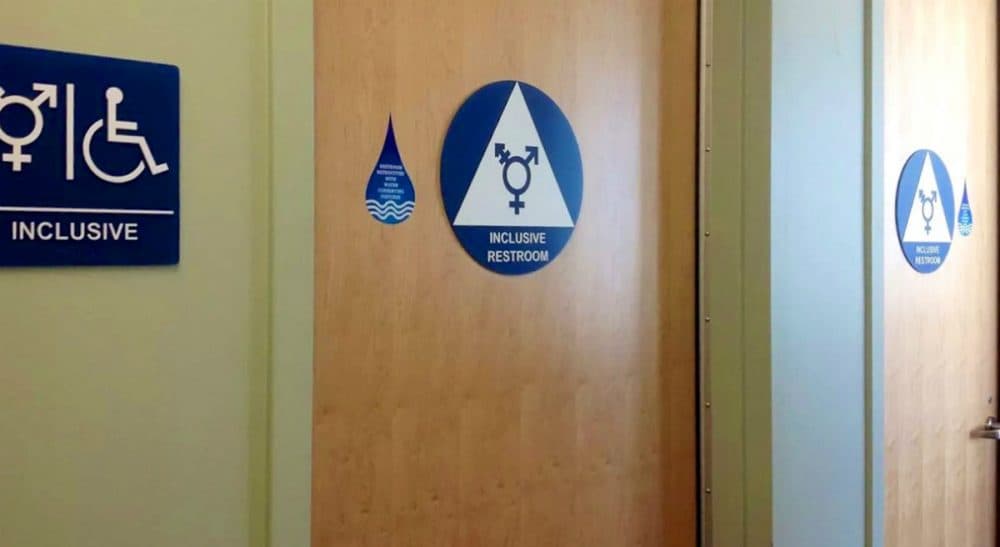 This article is more than 5 years old.
It's been more than two weeks since North Carolina enacted the particularly odious piece of legislation that bars local governments from extending civil rights protections to gay and transgender people.
Some have stood up to this execrable law. PayPal announced it was pulling as many as 400 jobs out of the state in protest. Last week, Hall of Fame rocker Bruce Springsteen cancelled a sold-out show in Greensboro, citing the law as the reason.


A statement from Bruce Springsteen on North Carolina: https://t.co/YahXTKffvV
— Bruce Springsteen (@springsteen) April 8, 2016

Good for them. But what exactly are the Kingdom and the Power of basketball — the NBA and the NCAA — waiting for?

Yes, the NBA did issue a statement shortly after the law went into effect, hinting at moving next year's All-Star Game from Charlotte. Yes, the NCAA, which has regional tournaments scheduled in the state in the next two years, said it was monitoring the situation and preferred not to host events in states that codify discrimination.

Great. How about actually doing something to drive home the point?
Hinting at doing something is doing nothing at all. Threatening to do something without following through is just as ineffectual and hollow.
The NBA's dilatory tactics are confusing to say the least. This is a league that is usually at the forefront of social change (at least as it pertains to the world of sports). It has used All-Star Game checks for famine relief in Africa. It spoke out against gun violence. Charles Barkley has called for the game to be moved.
Commissioner Adam Silver acted swiftly when one of his owners — the lamentable Donald Sterling — was caught on tape saying racist things. Sterling was banned for life and his team, the Los Angeles Clippers, was sold.
What is stopping Silver now? The All-Star Game is a major revenue generator for any city, and to remove it from Charlotte would send a forceful message to the bigots in the state legislature and the governor. Hinting at doing something is doing nothing at all. Threatening to do something without following through is just as ineffectual and hollow.
"We are deeply concerned that this discriminatory law runs counter to our guiding principles of equality and mutual respect, and do not yet know what impact it will have on our ability to successfully host the 2017 All-Star Game in Charlotte," the league's statement read.
That was March 25. And there should be no gray area in terms of the league's "ability to successfully host" the game. It can and should successfully host it elsewhere. There has been no move to repeal the law.
The Charlotte Hornets, the sole NBA franchise in North Carolina, issued a tepid statement saying the organization was opposed to discrimination in any form. Wonderful. That's right up there with "knowledge is good" as the motto for Faber College in "Animal House."
How about something more? How about the franchise's head boss, Michael Jordan, coming out swinging? (If he did, it would be the first time Jordan took a social stance on anything of import.)
The NCAA at least has acted on this before — and, for a change, it did the right thing. When Indiana passed a similar law, the NCAA, which is based in Indianapolis, made its intentions clear. The law was amended. It should have been repealed.
Mark Emmert, the president of the NCAA, said earlier this month in Houston that "we think some of these laws are movements in a direction that are not supportive of what we stand for and make it very, very hard, if not impossible, for us to operate in those states or those municipalities."
If these organizations are true to their words, they have no choice.
(I'm not holding my breath waiting for the PGA to move the 2017 PGA Championship from Charlotte. It should, of course.)
If these organizations are true to their words, they have no choice. Silver must call a news conference to announce that the 2017 All-Star Game will be moved. Emmert must do the same to announce that the regional tournaments in Greensboro and Charlotte will be played elsewhere.
As Springsteen said, "some things are more important than a rock show and this fight against prejudice and bigotry — which is happening as I write — is one of them."
Some things are more important than basketball games, too. Gentlemen, the silence is deafening.