Missing Boston's 86-Foot Tall Man, 50 Stories Up
02:27
Play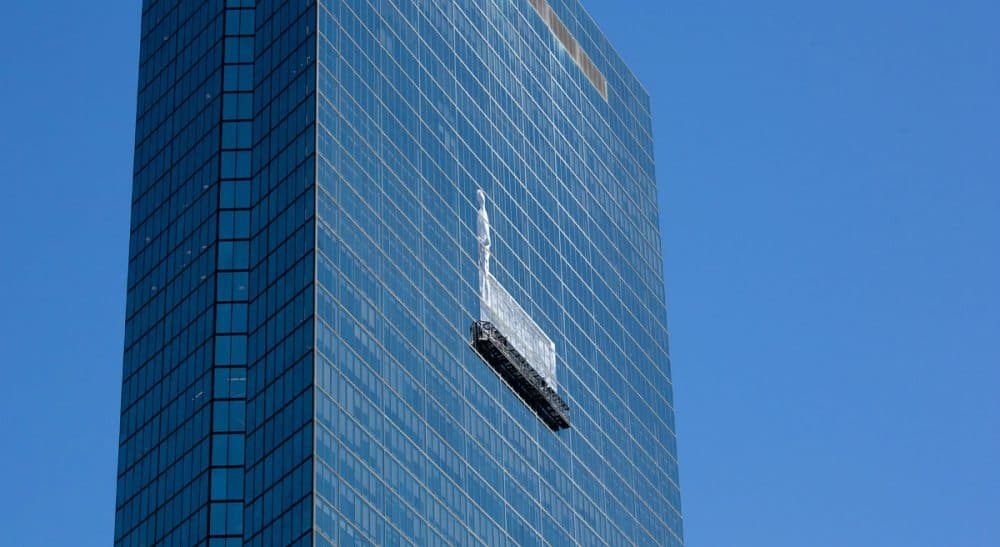 This article is more than 5 years old.
The disappearance of the mural on the former John Hancock Tower is bumming me out.
The first time I saw the vinyl "pasting," I was driving and had a hard time keeping my eyes on the road. As weeks passed, the image became a welcome surprise every time, whether I was driving east on the Mass Pike or walking along on Mass. Ave. toward Back Bay.
The man on the wooden raft (to me, it was indisputably a raft) endeared the former Hancock Tower to me.
All winter, the image reminded me of swimming out to a floating dock, never all that far from shore and but still an island landing. You pull yourself up, dripping, and take in a new vista. Ta-da.
The man on the wooden raft (to me, it was indisputably a raft) endeared the former Hancock Tower to me. I stopped thinking of it as "the plywood palace" where, while under construction, 133 panes of glass popped out and had to be replaced by sheets of wood. When it finally opened in 1976, there were complaints of motion sickness on the top floors. Those problems were resolved long ago, although the building is still responsible for the terrible wind tunnel down on Clarendon Street, where I once saw a gust lift a toddler off her feet.
But now I see the former Hancock Tower as a stunning canvas, shimmering blue or grey in answer to the seasonal sky, waiting for a new image to materialize.
It seemed to me that the man on the raft never got the respect he deserved. I liked Janet Echelman's "aerial sculpture," which fluttered above the Rose Kennedy Greenway last summer. The gossamer macramé — "As If It Were Already Here" -- was a site-specific confection, but you had to be on-site to see it.
At 150 feet wide, 86 feet tall and 50 stories in the air, the untitled, unheralded "painting" created by a French artist known only as J.R. claimed all of Boston as its site. It transformed the city's tallest skyscraper into a vertical lake or a snapshot of the Atlantic from above. In a way, it was a celebration of our port city with its historic harbor, where sometimes on a foggy day, you can catch the scent of brine all the way to Allston.
I miss it, dearly.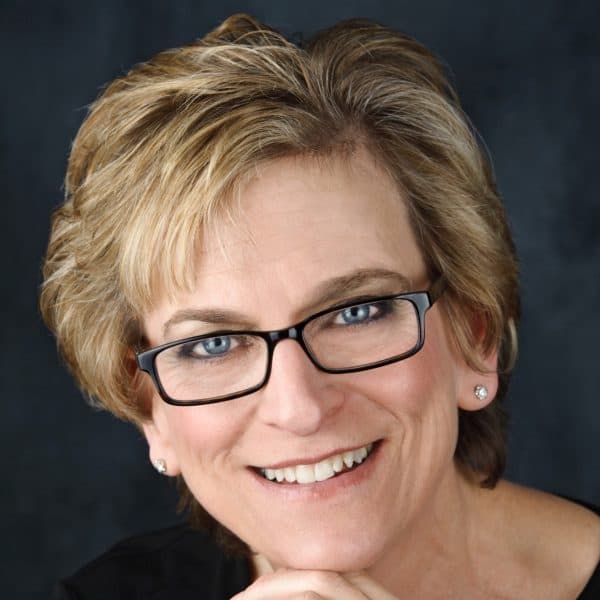 Anita Diamant Cognoscenti contributor
A Boston-based journalist and author, Anita Diamant has written 13 books, including the bestselling novel, "The Red Tent," which has been published in 25 countries and 20 languages.