The Fatal Consequences Of Pathologizing Race In America
According to a police scanner recording, a Minneapolis patrolman stopped Philando Castile last week because he had a "wide-set nose." Minutes later Castile was dying. He had been shot multiple times as he raised his hands. He was the 137th African American to be killed by police this year.
It was death by physiognomy. That a wide-set nose suggested a resemblance to a robbery suspect, as the policeman mentioned, is immaterial. Numerous psychological studies have shown that whites associate stereotypically African features with criminal behavior. In any case, it's unclear how the policeman could have been able to see the shape of Castile's nose if both were in moving cars.
Numerous psychological studies have shown that whites associate stereotypically African features with criminal behavior.
That brief audio clip sickeningly echoes centuries of racist thought pathologizing black features. The 1884 Encyclopedia Britannica stated authoritatively that black people hold "the lowest position on the evolutionary scale" as indicated by features such as "distinctly woolly" hair and a "flat snub nose." The antebellum Virginia law professor St. George Tucker went so far as to argue that in the case of a person whose skin was so light that their race seemed indeterminate, possession of a flat nose and woolly hair were clear enough markers of African ancestry as to justify their enslavement. As recently as 1994, Time Magazine darkened O. J. Simpson's face for the cover of their issue on his murder trial. His actual, light-skinned face was deemed insufficiently menacing.
Throughout our history, most of white America has not engaged with black people but with black bodies, out of a psychologically crippling inability to see past a dark skin or a broad nose. To treat someone inhumanely it is first necessary to dehumanize them. We've been doing it ever since black bodies were shipped as merchandise to these shores. An ancestor of mine, like so many other people, did it when he composed his will in 18th century Virginia and gave black people to his children as if they were pets or furniture: "to my daughter Elizabeth I leave my negro boy Marsh…" We still do it when security follows a black customer through a store while a white customer is asked, "Can I help you?" We still do it when a black man is imprisoned and a white man goes to rehab for identical drug offenses.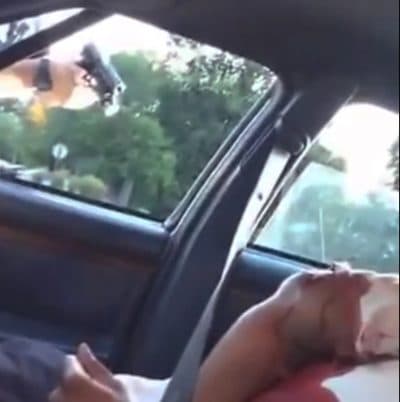 The black philosopher George Yancy recalls in a 2013 New York Times column how when he was a boy he was leaving his building carrying a telescope, and a white policeman who saw him said, "I almost blew you away." Black hands weren't supposed to be holding telescopes, so in the eyes of a policeman a scientific instrument briefly became a gun. The policeman didn't say, "I almost told you to put the gun down." He had assigned himself the right to be the executioner of a child — because a black child really isn't a child.
White Americans keep treating black Americans this way because to stop, we would have to first see them as people and not just bodies, and then openly admit what we have been doing to other human beings. Deep down white Americans know this. It's the reason for the reflexive hostility of so many whites to the phrase "Black Lives Matter." Because in the white experience certain lives have always mattered more than others: if black lives begin to matter, then other lives must be reassigned to second place.
In spite of ourselves we are breaking out of this brutalizing dynamic, albeit slowly and at a horrible cost. The unjustified killing of black people by police is provoking outrage it wouldn't have 30 years ago, in part because of streaming video that enables people across the country to see Philando Castile bleeding to death, just as television allowed an entire nation to see Alabama state troopers beat and tear gas civil rights marchers at Selma. Taken out of the context of our fear-ridden streets and downloaded to the familiar immediacy of our smartphones and laptops, we can see Philando Castile. We don't see a "wide-set nose," or even a black body. We see a man.