Who Will Care For The Caregivers?
This article is more than 6 years old.
Now in our 60s, my husband and I are contending with a question we thought we had left behind 30 years ago, when our children were young: Does it make sense to have two incomes, one of which pays almost entirely for daycare, or to have one of us stay home and look after the kids? Fast forward to 2016 and here comes the same dilemma, different generation. With an ailing mother to care for, the question is back: Should I give up my job to take care of her rather than hand my salary over to a home health aide?
As one of the oldest employees working in a company staffed largely by people in their late 20s and 30s, I hear this debate over and over again. Is working outside the home a privilege or a necessity?
And as a daughter, mother, grandmother, employee, and employer, I'm sick to death of this conversation.
Alas, our subservience to the imperatives of capital has ensured that all too often, a business's "inconveniences" are passed on to its employees.
So you'll forgive me if I'm not exactly elated by Donald Trump's latest attempt to win the women's vote, a new (and quickly revised) policy to support working families. He proposes six weeks of (partially) paid maternity leave through the unemployment insurance system for women who don't receive it through their employers, and the right to deduct the average annual cost of child care in their state from their federal income taxes. For families who don't earn enough to pay federal taxes, his plan offers an expansion of the earned income tax credit to give an annual rebate of up to $1,200.  Finally, the plan also includes a new tax-advantage savings account that would allow people to save up to $2,000 per year for the care of children and elderly relatives.
Trump's proposal gives partial pay to mothers — not to fathers or same-sex partners — and only for the first six weeks of a child's life. It provides yet another tax break to middle- and upper-income families, while the amount of the credit/rebate to low-income working families is barely adequate to cover three or four weeks of full-time daycare in most major cities. As a recent article on Yahoo's Beauty site explained (and yes, it's sad that the most comprehensive analysis I found online was on a beauty site), childcare is more costly than rent in most places in the country, ranging from just over $300 a month in rural communities to more than $1,400 in major cities. That translates into median annual costs of anywhere from $4,000 to $17,000. But to repeat, Trump is offering a maximum annual credit of $1,200 per family, not even per child. That man sure can make a deal.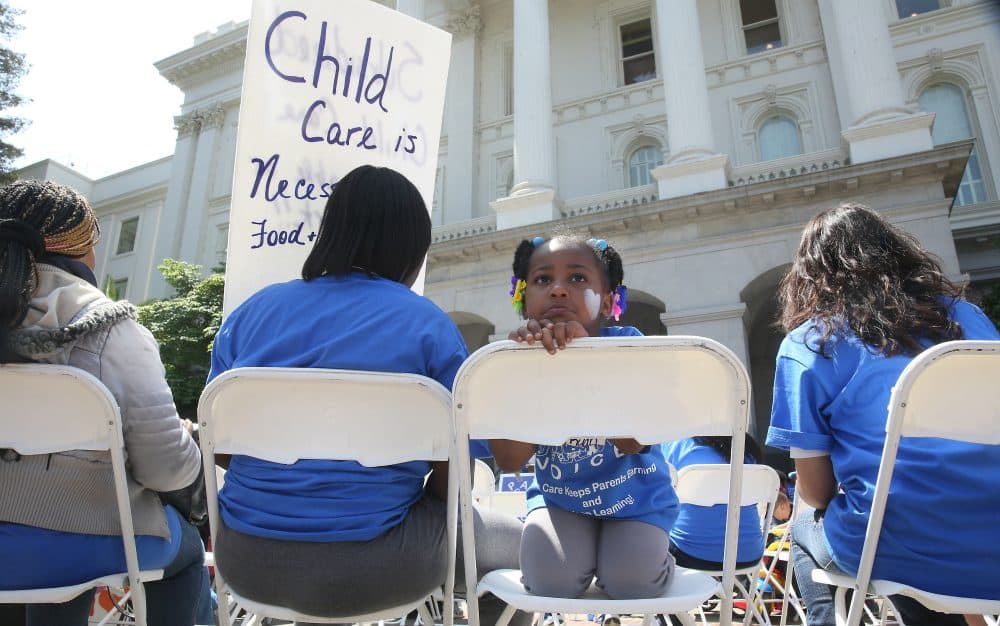 Hillary Clinton's vision — which has not been improvised during a tight election race, but rather has been consistent throughout her professional, pre-electoral career — is more helpful and inclusive. She has proposed a law that guarantees workers up to 12 weeks of paid family and medical leave to care for not just for a new child, but also for a seriously ill family member. It's not limited to mothers — mothers and fathers, daughters and sons would be eligible. Most significantly, she has called for legislation that would limit child-care costs to 10 percent of a family's income.
While I question Clinton's authenticity in some matters, she's been unwavering in her espoused support and practical advocacy for working families. And yet even her proposal is more remedial than transformative.
Ours is the only one of the 35 advanced countries in the Organization for Economic Cooperation and Development — including the world's wealthiest nations — that doesn't guarantee paid maternity leave (and in many countries, paternity leave as well). Across those countries, maternity leaves average 54 weeks, and during that time, most women collect partial salaries. When it comes to family leave, the United States is the most backwards of industrialized nations.
We need the government to ... provide leadership in establishing a culture in which caregiving is cause for celebration, not apology.
In a 2004 interview, Donald Trump rightly observed that, "[pregnancy] is a wonderful thing for the woman, it's a wonderful thing for the husband, it's certainly an inconvenience for a business." Alas, our subservience to the imperatives of capital has ensured that all too often, a business's "inconveniences" are passed on to its employees. But it's true — job-sharing, temporary staffing, and generous benefits, if offered, can all be costly in terms of dollars and productivity. That's why this cannot be a challenge left to companies alone to solve.
We need the government to subsidize child and elder care (as Clinton's policy hints at), to mandate family leaves that are longer and extend to part-time workers and small businesses, and to provide leadership in establishing a culture in which caregiving is cause for celebration, not apology. These lose-lose trade-off conversations that we have and hear on a daily basis will persist until we recognize that families are foundational to our society, that business and government should adapt to the requirements of responsible caregivers, not the other way around.