The Week That Was: State Of The State, Executive Orders, Oscar Nominations And More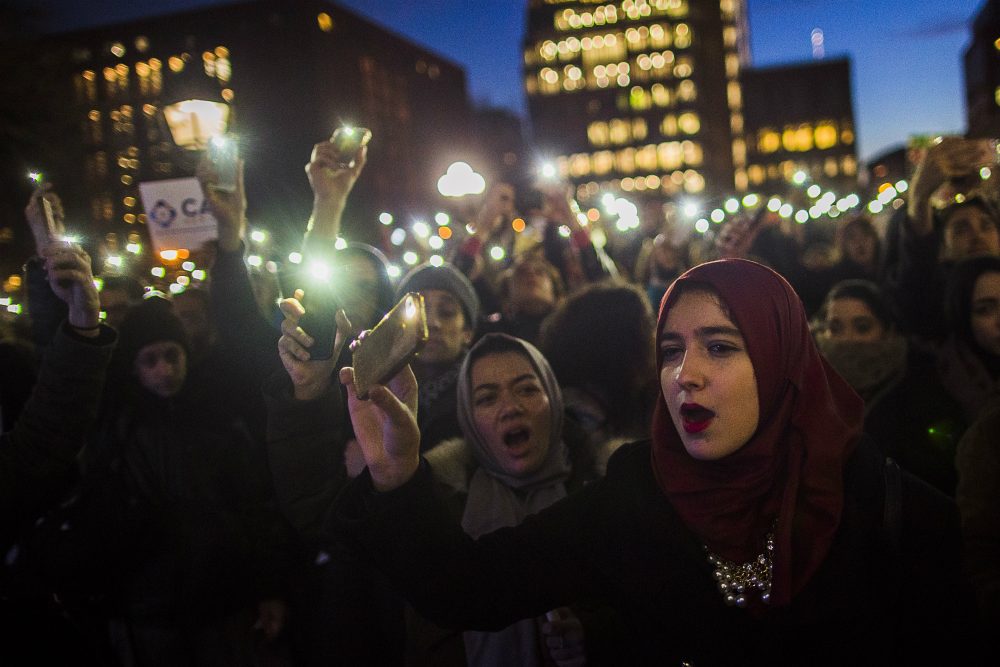 This article is more than 3 years old.
Editor's Note: Every Friday, Tom Keane offers up assorted observations, conundra and miscellanea about the week that was. Here's his round-up for the week ending January 27, 2017.
---
COMMENTARY
It was the first week of the apocalypse, yet the sun still rose, the earth spun on its axis and most lived their lives as they had before. There were exceptions, however.
No apologies. Stunned by a massive turnout of demonstrators in Washington, Boston and other major cities across the country and the globe, a chastened Donald Trump reached out to women's groups, immigration advocates and environmentalists, vowing to find common ground and … no, of course not. The president dismissed the protests -- I "was under the impression that we just had an election!" he tweeted -- and the Trump agenda proceeded apace.
Hooray for us. Meanwhile, Massachusetts Gov. Charlie Baker's State of the Commonwealth speech was optimistic. "We worked to fix state government, passed groundbreaking legislation and focused on growing our economy," he said. "(T)he state of our Commonwealth is strong." Pleased members of the House and Senate, certain they deserved most of the credit for this wondrous state of affairs, promptly moved to increase their compensation by up to 40 percent. Baker, obviously disagreeing with the legislators' assessment, said he'd veto the raises.
As part of his crackdown on immigration, Trump vowed to punish cities that set themselves up as "sanctuaries."
Popularity contest. Anti-Trumpers took great solace in the president's historically low approval numbers and stories of infighting among White House staff. When else have we seen Trump performing so poorly in national polls and disarray throughout his organization? Oh yeah, during the general election. And we know how that turned out.
Us versus him. As part of his crackdown on immigration, Trump vowed to punish cities that set themselves up as "sanctuaries." Democratic mayors around the country pretended to be frightened, but in truth were delighted with the opportunity to take a big, bold stand on an issue of consequence. "We will not be intimidated by a threat to federal funding. We will not retreat one inch," proclaimed Boston Mayor Marty Walsh, using soaring rhetoric hearkening back to abolitionist William Lloyd Garrison ("I will not retreat a single inch"). Such high-minded clarion calls sure beat the normal humdrum of filling potholes and negotiating zoning appeals.
Forgiveness. Even though they were helmed by Trump-loving Tom Brady, coached by Trump-loving Bill Belichick, and owned by Trump-loving Robert Kraft, the heavily Democratic, true-blue Bay Stater nonetheless cheered on the Patriots AFC win, reasoning that some things are more important than the imminent upending of the U.S. Constitution.
Booze beats bongs. A few weeks ago, state Treasurer Deborah Goldberg successfully pushed for a delay in the voter-passed legalization of pot, arguing she just didn't have the staff and resources to implement the new law. Just recently, however, Goldberg announced that she did, in fact, have the staff and resources to conduct a wholesale reassessment of state alcohol rules. Take that, potheads!
Hackney hell. MassPort just cut a deal with Lyft (and soon, Uber) to allow the so-called network transportation companies to pick up customers at the airport. Price to take Lyft from my Fenway home to Logan: just under $20 – including tip. Price to take a cab from Logan to home: $34 – also including tip. It's that $14 difference that will make for yet another nail in the almost-finished coffin of the traditional taxicab industry.
Diversionary tactic. In his first few days on the job, President Trump pulled the U.S. out of the Trans-Pacific Partnership, reinstated the "global gag rule" on abortion, pushed forward the controversial Keystone XL and Dakota Access pipelines, and did a host of other important things, all of which were ignored because Trump also complained about media estimates of inauguration crowds which really are far, far more interesting to talk about.
Who wins Best Picture? Sorry, Beantown boosters... Hollywood's just not in the mood for another downer. Nor is the rest of America.
Traitors in his midst. This week Trump put in place a government-wide hiring freeze. If you're wondering why he's so hard on the folks he ostensibly now supervises, check out an interesting poll from Government Executive: Just 29 percent of civil servants voted for the new president. Seen in this light, Trump's motivation may be less the traditional conservative attitude that big-government per se is a problem, and more a fear that federal workers – or at least 71 percent of them – are his problem.
Kiss Flix Best Pix. California gave us the upbeat and romantic "La-La Land" and Massachusetts offered up the brooding and sad "Manchester by the Sea." Both snagged multiple Oscar nominations. Who wins Best Picture? Sorry, Beantown boosters. In these grim times, my bet's on frivolous fun over frowny faces. Hollywood's just not in the mood for another downer. Nor is the rest of America.