iPhones Vs. Health Care: Demonizing The Poor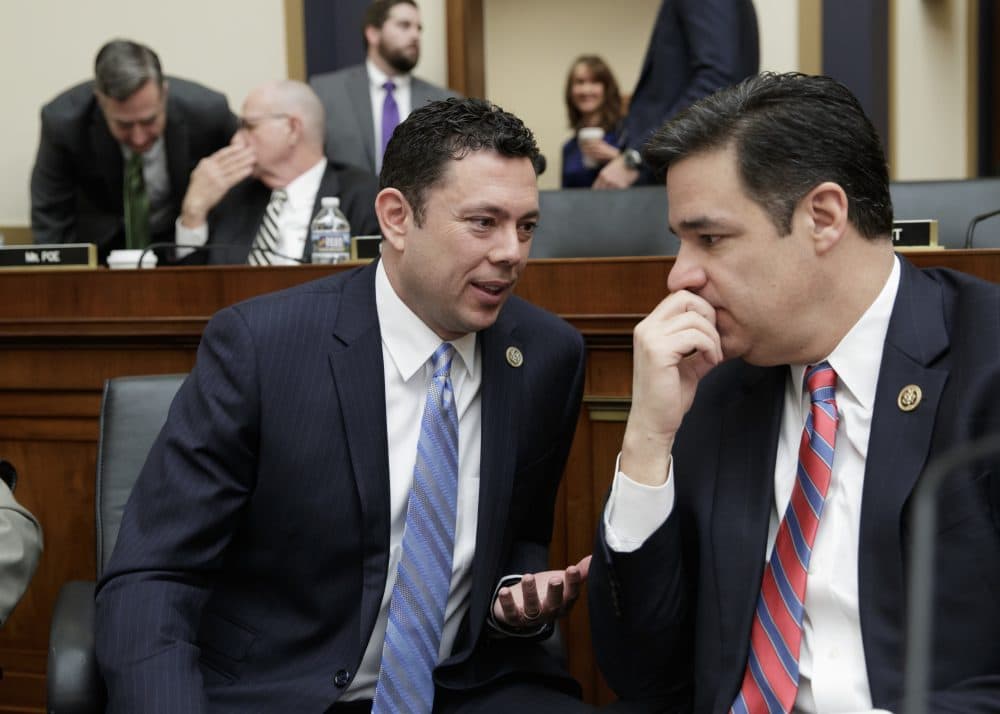 This article is more than 4 years old.
---
"So maybe rather than getting that new iPhone that [poor Americans] just love and they want to go spend hundreds of dollars on that, maybe they should invest in their own health care. They've got to make those decisions themselves." — Rep. Jason Chaffetz, March 7, CNN
The day after Chaffetz spoke, the Utah Republican walked this hateful and hate-filled statement back. But we know that such retractions are only the sleazy "part two" of an utterly cynical smear campaign.
It's open season now on all vulnerable groups, and taking target practice on poor people — who have absolutely no way to voice their point of view as widely as the congressman — is an old trick that doesn't get any more appetizing when the accusations are updated from Cadillacs to iPhones.
Enough already! God knows there are many ways to parse our current political divide. I've been doing my liberal best to humanize the people I disagree with — I've talked with Trump voters, and read dozens of articles as well as books: "Hillbilly Elegy" and "Strangers in Their Own Land," and "Age of Anger." All are illuminating. But this legislation to destroy the Affordable Care Act and Medicaid coverage doesn't help most Trump voters or the working class. The Congressional Budget Office said this week that the plan would cause 24 million people to lose health insurance over the next decade. The Republican legislation pits the lower-middle class and poor against the very poor, and harms both groups. This approach is so cynical, so exploitative and so dishonest that it eviscerates human decency.
The rage that rises in my gorge at Chaffetz's comment comes from treating and knowing all kinds of people struggling with poverty.
I've spent much of my adult life providing mental health services to low-income people in an outpatient setting where humane health care providers also delivered medical care. The rage that rises in my gorge at Chaffetz's comment comes from treating and knowing all kinds of people struggling with poverty. He's not just spray-painting ugly graffiti to obscure real lives, he's picking on people who can't easily fight back or hold him accountable. It's shameful.
Why would the richest nation in the world want to deprive anyone of health care, much less those whose lives are the hardest and most likely to be filled with trauma and illness? We know from the Adverse Childhood Experiences studies that the more traumas children endure, the more likely they are as adults to suffer chronic medical illnesses and shortened life expectancies.
Poverty — from inadequate pay, physically taxing jobs, bad housing and street violence, to hunger, bias, eviction and bad schools — is often lived as all trauma, all the time. We create a double jeopardy. First we traumatize and then we ration or deny medical care — so people are deprived of relief from the harm the social structure has imposed. The Republicans are racing to ram through their health care plan, and the Koch brothers and their allies are impatiently egging them on.
[Randy Kendrick] was convinced that if she had lived in a country with a single-payer plan, she would have died.
Why, you might reasonably ask, would men whose bailiwick is oil, throw their huge political weight behind taking away health care? The apparent answer is convoluted, but illuminating. According to Jane Mayer in "Dark Money" — her book about the brothers and their rich networks — health care was never on the fraternal agenda until 2009 when the ACA was in process, and when one of their very rich, very conservative allies, Randy Kendrick, urged them to destroy it.
It seems Kendrick, the wife of Arizona Diamondbacks owner Ken Kendrick, suffered a rare illness and then, an injury. She was convinced that if she had lived in a country with a single-payer plan, she would have died. In her epiphany, Kendrick equated the ACA with single-payer plans, and thus, with deprivation of care. One of her doctors at the Cleveland Clinic disagreed, in Mayer's book, that the ACA jeopardized the kind of treatment she received. But many millions of dollars and front organizations like The Center to Protect Patient Rights later, that ridiculous claim and others like it are empowering this destructive effort.
But let's be clear, it is nothing short of obscene that the .001 percent of the superrich are using scarecrow words like "rationing" and "socialism" — not to mention hidden tactics — to ward off their fantasies of being denied their choice while they blithely deny basic care to those who need it most. And Chaffetz's cynical iPhone comment is just one more sleight of hand to mislead his constituents while he votes against their best interests.