A Chapel's Lasting Legacy, And A Priest's Valuable Advice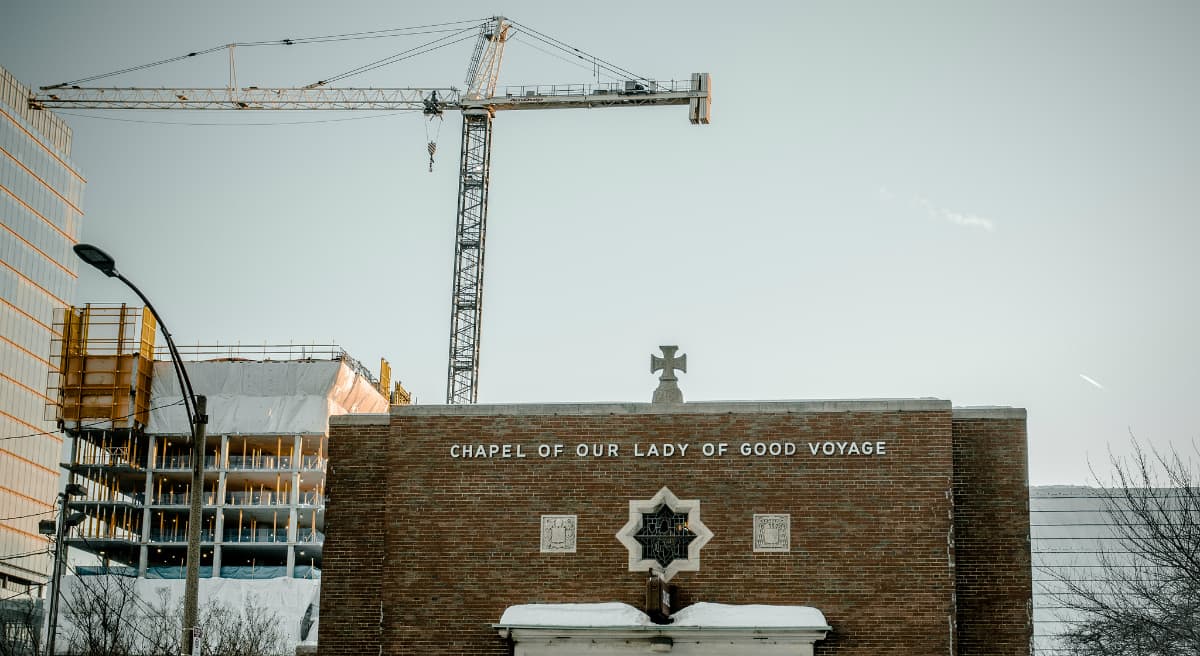 This article is more than 5 years old.
"They're going to tear down the church! How are you going to get married? They're tearing down the church! Call me back!"
Like many, my mother-in-law has a knack for leaving alarmist voicemails. A month before this calamity, she found out the Arizona DMV accidentally registered her daughter for the selective service. I didn't have a good answer for how would we get married if the bride got drafted and sent to Afghanistan before the big day either.
By comparison, a frantic message that the church would be torn down before we could get married in it seemed somewhat more reasonable.
Just months before our August 2010 wedding, developers announced plans to raze Our Lady of Good Voyage, the small Seaport chapel that was to host our ceremony. I briefly (and unhelpfully) entertained the idea of getting married in matching hard hats atop a particularly unromantic pile of rubble. It'd probably be cheaper to use a backhoe idling in reverse to set the mood instead of an organist.
Just months before our wedding, developers announced plans to raze Our Lady of Good Voyage, the small Seaport chapel that was to host our ceremony.
We chose the humble Our Lady of Good Voyage because it reflected the simplicity we wanted in our ceremony, and was conveniently located within walking distance of our reception. We met the pastor, Father Joe White, just before Christmas in 2009. Within minutes, he eased the nervousness we both felt with an unexpected warmth and jollity. Sitting in a small room in the rectory, we discussed our relationship, our faith and our future. Before we said goodbye, he left us with one bit of advice: Wedding planning is stressful, he said, so take time to reconnect with each other and remember why you're doing this. Take it or leave it, he said. We took it – and have since found it useful in life after wedding planning as well.
Whether due to the delays inherent in all construction projects or (as she'll tell you) the incessant phone lobbying of my mother-in-law, Our Lady of Good Voyage survived until August. We got married in the simple, cozy setting that fit us perfectly and took beautiful pictures in Fan Pier Park before walking, hand in hand, to our reception.
Ever since our wedding day, we make a point of checking in on Our Lady of Good Voyage whenever we're nearby. We try the front doors, ultimately settling for a tip-toed peek through the windows. Atop the granite stairs, we pause for a moment to reconnect, silently thinking back to the first time we descended them as a married couple: The world was in front of us (and so were two friends, late for the ceremony, diving into the shrubbery in hopes that we wouldn't notice).
This past Sunday, those doors opened for the last time for an Easter service. Soon, the little chapel and its scraggly bushes will be torn up to make room for towers of concrete and steel, with fancier bushes more reflective of the Seaport's new-found chicness.

They said it would never last. We knew it wouldn't — the chapel, that is. Having a marriage that outlived its church still feels odd. But in truth, a church, our marriage, is more than that humble little chapel-that-could. Even after the site is redeveloped beyond recognition, trading granite stairs for the shadows of skyscrapers, we'll still pause and reflect on the lesson Father Joe gave us.
The reasons we got married were once a central fixture in our lives, but before we knew it, our lives had grown up around them and overshadowed them, much like the humble chapel in the old Seaport. Instead of high-rise condominiums and offices, though, we had to contend with growing obligations of work and family. The reasons we got married were always there, but so was everything else, all of it seeming larger and more urgent.
The diocese could have simply closed our humble chapel, as was planned for years. Instead, it chose to pluck it from the shadows and return it to its central role in the neighborhood. The new chapel, opening this Sunday, is not the tallest building in the Seaport's rapid development, but when you drive down Seaport Boulevard it's the first.
Reflecting on Father Joe's advice, my wife and I resolve to return our relationship to a central point in our busy lives. Instead of plodding along as days turn to weeks then months and years, we now make a point to take time to reconnect with each other and remember why we got married — and maybe talk about the latest alarmist voicemail.