The Week That Was: Dems Rejoice, O'Reilly Exits, Patriots Visit Trump And More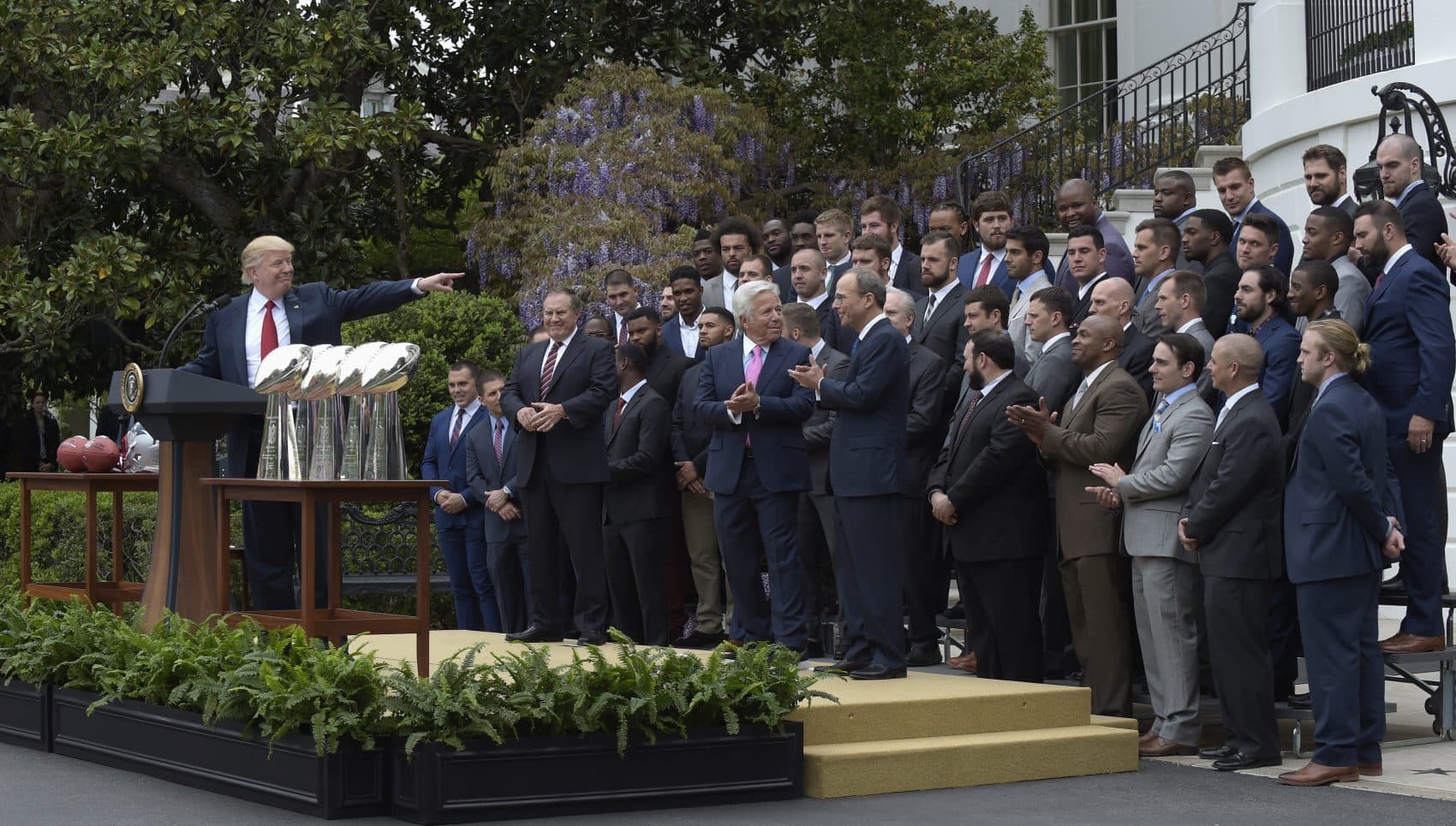 This article is more than 3 years old.
Editor's Note: Every Friday, Tom Keane offers up assorted observations, conundra and miscellanea about the week that was. Here's his round-up for the week ending April 21, 2017.
---
It was a week where Democrats thought they triumphed and the king of no spin decidedly did not.
Comeback kids. The Democratic party was elated when, a week after it failed to win a Congressional election in Kansas, it also failed to win a Congressional election in Georgia. Look, I get it. The party's doing better than expected, benefiting from a Trump bump that's energizing voters and helping raise tons of cash. But better than expected so far hasn't resulted in a victory. Moreover, the party's a mess — riven by divisions that seem to be driving it further leftward. The thing Democrats don't get is that much of its base voted for Trump despite how awful he was. Becoming pseudo-socialists won't win them back.
Killing Bill. So, does Fox deserve kudos for finally ousting Bill O'Reilly, its "king of cable news"? Not really. The company seems to have a high tolerance for sexual harassment (see Roger Ailes and Megyn Kelly). What finished off O'Reilly was not some new-found enlightenment by the Murdochs and the rest of senior management but rather that advertisers -- under pressure in turn from their customers — were jumping ship. The story can be summarized in four words: Money talks; Bill walks.
Shell game. Remember the aircraft carrier Trump said we sent to North Korea, the "armada" he bragged about to China's boss Xi Jinping? Actually, it was off the coast of Australia, conducting training exercises. No doubt, deception is an important part of warfare. George Washington did it in 1776 when he painted logs black and stationed them on Dorchester Heights to look like cannons. But an aircraft carrier? Kim Jong Un must be thinking Trump is as delusional as he.
Hot air. The Trump administration is showing signs that the United States may stay in the 2015 Paris climate accord after all. If so, that would appear a major about-face from Trump's campaign trail promises. Really, though, it isn't. The administration is still busy gutting the Environmental Protection Agency, killing Obama's Clean Power Plan, and pushing to make coal king again. Sure, we may remain as signatories to the accord. But we're kind of like a club member who never pays his dues. You have to wonder: At some point, when does the rest of the world kick us out?
Bad optics. Is it completely unfair to observe that Aaron Hernandez died by apparent suicide on the same day that Robert Kraft, Bill Belichick and many Patriots players were yucking it up at the White House, listening to Donald Trump compare his win to the team's Superbowl comeback and that — if one wants to extend the metaphor even further — there's a dark underbelly to both storybook tales?
Word play. People professed themselves shocked when Adidas sent out an email to runners saying "Congrats, you survived the Boston Marathon!" Clumsy? Yes. But please, spare us the faux outrage. Saying anyone "survived" a test of endurance, be it a long run or simply taking the SATs, is such common parlance it's almost cliché. I feel sorry for the poor PR person whose real mistake was not realizing that in today's hypersensitive world, we look for any excuse to take offense.
Fake is real is fake again. Six weeks ago, Trump boasted about strong employment gains for February. Much was made then of the president now reveling in data that on the campaign trail he called "phony." Lately, however, we haven't heard much about the economy from the White House. Why's that? Well, the March numbers were terrible — only 98,000 new jobs. Moreover, a new report from Gallup shows that consumer confidence is now at a five-month low — a harbinger that spending may decline and the economy may dip. What does Trump do now? Own it — or just reverse himself again?
Ah, college. And finally, an editorial in Wellesley College's newspaper sparked a firestorm of comments when it argued that "shutting down rhetoric that undermines the existence and rights of others is not a violation of free speech." In the students' view, that included "racism, sexism, homophobia, Islamophobia, transphobia" and other discriminatory speech. Some, of course, might argue that questioning Creationism is some sort of "Biblephobia" and that it, too should be shut down. Therein lies the problem. Open the door to banning some speech, and it's pretty easy to ban it all.