Political Bots And The Right-Wing Hijacking Of Social Media
Like what you read here? Sign up for our twice-weekly newsletter.
---
Meet Robin. In her Twitter profile photograph, she peeks up from beneath a blue Yankees trucker's hat, her grin a pleasing mix of sassy and seductive, her heavily mascaraed eyes green and wide. Below it, her mottos and favorite causes: "There would be a rifle behind every blade of grass. /NRA /Pray For The Men in Blue /I got your six /All gave some, Some gave All /111%/Till They All Come Home."
Robin follows 4,800 other Twitter users, is followed by almost 3,500, and has made a stunning 65.2 thousand tweets to date. Actually, retweets — videos celebrating veterans, mocking whiny college art students, condemning Ann Coulter for having expressed a wee bit of disapproval about her dear leader, and of course, graphics and slogans excoriating the liberal media.
Robin only retweets; she can't create original content. That's because, behind the profile, Robin is not a real human being. She's a bot.
Bots are software applications that perform repeatable, automated tasks. They are often used to support sales, news, or customer support organizations by giving you real-time weather updates, sports scores, or even fashion tips. But they do less useful tasks as well, such as when they serve small and usually extreme political groups by liking or retweeting posts to inflate and falsify measures of public opinion.
Robin only retweets; she can't create original content. That's because, behind the profile, Robin is not a real human being. She's a bot.
I discovered "Robin" in the course of using social media listening technology to assess if and how public sentiment regarding President Trump, the Republican Party, and the Democratic Party was changing during the first 100 days of the new administration. To my surprise, I found that good feelings about the president and antipathy towards the Democrats both spiked the day after Rachel Maddow broadcast her ho-hum, barely newsworthy scoop about Trump's 2005 tax return. I was even more shocked to see that both the Republican Party and its leader appeared to be unscathed by their initial failure to repeal and replace "Obamacare." A few weeks later, my assumptions were violated again when Comey's firing caused no dip in Trump's approval in the Twitterverse. The Commander-in-Chief's Teflon coating had nary a scratch.
I know that I live in an online "filter bubble." Still, I was briefly stunned to think that I could be that out of touch.
But it turns out that my disconnect may not be from other citizens across the political spectrum, but rather from the estimated 48 million Twitter bots amplifying the noise of social media. And, like Robin, the majority of political bots on Twitter are avid liberal- and media-bashing Trump supporters.
That people use social media to express their opinions isn't surprising. But why manufacture fake people to do it? What do those who create or finance the production of these bots actually gain from creating digital ventriloquist's dummies?
According to recent sociological research, changing demographic and economic conditions in this country have caused latent authoritarian tendencies in some portion of the electorate to flourish. Authoritarian personalities are unnerved by diversity, comforted by uniformity, and respond to forceful, decisive rhetoric and action in the face of perceived threats.
What do those who create or finance the production of these bots actually gain from creating digital ventriloquist's dummies?
Beyond providing a psychological explanation for why the president's nativist rhetoric resonated so strongly with this group, this may also explain why the bot masters are so eager to drown out debate with manufactured sentiment. Like the grizzly bear that turns sideways to present the largest possible profile to a potential threat, like the male bird of paradise who inflates its neon chest in a frenetic courtship dance, the bot masters strive to demonstrate dominance. They want their movement to appear bigger, stronger, more luminous and pervasive than it actually is.
The great irony in this is that to combat both political bots and the false stories they spread, Facebook and Twitter are resorting to old-fashioned, human methods. Twitter is publicizing tools and tips that help users identify bots and fake followers. Facebook is partnering with journalists and fact-checkers and flagging questionable articles as "Disputed" (though nobody seems certain whether this is slowing the tide of fake stories or boosting the viral spread of them). But most gratifying of all, Facebook is launching an educational program to develop users' critical thinking skills.
Maybe, just maybe, the battle against the bots will force us to regress. We just may have to question, analyze, and — most important — converse again. Though perhaps not with Robin.
Follow Cognoscenti on Facebook and Twitter, and sign up for our twice-weekly newsletter.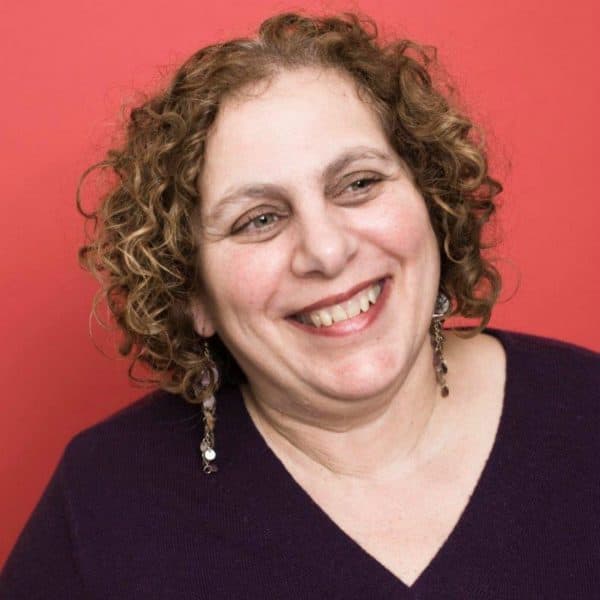 Julie Wittes Schlack Cognoscenti contributor
Julie Wittes Schlack writes essays, short stories and book reviews for various publications, including WBUR's Cognoscenti and The ARTery, and is the author of "This All-at-Onceness" (Pact Press, 2019).