If You're Against Abortion, Gunning For Planned Parenthood Makes No Sense
Americans like to think our medical care is second to none, and it boasts undeniable achievements. But here's a shameful fact you may not know: We lead the developed world in maternal deaths and near-deaths.
A joint ProPublica and NPR investigation recently found that 700 to 900 American women die every year from causes related to pregnancy or childbirth, which makes a mother here three times as likely to perish as her Canadian counterparts and six times as likely as those in Scandinavia.
The report pointed to several causes, including lack of good health insurance, medically complicated pregnancies due to C-sections and the older ages at which women are becoming mothers. And the report cites another reason: One half of pregnancies are unplanned, and they happen before women with ongoing health problems are able to address those problems.
To whatever extent contraception averts unplanned pregnancies in women with health problems, Planned Parenthood helps address one cause of maternal deaths.
This is especially relevant since the House passed its Obamacare repeal. Among its various crimes against humanity, the bill strips federal money from Planned Parenthood for one year, allegedly in the name of protesting its abortion services. The four-decade-old Hyde Amendment already denies direct federal subsidies for abortions. But some anti-abortionists object that Uncle Sam's largesse still supports salaries for Planned Parenthood's abortion providers when they give services other than abortion.
Actually, those other services help decrease abortions, as those of us who favor greater legal restrictions on abortion should never forget. If you're against abortion, gunning for Planned Parenthood makes little sense. If you're one of those at-risk mothers, it's a matter of life or death.
Three quarters of abortions involve women who are poor or low-income. Giving them free contraceptives has been found to cut their abortion rate. And while just 3 percent of Planned Parenthood's spending goes to abortions, contraception accounts for 31 percent.
To whatever extent contraception averts unplanned pregnancies in women with health problems, Planned Parenthood helps address one cause of maternal deaths. (In 2015, according to the Guttmacher Institute, all publicly financed contraception prevented 1.9 million unplanned pregnancies.)
As for the remaining 66 percent of the group's spending, most goes for testing and treatment of sexually transmitted diseases. Twenty percent goes to cancer screenings and prevention; withholding federal support for those literally endangers women's lives.
Trying to financially neuter Planned Parenthood might make sense if you object to contraception as well as abortion. But that's a minority of the anti-abortion camp. And at some point, you have to decide what it is that you want to see decreased: abortion, or the contraception that curbs it?
Writing in The Boston Globe, two hospital analysts cited studies showing that "eliminating contraceptive copays has increased women's use of the most effective methods, and reduced rates of unintended pregnancies and abortions."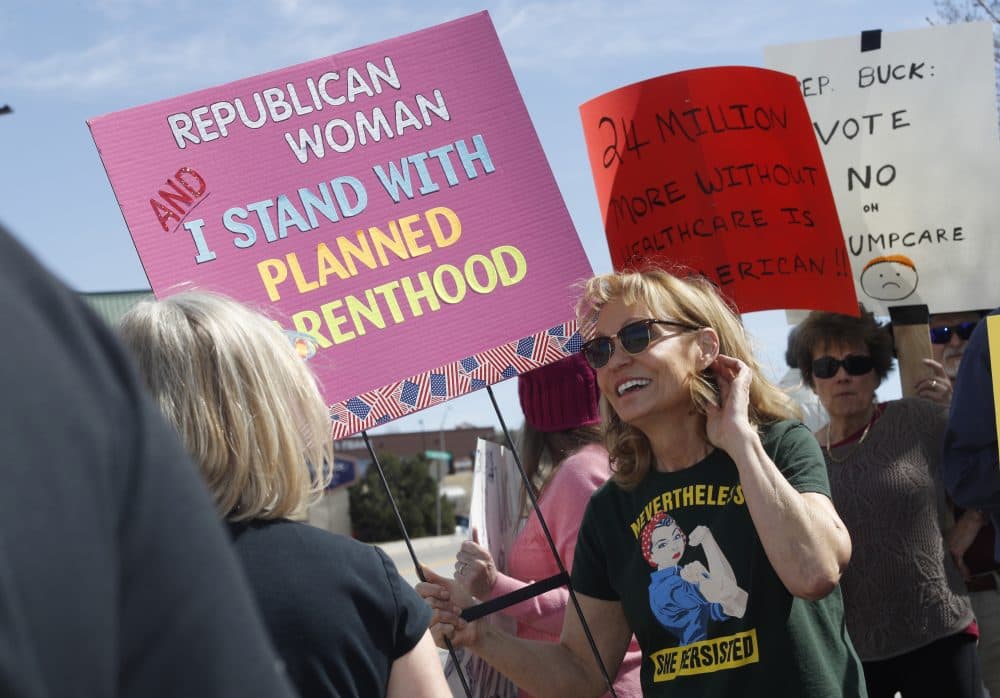 Of course, addressing the tragedy of maternal deaths is not the goal of the Republican House members who drafted Obamacare's repeal. Their goal isn't extending health insurance at all, but rather constricting it. They bray that their handiwork would save the government money. Well, sure. You and I could save government money, too, if we wrote a plan kicking millions of needy people off Medicaid.
This predatory wing predates Donald Trump's ascension, but having a president who panders to the party's most extreme pro-lifers has made things worse. Beyond supporting the Obamacare repeal, Trump took what had been a principled stand by Republican presidents — defunding overseas family planning that provided or promoted abortions — and extended the rule, preventing almost all of American global health funding from going to any organization that also provides or promotes abortions. That's almost $9 billion, about two-thirds of which would go toward AIDS relief.
Long story short, from abortion to maternal health, we are witnessing the pro-death wing of the GOP in action, whether it intends to be that or not. We can only pray the Senate has a trash can big enough for the House's bill, Planned Parenthood defunding and all. Meanwhile, the anti-abortion camp should be wary. We shouldn't align ourselves with folks who act like the love children of Ebenezer Scrooge and Homer Simpson, heartless and bumbling.