'Sgt. Pepper' At 50: What The Beatles Can Teach Us About Trump
If you could cue up a soundtrack to the 1960s, it might well be the Beatles' "Sgt. Pepper's Lonely Hearts Club Band," that psychedelic landmark that scoffs at its own reputation. Released 50 years ago at the dawn of the 1967 "Summer of Love," this album gave shape and color to a complicated era now vilified as a detour into empty platitudes and shallow moralizing.
The mostly white under-30s counter-culture, who preached "flower power," couldn't prevent weeks of street riots in Tampa or Buffalo or Detroit or Washington, D.C. And the anti-war fervor didn't extend to supporting the damaged soldiers who came home from Vietnam. Ask any Vietnam vet how "far out" General Westmoreland seemed each time he predicted victory that year.
Nonetheless, "the Sixties" — that now-derisive catchall — produced a glorious body of music that spoke to the era's overheated idol worship, a commentary that still speaks to the Trump phenomenon. During the summer of 1966, with the release of their masterpiece, "Revolver," the world heaped scorn on Lennon's "more popular than Jesus" quote. This taught the Beatles some disenchanting lessons about notoriety.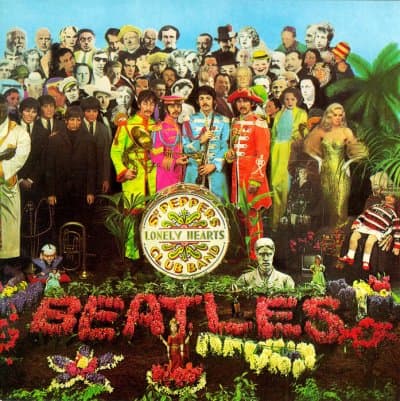 For their next album, they posed in front of a grave marked "Beatles" in red flowers flanked by Tussaud wax figures of their former selves, bidding farewell to the naive first wave of "mop-top" Beatlemania. But instead of parody, the "Sgt. Pepper" cover and album became the very pop culture fixtures they meant to satirize. The Beatles had created such a charming conceit that audiences embraced it as a celebration of everything they loved about the group rather than a funeral for a dying era of adolescent optimism. Today, 50 years later, the album and its coda still peal with a chastened modernity that anticipates the age of Trump and our celebrity-saturated culture.
"Sgt. Pepper" seduces us as cunning entertainment before dropping its punchline. "With a Little Help from My Friends" captures Ringo Starr fronting the world's most supportive brotherhood, and "Getting Better" links romantic optimism to the larger Utopian spirit.
Side two slips in and out of this dark-side-of-celebrity theme, moving from the Eastern-inflected sincerity of "Within You Without You" to the delicately pointed query in "When I'm Sixty-Four": Will their audiences still love them when they're no longer young? As the album draws to a close, a corn flakes ad taunts the homely comforts of work, school and tea in "Good Morning, Good Morning." McCartney's fevered guitar solo on this track amplifies the Mad Men's cynical impact on commercial culture, and then fades back into the show reprise, where the fictional Sgt. Pepper band says goodnight and the curtain comes down.
This frame, the fictional "show," yields to a morning-after hangover: "A Day in the Life." From studio logs, we now know the Beatles taped this track in January 1967, and immediately selected it as the finale. The Pepper concept came out backward: They wrote, recorded and reverse-engineered the album with this number as an anchor, its final piano chord dissolving like and infinite question mark.
This one song casts such a fearsome shadow on everything it follows that it makes most other Beatles finales sound meek. "A Day in the Life" follows an audience member home from the show to confront the real world in the next day's newspaper, stumbling from the antiquated past — Sgt. Pepper's band saying good night — into a ceaseless present of random events colliding across the morning paper. The relevance to today's political circus can stop you cold.
"A Day in the Life" turns Pepper into a musical essay on fame's illusions, how that mysterious bond between artist (or celebrity) and audience can push us to confront reality more fully, and respond with more empathy to faraway events.
Today, 50 years later, the album and its coda still peal with a chastened modernity that anticipates the age of Trump and our celebrity-saturated culture.
These days, reading the news means listening to a podcast through your smartphone or swiping through Snapchat stories. But a sense of dread keeps sneaking in: How does counting potholes (in the climactic verse to "Day in the Life") lead to insight or purpose? How does a sane person — or a "woke" kid — create meaning from digital feeds that jumble Syrian refugees with school massacres and fuming nationalism?
"A Day in the Life" turns prophetic in the Trump era, where bombastic jingoism prompts hate crimes and "fake news" turns policy debate to sand. By framing the perils of celebrity worship — exemplified by Trump — with such grandiose comic flair, the Beatles turned superstar culture in on itself, a cartoon shocked sober by reality. Time makes wax figures of us all.