What Trump Needs To Learn From McCain: Respect Human Rights
In the Middle East, where some countries let rapists go unpunished if they wed their victims, reformers are making progress in repealing such medieval misogyny. Should the United States, either publicly or diplomatically sotto voce, support them?
Would you bet on President Trump answering "yes" to that question? After all, confronted with Vladimir Putin's homicidal record, he famously retorted, "You think our country's so innocent?" echoing the Cold War-era far left, which proclaimed the United States had no business calling out the Soviet Union's rights abuses because our shortcomings made us morally equivalent. (The gulag apparently computed as just an everyday misdemeanor.)
Trump's comments weren't aberrational indifference to human rights. As part of a restructuring of the State Department, his administration proposed eliminating the Office of Global Criminal Justice, created 20 years ago in the wake of Serbia's ethnic cleansing, Rwanda's genocide and other crimes against humanity. The office advises the government on how to handle human rights atrocities.
McCain, a former prisoner of war who was tortured in Vietnam, is perhaps the highest-stature advocate of a foreign policy that remembers human rights.
All of which adds another layer of tragedy to Sen. John McCain's brain cancer. The Arizona Republican's illness has brought deserved praise for his bipartisanship. Humanitarians also have reason to grieve: McCain, a former prisoner of war who was tortured in Vietnam, is perhaps the highest-stature advocate of a foreign policy that remembers human rights.
Soon after McCain disclosed his illness, two Harvard scholars — one a former assistant secretary of state for human rights — wrote in The Boston Globe that closing the State Department's global justice office "would send a signal to repressive governments everywhere that the U.S. government is no longer concerned about deterring mass atrocity."
They noted that the intended closing follows Trump's grand-marshaling a parade of thugs through the White House, among them the presidents of Egypt and the Philippines. If our commander-in-chief says in private the kinds of things he says in public, he isn't shouting "not funny" to this gang about their rights abuses.
McCain, by contrast, rarely minced words about human rights. In the 2008 primaries, while other Republican candidates played to the cheap seats by endorsing waterboarding of suspected terrorists, he denounced the practice as both cruel and ineffective.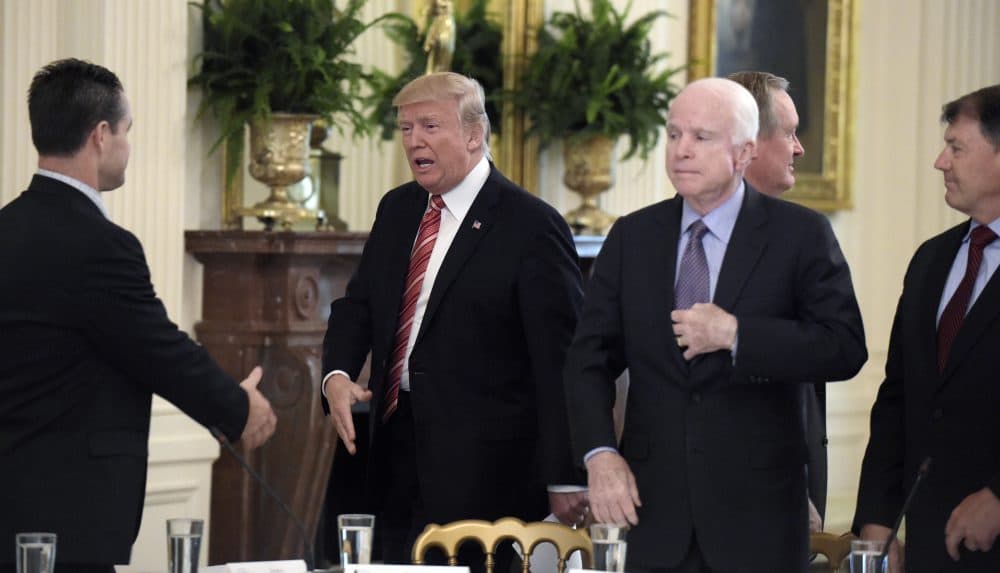 Two months ago, in an op-ed for The New York Times, McCain recounted how Soviet dissidents in the gulag had learned about, and took heart from, President Reagan's public exhortations on their behalf. He wrote that years before, he and his fellow POWs, on hearing that then-California Gov. Reagan called for their humane treatment, had been similarly fortified against their captors' taunts that their country had forgotten them.
In his piece, McCain called himself a "realist," referring to a school of foreign policy thought that unapologetically privileges U.S. national interest. That makes realists moderate and cautious about plunging into foreign adventurism, one expert has written. By that yardstick, some will question, reasonably, the realism of the hawkish McCain, who has supported such interventions as the war in Iraq. (Full disclosure: I did, too.) Some neoconservatives pushed the war to expand human rights in that country, but the results have proven the war a blunder.
Nevertheless, McCain wrote his column for a valid human rights reason, arguing against comments by Secretary of State Rex Tillerson that too much values talk in foreign policy hindered the national interest. Foreigners' experience with and hatred of cruelty is real, McCain insisted: "By denying this experience, we deny the aspirations of billions of people, and invite their enduring resentment," which hardly advances the American interest.
Foreign policy has always balanced interests and values. While president, FDR crawled into bed with the mass-murdering Josef Stalin to defeat Adolf Hitler. The realist credo is that the United States isn't perfect, just better than authoritarian regimes. McCain embodies that truth. He's far from perfect. After his first presidential campaign, he acknowledged pandering to southern voters about flying the Confederate flag when he believed it should be taken down.
But compared to a president who not only appears uninterested in human rights, but also doesn't admit mistakes, McCain looks like Lincoln. His op-ed's closing sentence about the United States is one Trump and Tillerson need to measure themselves against: "We saw the world as it was and we made it better."