Quackgrass In My Garden? Oh, Ye Hurtful Weede
Once you recognize quackgrass, you will see it everywhere. Even in your night and day dreams. Mine are now occupied by epic battles to save what remains of our garden.
I thought that I knew weeds, but this recent incursion took me by surprise. Our Gloucester cottage garden suddenly looked like the weed-filled untended lot next door. Tall quackgrass overwhelmed the perennial flowers, especially the daylilies, which had yet to show their cheery yellow, red and peach-colored blooms.
In a panic, I unearthed clumps of the invading grass and with them my husband's favorite daylilies, the ones we had carried home from Vermont and lovingly planted in our garden. Only later did I discover that the interloper tends to propagate when disturbed. My action was like prodding a rattlesnake.
I find myself looking nostalgically at the old familiars -- the dandelions, clover, chicory, thistle and even the crabgrass -- that once occupied my weeding forays.
Elymus repens, which many of us know as quackgrass, couch grass or quitch, is different from other weeds: more tenacious and insidious. The disarmingly attractive, yet menacing, flat-leaved grass spreads by underground rhizomes, tunneling through your garden while you're enjoying a day at the beach.
Quackgrass arrived in the United States from Europe and Asia in the 1600s, accidentally via seeds, according to the United States Department of Agriculture. The unwanted grass is mentioned as early as 1578, in "A Niewe Herball." The author, Rembert Dodoens, observes that it is "a noughty and hurtful weede." By 1726, botanist John Laurence simply calls it "a pernicious weed," a description that has stuck. Today it thrives in almost every state — and, unfortunately, it's a perennial.
Getting rid of quackgrass can be an ordeal, particularly if you're committed to organic practices. The respected Massachusetts Master Gardener Association­ recommends sparing use of an herbicide such as Roundup and the perennials specialist at our local garden center advised that I use a child's paintbrush to carefully apply weed killer to the leaves of quackgrass.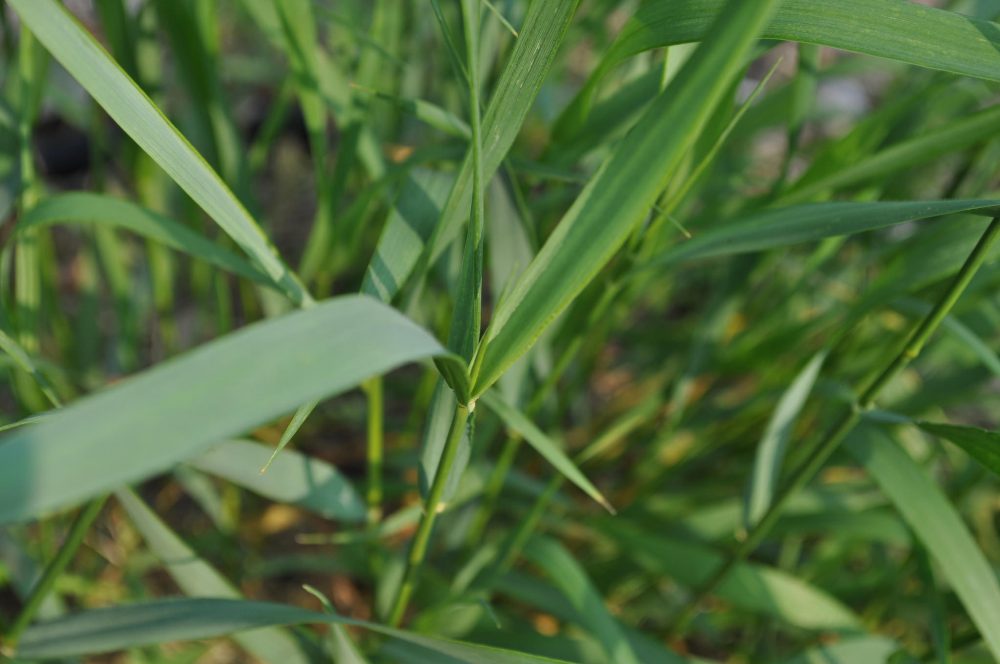 Instead, my husband and I wrestled to disentangle its spidery rhizomes from the fleshy daylily roots. Sometimes we were forced to discard an entire daylily plant. Those we salvaged then had to be quarantined in the kitchen garden. And, we brought in more mulch: thirteen 25-pound bags of pine bark chips, which we spread several inches deep in our small garden, hoping to suppress those wily underground stems.
Our quackgrass trial has inspired a daily ritual. Each morning, while gathering up the newspapers, I gingerly extract a few new sprouts emerging from the mulch. I weed vigilantly when the threatening grass puts out its seed spikes and pokes through the picket fence next door. There I am, hoe in hand fighting the aggressor — the organic way. Oh that Demeter, the goddess of agriculture, might also raise a hoe to protect our daisies, asters, tough old roses, clematis, black-eyed Susans, lavender and those surviving daylilies.
And I find myself looking nostalgically at the old familiars — the dandelions, plantain, clover, lamb's quarters, wild carrot, purslane, chicory, thistle and even the crabgrass — that once occupied my weeding forays. They know their places in the garden, appearing one or two at a time, and never clinging too resolutely. They have earned my affection, rather like the solitary spiders I find in the bathtub and release outdoors. And dare I confess — every so often I'll leave a dandelion or two — and we're now cultivating a patch of chicory, having fallen for its lovely pale blue flowers.
As for quackgrass, I've yet to befriend it.