The Week That Was: White House Reboot, Russia Sanctions, North Korean Missiles And More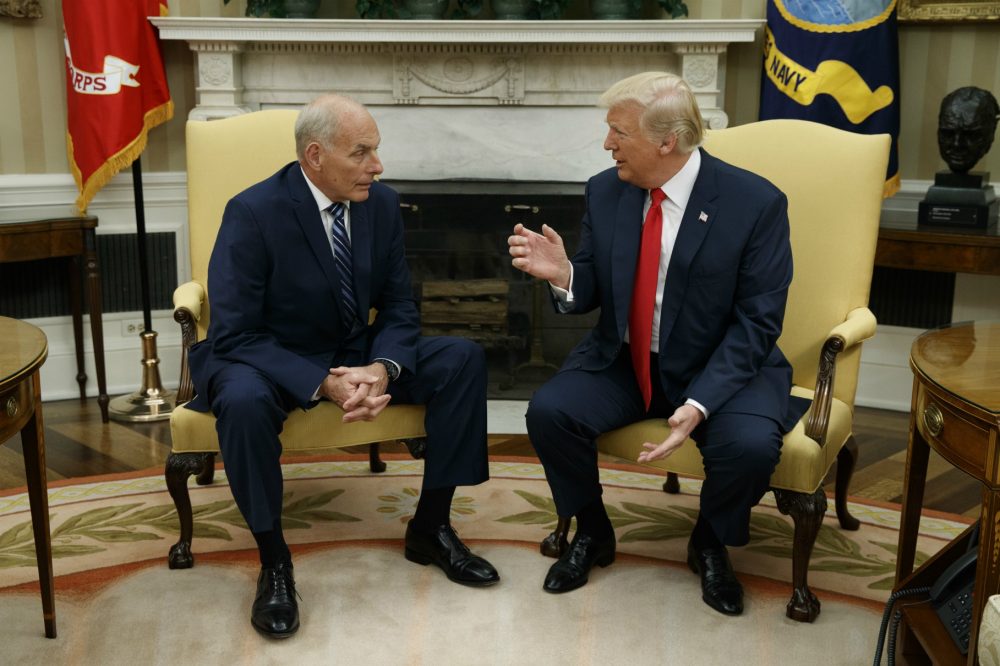 This article is more than 3 years old.
Editor's Note: Every Friday, Tom Keane offers up assorted observations, conundra and miscellanea about the week that was. Here's his round-up for the week ending August 4, 2017.
---
It was the week when the White House rebooted. And then rebooted again.
Mr. Fun versus Mr. No-Fun. Anthony Scaramucci had tons of entertainment value but newly installed chief of staff John Kelly was apparently not amused. The Mooch was Donald Trump's doppelganger: profane, bullying and unmanageable. Kelly is the opposite: a straight-laced man who values discipline and restraint. Trump's claims of "no WH chaos" notwithstanding, he needs someone who takes control — and Kelly has the chops to do so. Kelly's No. 1 obstacle to making that happen, however, is the guy who hired him.
A sound and fury, signifying nothing. Is the White House shake-up too late? The latest opinion polls put Trump's popularity solidly below 40 percent. The Senate especially seems to be taking notice, killing health care, ignoring the president's tweeted demands, and dissing him on everything from Jeff Sessions to Russian sanctions. Official Washington's feeling seems to be, if no one else likes him, then we don't either.
It's the economy, stupid. On the other hand, when it comes to one matter of deep importance, Trump is doing quite well. The Dow industrial average this week hit a new high of 22,000. The economy continues to create jobs, wages are (slowly) inching up, more of the disaffected are rejoining the workforce and GDP growth remains steadily positive. Granted, this has more to do with world growth and policies put in place by Barack Obama. But the iron rule of politics is that if it happens under your watch, you own it. And this is something Trump definitely wants to own.
Slap in the face. One of Congress' disses to Trump was a bill tying his hands on Russian sanctions. He reluctantly signed it, while at the same time saying the law is "clearly unconstitutional" and "significantly flawed." I'm with Trump on this one. Foreign policy is one area where presidents do — and should — have broad discretion. Diplomacy is often a delicate dance back and forth and clumsy rules from Congress make that difficult. Yes, many distrust Trump's motives when it comes to Russia, and this new law reflects that. But that still doesn't make it right.
The "I'm too dumb" excuse. In remarks to a group of interns, Trump son-in-law Jared Kushner explained that the campaign team was too much of a tangled and confused mess to have ever plotted colluding with the Russians. Given the first six months of the Trump administration, there's a ring of truth to this. But as with "The Gang That Couldn't Shoot Straight," just because you're incompetent doesn't mean your intentions aren't nefarious.
Make the meals better, too. A federal judge ordered the FAA to review whether airline seat sizes are some sort of safety hazard. Sorry, but cramped seats are a consequence of our demands for low fares. There's a trade-off somewhere. I mean, if you refuse to pay more than $2 per pound, you're not getting filet mignon, right? While I appreciate the judge's sentiment, it sounds like he's less judicial and more planning to run for office. And if somehow the FAA actually does start mandating seat sizes? The losers will be fliers, who'll just end up seeing higher fares.
NIMBY. Bostonians breathed a sigh of relief when it turned out that North Korea's newest ICBM can only reach as far east as Denver, or perhaps, Chicago.
Sky is falling. Reconstruction began on the Commonwealth Avenue bridge. Gov. Baker's transportation secretary urged folks to "stay away," promising a "hellish" three weeks while commentators spoke darkly of "Pikeocalypse." OK, can we get a grip here? It's just one bridge. There are many alternative ways into the city aside from the Mass Pike. I suspect the hyperventilating was all about getting us to pay attention so we might, in fact, seek out those alternate routes. But too many of the "scare us to death" routines and we're going to stop paying attention at all.
Hive heaven. And finally, in a bit of good news, it appears the widely reported honeybee colony collapse is reversing. The number of colonies subject to collapse declined markedly from 2016 and the total number of bees in the U.S. rose by 3 percent. Hurray! It's a nice reprieve that sure must please the busily buzzing bees.