Trump Is Getting The Press He Deserves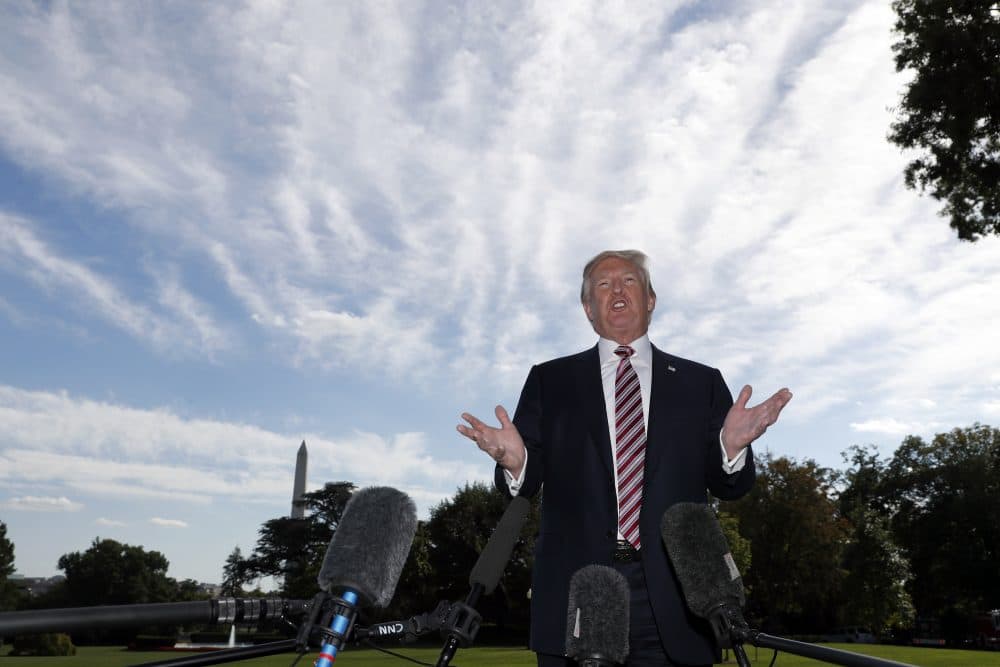 This article is more than 3 years old.
The recent finding that our president's press coverage has been more negative, and personal, than his three predecessors' must be catnip to Trumpville's most feral fanatics, prowling for any hint that the fake-news media is screwing their man.
The Pew Research Center surveyed two dozen outlets — TV, radio and the web, including NPR — during Trump's first 60 days in office. The researchers said they calibrated their comparisons to account for the fact that each succeeding president has had more media covering him. (It's hard to imagine, amid today's online oceans of information, that just one in seven Americans used the internet during Bill Clinton's first term, according to Pew.)
Results: Just 31 percent of Trump stories focused on presidential policy, versus 50 percent for Barack Obama, 65 percent for George Bush, and 58 percent for Bill Clinton. "And the evaluations of President Trump were far more negative and less positive than those of his predecessors," Pew says.
Not only did Trump earn the coverage he's received, but I think the critics labor under a broader, profound misunderstanding of the media's job.
I rise to defend my brethren against media bashers (and they include many more folks than Trump voters). Not only did Trump earn the coverage he's received, but I think the critics labor under a broader, profound misunderstanding of the media's job.
Really, is anyone shocked that personality trumped policy in Trump news? The president is famous for talking and tweeting his way into controversies that raise unavoidable questions about his temperament. He is equally famous for not being a policy wonk.
His early tenure saw him celebrate the House's Obamacare repeal, only to criticize it later as "mean;" express amazement that "health care could be so complicated:" put off his promised infrastructure plan (we're still waiting); and enact a travel ban that his lawyers have been trying to extract all year from the courts.
Other than successfully appointing a Supreme Court justice, his only achievements (if you can call them that) have been of the negative variety: rolling back regulations and deals like the Paris climate accords and the Trans-Pacific Partnership.
That Trump treasures style over substance may be the only thing his haters and backers can agree on: It's what the latter love about him. In a separate survey, Pew found that the majority of Americans who approve of the president do so because of his personality, and that a trifling 14 percent of them gave a damn about his specific policies.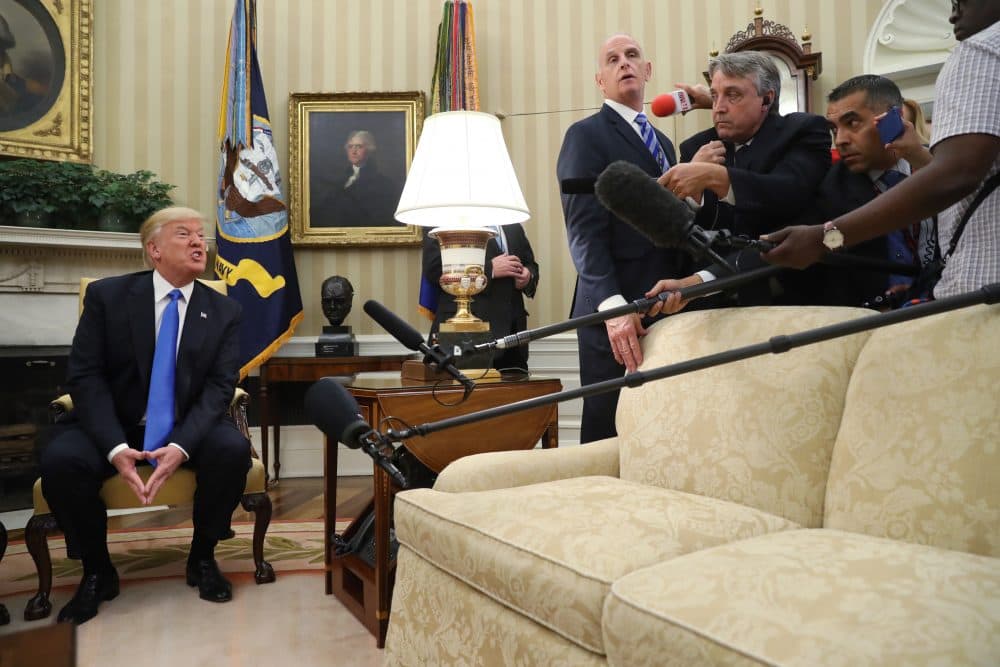 If most can agree that this has been a personality-driven administration, why isn't the press corps seeing the good in that personality that Trump supporters perceive? Negative coverage can't be blamed on partisanship, since the conservative Republican Bush got better press.
I'm guessing Trumpeters will say the president was elected to rock the establishment boat — and both press and pols, including Republicans like Bush, are card-carrying members of the establishment. Press-politico relations in D.C. indeed can be incestuous, as some on the media side admit.
But this is where I think many media haters fundamentally misunderstand journalism's mission. Comparing Trump's ratio of positive news/negative news with past presidents' is interesting but irrelevant, if the implication is that the ratio should be roughly the same in the name of "balanced" coverage. That kind of balance is affirmatively not the press's job. As media critic Dan Kennedy notes:
Journalism's first obligation is to the truth. Not balance, not getting all sides. The reason we talk to a range of sources is to try and get the best version of the truth that we can get, not to present balance at all costs.
Kennedy made his comments after coverage of the racism behind August's Charlottesville protests. There weren't two sides there, and no good journalist would construct a "balanced" report about the pros and cons of racial hate. Likewise, Trump's tenure has unspooled a relentless line of one-sided news.
But trying to match the happy face-news of previous administrations would have been dereliction of journalistic duty.
Be it White House falsehoods like its inaugural crowd count (untrue. Period.), or the rogue's gallery of aides fired for incompetence or ethical corner-cutting, or worrisome questions about Russian efforts to elect Trump and about his business dealings, reporters have been chasing events marking this president's tenure. Those events may be unflattering. But trying to match the happy face-news of previous administrations would have been dereliction of journalistic duty.
As an NPR analysis of Pew's press study suggested, the findings say more about us, the news consumers, than about the news reporters. Outlets tailored their positive/negative ratio to their audiences' political leanings, which "doesn't mean that the news outlets themselves have a particular lean; rather, it means that the audiences do," NPR noted.
After all, Politico — generally not considered left-leaning in its coverage style — still is among Pew's outlets with a left-leaning audience. (NPR likewise was one of the outlets with a left-leaning audience.) What this may signal, rather, is that right-leaning audiences in particular tend to flock to outlets that cite fewer criticisms of Trump, whereas mixed and left-leaning audiences are more comfortable with outlets that cite more criticisms.
That's a long way of saying that we're polarized. No breaking news there. As for Trump, he's getting all the news that's fit to be printed about him.