When The Train Breaks Down, Sending Angry Tweets Won't Help — But Voting Will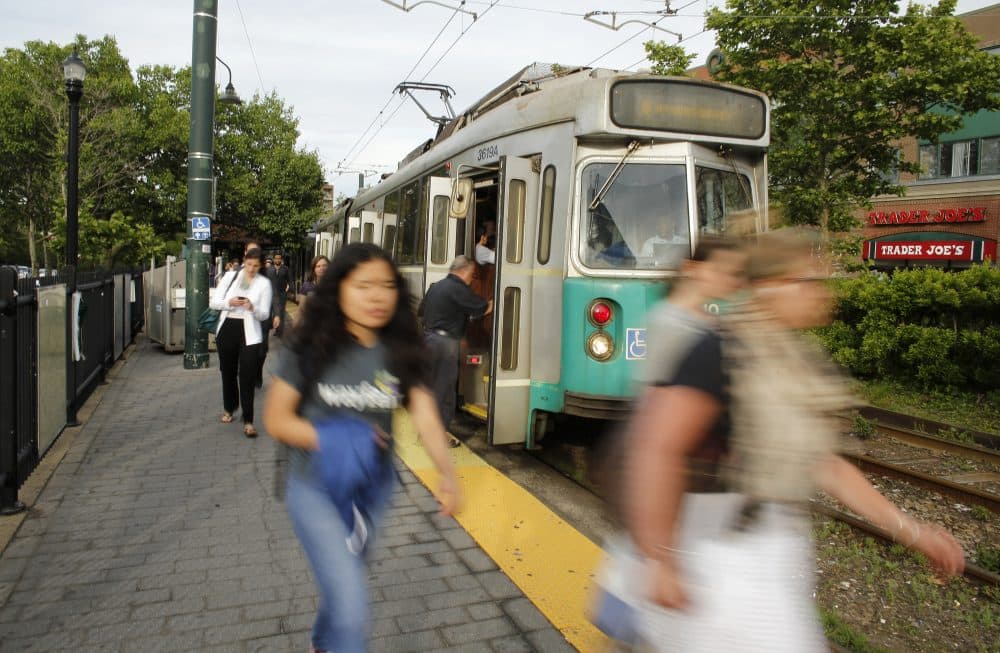 This article is more than 5 years old.
Last week, federal data showed that more commuter rail trains broke down on the MBTA last year than any other transit system in the country.
This wasn't news for those of us who rely on public transportation in Massachusetts to carry us to work, school and home; the Federal Transit Administration report only reinforced local complaints. With my daily commute from Dorchester to Government Center on the MBTA Red Line, I know all too well the frustration of public transit users when we hear — almost every day — that there are signal issues or "traffic" or a broken-down train. When I look around, I see most passengers have taken to social media: They're tweeting at the MBTA or snapping an angry video to friends.
Here's one reason why they haven't fixed that signal at Park Street — and why we operate one of the worst transit systems: Instead of voting, we're posting. "Disliking" does not drive community investment. But voting does.
Only 88 percent of those eligible in Massachusetts are registered to vote — and only about half of those registered voters voted in the last gubernatorial election. That means too few are using their voice in a constructive way.
Instead of voting, we're posting. 'Disliking' does not drive community investment.
People who can vote, but choose not to, have various excuses. My least favorite: that the people we elect can't actually fix anything. Look at President Eisenhower, who pushed for the Interstate Highway System, making it possible to drive from Maine to Florida. Of course, building the Interstate Highway System is bigger than fixing a broken T signal — but the common denominator is voting for bold elected leaders who are committed to investing in transportation and infrastructure.
The solution to our MBTA woes lies in addressing the deep need for transportation revenues, according to Michael Widmer, former president of the Massachusetts Taxpayers Foundation. Our elected officials — from former Govs. Paul Cellucci and Mitt Romney, to legislators on Beacon Hill — are key to the current state of Massachusetts' transportation funding and have long ignored the often studied, yet rarely acted on, need for adequate revenue to pay for our transportation infrastructure.
Beyond voting for elected leaders committed to generating transportation revenue, voters have the power to impact Massachusetts revenues by voting for ballot questions. In November 2018, voters will likely face two proposed tax measures on the ballot. These ballot questions will set the course of our commonwealth for years to come; as Widmer points out: "If approved by the voters in November 2018, the $1.5 to $2 billion raised by the tax would, in theory, go to transportation and education, though in reality there is no guarantee that would be the case."
Our elected officials ... are key to the current state of Massachusetts' transportation funding ...
That's why voting — not just posting — is critically important. We have the power to vote for ballot questions that are capable of creating real change. And we have the power to vote for elected officials bold enough – and smart enough — to put forward a plan to fund the things that matter most to us.
The truth is, it's bigger than a broken signal or traffic on the train. From Massachusetts governor to U.S. senator, from raising the minimum wage to bettering campaign finance, there's a lot on the ballot in 2018 — and there's a lot at stake. That's why my organization, Fair Shot For All, is making an effort this fall to redirect people from Twitter to voter registration information. We've been registering students on college campuses and at T stops, and encouraging people to help us make sure a $15 minimum wage is on the ballot.
I get it: When the train breaks down on my morning commute, I take to social media sometimes, too. In the moment, it feels cathartic. But when more of us use our voices in constructive ways, more real change can happen. Next time you're stranded on the platform, take a second after you send a video to friends and check your voter registration status. Research upcoming ballot questions and the candidates running in your area. Figure out how you can get involved in simplifying voter registration for others.