What Charlie Baker's Popularity Says About The State Of The Commonwealth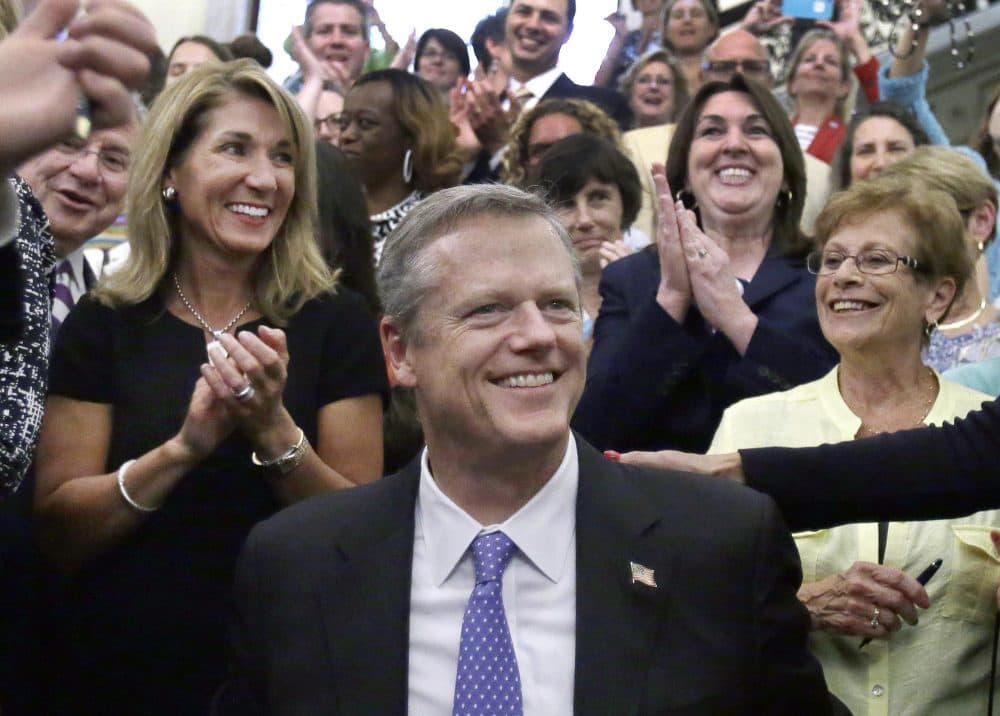 This article is more than 5 years old.
In case you haven't heard, Charlie Baker is popular.
This factoid is trotted out by both conservative and liberal media outlets as if it were the most illustrious thing that an elected official can strive for — not legislative accomplishments, not courage, but simply being liked by as many people as possible.
Baker, who recently announced his re-election bid, certainly fits this profile. As a governor, he has been nothing but cautious about upsetting anyone. For this alone, most Massachusetts residents like him and are ready to vote for him again.
Confused? Me too.
Before the Trump era, Baker's approval numbers would have made sense. He ran as a moderate Republican who would reduce spending but keep the peace with Massachusetts liberals. That's pretty much how his first term has played out. We are reminded of Baker's conservative foundation when he calls for MassHealth cuts and refuses to support the so-called millionaires' tax. But his reluctance to pursue these agenda items full steam is a reminder that Baker knows he's on thin ice. Maybe that's why so many liberals like him. Baker is keenly aware that most of Massachusetts swings further left than he does: He knows that we could push him out of office if he veers too far to the right. He listens to us and acts appropriately.
Or so it appears.
Let's take a closer look at what has actually happened since Massachusetts joined the U.S. Climate Alliance after President Trump pulled the U.S. out of the Paris climate accord. Many Massachusetts liberals celebrated the move as evidence of Baker's practicality. But what most still haven't acknowledged is the inconvenient truth that Baker has barely committed Massachusetts to transitioning to clean energy alternatives, as required of all states that join the U.S. Climate Alliance. (He hasn't said much about proposed fossil fuel projects in Massachusetts either.) This pattern of placation and inaction also reveals itself when we reconcile Baker's criticisms of the Trump administration's draconian language on immigration with the fact that Baker has stood by and done nothing as emboldened ICE agents terrorize the state's communities and rip Massachusetts families apart. Even Baker's refusal to vote for either of the two presidential candidates in the 2016 election feels like a cheap farce when one considers the weight and consequence of that election.
Massachusetts has the precedent, the potential and the responsibility to be a leading state in the struggle to defend policies around climate, healthcare and more. Our legacy suggests that the commonwealth should be standing with states like California, New York and Washington as they pass their own climate change laws, health care expansions and public college plans. But we're not. Because we've lowered the bar for what the governor must do.
Being cautious in the era of Trump and an extremist GOP Congress is neither courageous nor practical.
When it comes to legislation, the governor doesn't have that much leverage other than coaxing or cajoling local lawmakers to support their agenda. But in setting and articulating that agenda, the governor actually has a tremendous amount of power. The governor gets to redefine what's possible and necessary on a massive public scale. The mandate that comes with each electoral victory gives the governor all the moxie he needs to push the state government in a certain direction, so long as he doesn't abandon their core campaign promises.
As a Massachusetts resident proud to hail from the state whose past governors have led the nation on issues like health care access, same-sex marriage and progressive taxation, Baker's popularity not only mystifies me — it scares me. It suggests that a historically bold and visionary state is now surrendering its principles to the convenience of relativism in the age of Donald Trump. We are deceiving ourselves with the notion that the governor's office is insignificant enough to be occupied by a man lacking in vision and courage.
Charlie Baker does not deserve a second term in office. Being cautious in the era of Trump and an extremist GOP Congress is neither courageous nor practical. It's a form of distant and cowardly collaboration that ultimately enables the most rabidly partisan lawmakers to do their worst. It's essentially saying to Donald Trump and his ilk, "I don't like what you're doing, but damnit, I'll still work with you." We are living in a moment when our economic opportunities, our access to medical care, our environment and our civil liberties are threatened each week. And the best that "America's most popular governor" can do is make insincere and often vacuous gestures that do little but appease voters who long for the days of reasonable bipartisanship.
Massachusetts can do better. We have done better.
Why stop now?