It's Time To Shut Down All The Shutdowns
Like what you read here? Sign up for our twice-weekly newsletter.
---
As I write this, political observers, including a key Senate Democrat, are predicting that Congress won't reach a deal to legalize the "Dreamers" by Thursday, when government funding runs out. But they don't expect another federal shutdown over the deadlock, as happened last month.
If they're right, good. The government remaining open to do its necessary business should not be held hostage to any cause, no matter how noble.
That opinion is not universal. After Democrats helped end January's three-day closure by agreeing to fund federal operations until Thursday, angry progressives snarled: How can you reopen the government without keeping your word to legalize almost 1 million Dreamers?  (They're undocumented immigrants brought to the country as children.)
Republicans, complicit in last month's shutdown and instigators of the two-week 2013 shuttering over their gazillionth failure to repeal Obamacare, have proven themselves perfectly happy to force Uncle Sam's posting "Temporarily Closed" as well.
I'm part of the national consensus that the Dreamers deserve legal status. But tying funding to keep the government open to that, or to President Trump's demanded pounds of flesh (a border wall and changes in immigration policy), or to anything else short of averting nuclear war, cannot be grounds for halting environmental inspections, federal research, poverty programs, national parks' operations, and drug approvals.
Trump's protean stance on immigration — he was for a Dreamer deal before he was against it, to recycle an old line — makes him as culpable as anyone for a paralyzed government.
But those progressives who damned Democrats for opening the government last month (and to be fair, smart ones applauded the party) are the left's version of Ted Cruz, gleeful "mascot" of the 2013 shutdown.
Polling shows most voters support the Dreamers but still don't want the government closed over them.
Political parties picking up their marbles and going home via a shutdown when they can't prevail is contrary to the republican government our founders bequeathed us. We had an analogous situation back in the 1980s, when some progressives argued that opponents of the Reagan Administration's foreign or military policy should withhold that portion of their income taxes that funded the defense budget — citizens picking up their marbles in a huff, if you will.
The liberal, anti-Reagan newspaper at which I then worked editorialized against the idea. Everyone feels strongly about one issue or another, the editors noted, and if everyone withheld taxes when they didn't get their way, government by legislative majority couldn't function.
We elect leaders to make decisions. There's no guarantee we or they will all always agree with those decisions; indeed, it's guaranteed that some won't. If politicians or citizens are unhappy with policy over immigration or border security or whatever, they have a variety of tools at their disposal without throwing a government-closing tantrum: Run for office and make your case to the voters. Use your campaign donations or volunteer time or franchise to vote the bums out.
I know some supporters of the Dreamers won't agree. If principle won't sway them, they should consider the damage a shutdown does to their cause on a practical level.
Polling shows most voters support the Dreamers but still don't want the government closed over them. That doesn't mean the voters are as Jell-O-y as Trump about immigrants. They merely embrace the republican principle mentioned above.
A prolonged shutdown over legal status for the Dreamers, popular as that cause is, wouldn't make Washington's anti-immigration forces blink. Last month, polling "showed support for the Democrats slipping as the debate dragged on," columnist David Leonhardt notes, and he fingers the reason why: Lots of research (here and here, for example) confirms that many white Americans — not just elderly, angry Republicans — are nervous about the country's browning complexion.
That anxiety can drive them into the waiting embrace of the GOP's xenophobes, the research suggests. The best thing we can do to fulfill the dreams of the Dreamers is to keep the government working for the people while negotiating for the path to legal status that Trump says he can endorse.
And if he reneges or can't bring his party's representatives along on a deal? Polls open on Nov. 6.
Follow Cognoscenti on Facebook and Twitter, and sign up for our twice-weekly newsletter.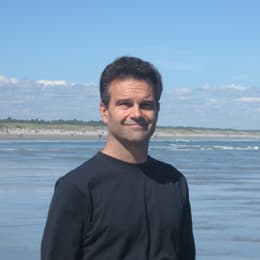 Rich Barlow Cognoscenti contributor
Rich Barlow writes for BU Today, Boston University's news website.