The Porter Scandal Is The Latest Reminder Of What We Miss When Women Go Missing From Leadership Roles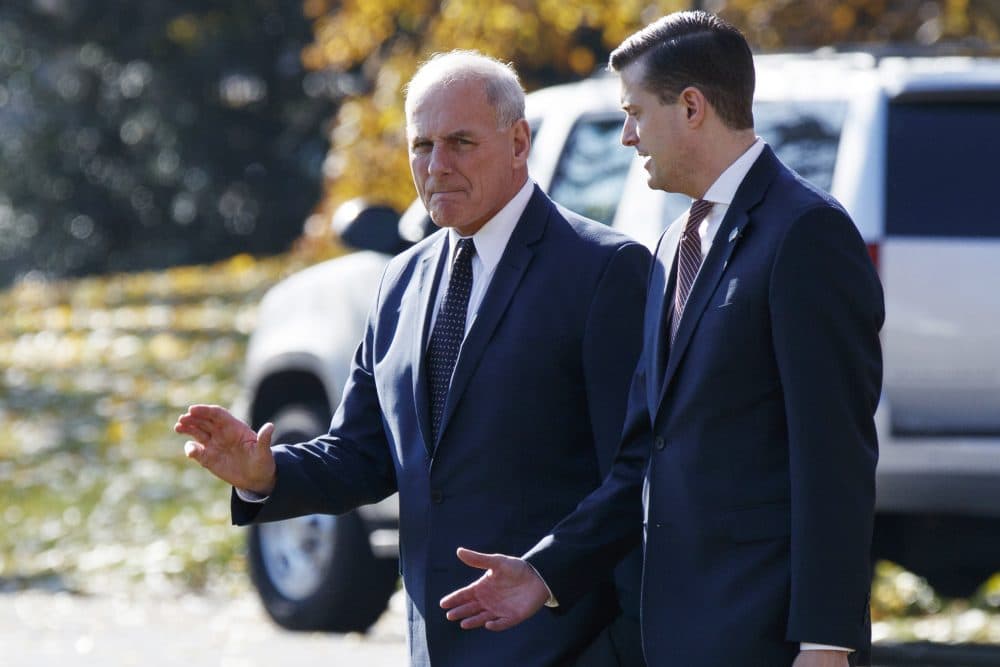 This article is more than 4 years old.
The facts behind the resignations of two White House officials following revelations of domestic violence against their former wives are chilling. Yet it took a photo of one former spouse's battered eye to cause anyone to pay attention.
The explanations that emerged from the White House have been inconsistent and lacked compassion for the victims. The president's tweet complaining about the men's lives being "shattered" by "a mere allegation" felt like a body blow to those sickened by the demonstrated indifference to the tragedy of domestic violence that impacts 10 million victims a year in the United States.
The White House continues to dissemble over when it first learned that Rob Porter's background of domestic violence would preclude his security clearance, notwithstanding the FBI Director's testimony under oath that it issued its first notification 11 months ago. Even so, new reporting suggests that immediately before the news became public last week, Porter was under consideration for a significant promotion.
Our president has a long history of defending the alleged abusers instead of the victims of their abuse. Here again his behavior, and the behavior of his closest advisors, reveal a complete disregard for women and their safety.
I'm left mystified: Why are women's complaints consistently characterized as fabrications, while men's denials are believed without examination?
... [can] #MeToo be the foundation for a more systemic response -- one that insists on judicial and executive branches that looks like the country they serve.
But the drama over who-knew-what-when about Rob Porter, as horrifying as it is, could overshadow the systemic ways in which the Trump administration is diminishing women's voices and truths, amid a pattern of disregard by the most powerful branch of our government.
It's more than the lack of diversity in Trump's cabinet or on his senior staff. It's in the appointments — or lack thereof — of women to key positions in federal agencies and the judiciary.
Since Trump was inaugurated, women are losing ground at a breathtaking pace. Trump's appointment of women to cabinet-level roles is the lowest since George W. Bush's first term. Decades of efforts by presidents of both parties to create a more diverse federal judiciary have been halted. In the first 11 months of his presidency, Trump nominated white men to the federal bench at the highest rate in 30 years.  Less than 20 percent of Trump's appointees are women, compared to the 42 percent nominated by his predecessor. And only 2 percent of his nominees are women of color.
The number of women appointed to the important law enforcement post of United States Attorney has also dropped precipitously. Of Trump's 58 nominees, 3 are women, with only 1 a woman of color.
This disappearance of women at the federal level where critical policy decisions are made and rights are vindicated is alarming. The importance of a justice system that reflects diversity of thought and perspective has been exhaustively studied. Research makes clear that women on the bench matter in decisions affecting sexual harassment and gender discrimination, regardless of the political or judicial ideology of the judges. So, too, is it critical to have women in key law enforcement roles making decisions about which cases to pursue and which cases to ignore.
Neither politics nor party should matter when patterns of domestic violence are ignored, efforts towards compensation equality are rolled back, or policies that negatively impact women's health are implemented. And neither should matter when our justice system fails to reflect society.
Neither politics nor party should matter when patterns of domestic violence are ignored
During the Obama administration, Saturday Night Live spoofed the president's consistently measured persona by featuring Dwayne Johnson as his angry alter ego, The Rock Obama.  As SNL's Obama endured insults and bad news, "The Rock Obama" would emerge, responding with a visceral level of anger that the real Obama would never reveal.
The #MeToo movement has unleashed a torrent of voices from women who have shared their most intimately painful stories with the world. Now, the question is whether #MeToo can be the foundation for a more systemic response — one that insists on judicial and executive branches that looks like the country they serve.
It is time for women and their male allies of all political parties to give voice to their anger and demand change, because quiet endurance has not been working out so well.  Policies that disenfranchise and demean women must be openly challenged. Elected officials must be held accountable. And if they have been silent, there should be a price to pay at the ballot box for their complicity, no matter how senior their status.
The fight for equality has seen a turn for the worse that will take decades to recover if not stopped.  Surely our Rock Obama moment is here.  Will our voices finally be loud enough to make a difference?