There Are Strict Rules For NFL Cheerleaders. The Players? Not So Much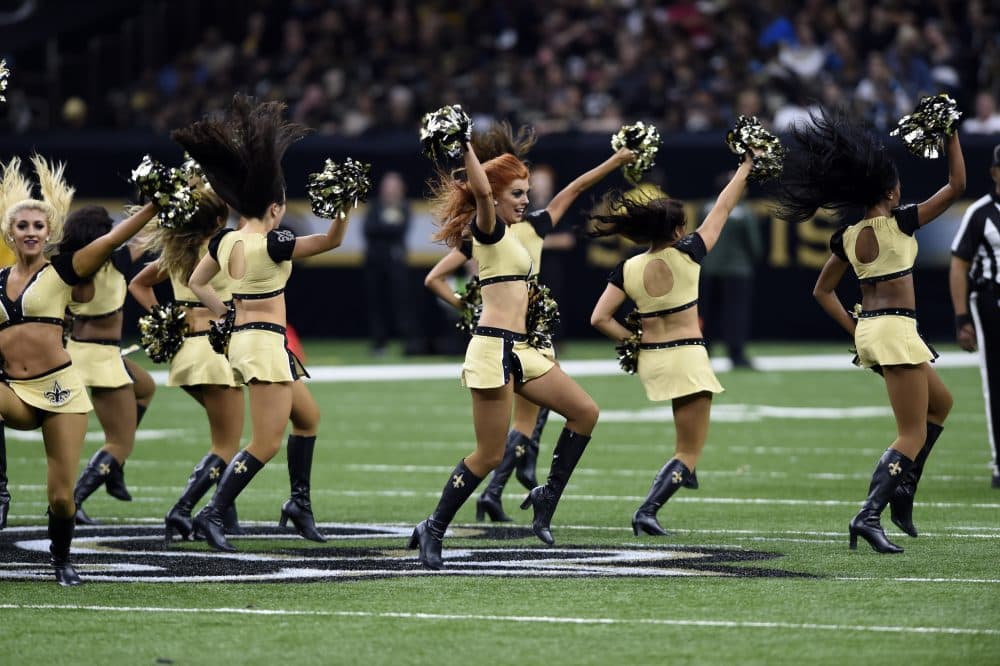 This article is more than 4 years old.
The recent firing of New Orleans Saints cheerleader Bailey Davis has once again revealed the hypocritical rules of the NFL and its teams. Davis, a three-year veteran of the Saintsations cheerleading squad, posted a photo of herself on her private Instagram account wearing a lacy one-piece body outfit that was no more revealing than her cheerleading uniform. She was subsequently fired by the football team for violating its rules of conduct for cheerleaders.
These rules seem to assume that the same NFL players that the cheerleaders energetically support all season, are dangerous predators that must be avoided at all costs off the field.
To "protect" themselves, the members of the squad are expected to be fully responsible for ensuring that they pose no temptation to the players by avoiding any social interaction with them in any setting.
The league has a history of implementing lenient punishments that protect players, even when their behavior caused harm.
Cheerleaders are required to block NFL players from following them on social media — even though there is no corresponding rule forbidding the players from seeking out squad members. Cheerleaders cannot go to restaurants where players are dining. And if the squad is at a restaurant and team members walk in, it is the cheerleaders who must leave.
Following her dismissal from the squad, Davis filed a discrimination complaint before the Equal Employment Opportunity Commission, alleging that the league permits two sets of rules: one for the female cheerleaders and another for the male NFL players.
Predictably, the next step in Davis' claim will likely be a deflection from the NFL, which will argue that her firing was a team decision, and not reflective of the league or its policies. But the NFL cannot ignore its responsibility in promoting a system rife with double-standards. The league has a history of implementing lenient punishments that protect players, even when their behavior caused harm.
Such disparate treatment can be found in a simple comparison of the punishment inflicted on Davis for wearing lace in a photo on her personal Instagram account, and the NFL's more lenient treatment of New Orleans Saints players who kept their jobs despite significantly more egregious behaviors.
For example, a wide receiver who drove while intoxicated and crashed his car was not terminated; he was suspended for three games. A tight end involved in a road rage incident in which he allegedly pointed a gun at another driver was not terminated; he was suspended for one game. A cornerback arrested for driving his Jaguar 100 miles-per-hour in a 65 mile-per-hour zone was not suspended and remained a part of the team. Other players have had suspensions — not firings — for violations of league substance abuse and performance-enhancing drugs policies.
And this is the same team where players and administrative personnel were suspended for operating a bounty system in which players were paid bonuses for hard hits and deliberately injuring opposing players.
The occasional peek behind the NFL's curtain of secrecy shows that discrimination against cheerleaders is a league-wide problem. Players are paid millions, while cheerleaders' stipends are so low teams keep that information a closely guarded secret, one that only occasionally spills out in lawsuits indicating that wages can be less than $10 per hour. For the past several years, lawsuits have been filed by NFL cheerleaders and, even today, it is not clear whether every team pays even the minimum wage to their squad members. (Like their fellow teams, the Patriots refuse to disclose how much their cheerleaders earn.)
The average NFL team is valued at $2.5 billion. Yet the league continues to allow teams to pay substandard wages to its cheerleaders and to impose unacceptable and demeaning limits on their non-workplace behaviors.
Davis' legal action offers an opportunity for the NFL to recognize cheerleaders as athletes who deserve to be fairly treated, on and off the field, for their commitment to their teams and their skills. That would, of course, require the league to stand for more than Commissioner Roger Goodell's goal of "protecting the shield," the NFL's emblem. 
It's time for the NFL to quit hiding behind the shield and summon the courage to protect all of the athletes who contribute to the wealth and success of the league, and its teams.