Laura Ingraham And Fox News Like To Play The Victim. The Parkland Survivors Won't Let Them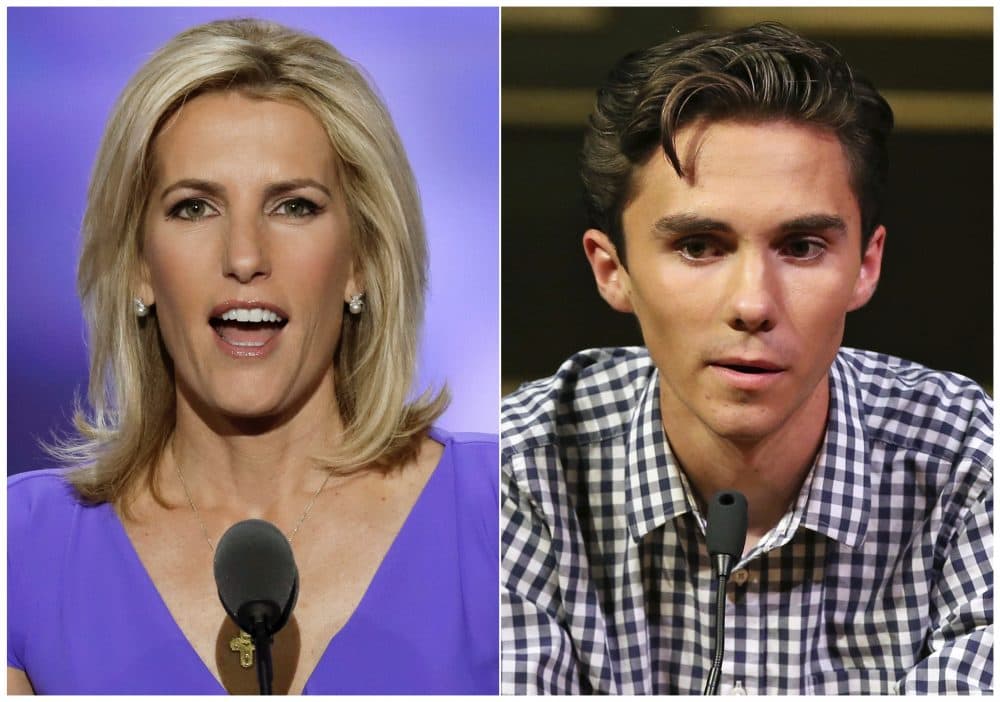 This article is more than 4 years old.
Why would a grown woman publicly mock a traumatized teenager on social media?
That's the question Fox News talker Laura Ingraham spurred last week. Ingraham decided she'd had enough of those pesky Parkland punks, who felt nearly being gunned down in a mass shooting at their high school somehow gave them the moral authority to advocate for sensible gun control.
Ingraham — who has been in the rage-retailing business for two decades — sent a tweet mocking one of the most outspoken teens, David Hogg, for being rejected by a few colleges.
Hogg responded by calling for a boycott of Ingraham's show. As of Tuesday, 15 advertisers had dropped her show. Ingraham issued an apology and went on vacation, which is what professional demagogues do when their bottom line is imperiled.
The fact that Ingraham targeted Hogg shouldn't exactly come as a shock. Her entire brand is built on trolling anyone her aging white audience can construe as the enemy. She claimed Mexicans "have come here to murder and rape our people," and accused the NAACP of being a racist organization, and called Planned Parenthood employees "heinous, Hitlerian freaks" and told LeBron James to "shut up and dribble." She also ordered Jimmy Kimmel to stop using his young son as a political prop, after Kimmel pleaded with Congress not to pass a law that would have gutted our health care system.
So that's who Ingraham is.
The question that's perplexed a lot of folks is why these Parkland kids drive the right-wing shouters so insane?
The obvious answer is that they've been effective at cutting through the lies spewed by the gun lobby and its congressional servants.
True enough. But the real reason these kids trigger Ingraham and her kind is because they've revealed America's conservative movement for what it is: an ecstatic Cult of Victimization.
If you spend any time at all listening to right wing shouters, the message is always the same: We are under assault! They're coming for our guns, our religion, our jobs, our way of life.
Who is they? The government! The deep state! The IRS! The Muslims! The immigrants! The inner-city thugs!
Their entire con is predicated on the Big Lie that white people in this country are the only true victims. This is how they justify their incessant bullying: It's merely the logical response to a world out to get them.
Their entire con is predicated on the Big Lie that white people in this country are the only true victims.
Trump smirked his way into the Oval Office in part by stoking this racial paranoia. In my new book, "Bad Stories," I call this mindset Fear of a Brown Planet. The president continues to push policies, such as his imbecilic Border Wall, or the Muslim Ban, that are designed to make white people feel safe from dangers he and his loyal shock merchants gin up daily.
For folks like Ingraham, this sadistic, dehumanizing rhetoric is just self-defense. They're like snowflakes armed with AK-47s.
This is why the Parkland kids set them off. Because the Parkland kids are actual victims.
This blows up their whole fraudulent narrative and exposes them for what they are: soulless bullies.
Demagogues — from Trump on down — operate like this. They can never face up to the idea that they might not be the victims. They can't conceive of a world in which they might be held accountable for their cruelty, their sexual predation, their bigotry, their violent ideation.
When they encounter someone like Hogg who calls them out, the only thing they can do is to hysterically project their own cruelty.
This is why you have radio host Michael Savage comparing the teens who took part in the March for Our Lives to Hitler Youth. Or the Washington Times suggesting that Hogg would have made a "good brownshirt."
Or Bill O'Reilly, Fox News' Sexual Harasser Emeritus, whining that the sponsor boycott of Ingraham "is being directed by powerful, shadowy radical groups who want Laura Ingraham off the air. Same thing happened to me."
No, actually, what happened to you, Bill, is you sexually harassed a bunch of women over many years and were finally held accountable.
As for folks like Ingraham and Savage and Trump, they'll never be held accountable, at least not by the folks they've indoctrinated into their twisted cult.
Forget appeals to the conscience or common decency. Aim for the money.
There are certain pundits out there — such as CNN's Brian Stelter — who argue that boycotts are unfair. "I think it's pretty dangerous," Stelter said recently. "My view is, let's not shut down anyone's right to speak."
But this has never been about free speech. It's about monetized speech. What Ingraham and her fellow mercenaries do, day after day, is pad their bank accounts by stoking primal negative emotions. Boycotting their shows isn't shutting down their right to speak. It's shaming the companies who attempt to profit by means of fear and loathing.
Years ago, this country had a Fairness Doctrine that was designed to keep broadcasters from spewing such venom. But the Fairness Doctrine was repealed under Ronald Reagan.
So the patriotic task of holding hate-mongers like Ingraham accountable now resides with us. Those are the rules in our modern for-profit media. Forget appeals to the conscience or common decency. Aim for the money.
Ingraham will still be free to attack people of color and immigrants and high school kids. She just won't get paid to do it. What a victim.