Camilla And What Might Have Been
It was a lovely wedding, wasn't it? Perfect day, perfect dress, perfect crowd, perfect songs, all to underscore how much has changed: the traditions that were waived, and possibly scrapped, so these two people could get what they deserved. Meghan and Harry didn't need to worry about lineage or parentage, divorce or religion or race, any of the outdated rules that used to dictate lives in the fishbowl of the Palace. All they had to think about was love.
So the preacher preached, and the TV commentators gushed: they're in love, love is grand, love is the most important thing. Al Roker, standing alongside British street in a purple suit and hat, was so buoyant that it seemed like he might float into the sky.
Under different circumstances, some four decades ago, she might have had a wedding like this, too.
I scanned St. George's Chapel on the TV feed, and everyone seemed happy in there, too, with a few apparent exceptions. One was Victoria Beckham, but her customary wardrobe is stilettos and a scowl. Another was the former Camilla Parker-Bowles, Duchess of Cornwall, wife of Prince Charles. And for a moment there, I guessed what she might have been thinking: Under different circumstances, some four decades ago, she might have had a wedding like this, too.
Yes, I'm making a leap. It could be that Camilla was smiling when the cameras weren't looking, or frowning because her colossal hat was making her scalp itch, or because she was having a little spat with Kate. But if you've gorged on TV dramas about the royal family, followed the comic and tragic turns of these strange and sheltered people, it's easy to imagine the sting. What if all of those traditions hadn't mattered years ago?
Charles and Camilla were young in love, once — a decade or so younger than Harry and Meghan when they met — and while a string of life decisions kept them apart, biographers say their romance also ran afoul of other people's rules and interventions. She wasn't from precisely the kind of family the Palace would have accepted at the time. Various relatives were scheming to line up descendants of their own to marry the Prince of Wales. Love figured less, far less, in the equation.
Years passed, things happened, the world evolved. There's no need to sob for Camilla. She got to marry her love after all, and now lives a luxurious life, paid for by British taxpayers — the only cost to her the fact that her mistakes and disappointments are public gossip, picked apart with glee. But the royals are symbols. That's really their job. And on this day, Camilla represented countless others who have been barred from marrying for love, over decades and centuries, because of tradition, or prejudice, or laws that seem embarrassingly backward today.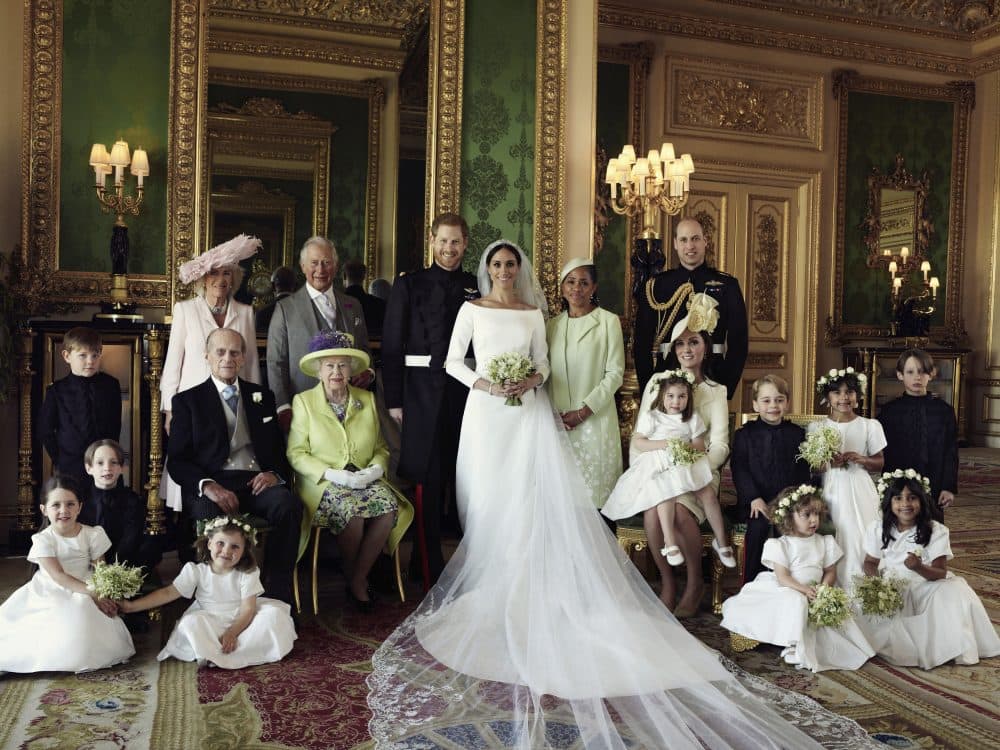 It's dizzying, like a jolt of champagne, to see how fast the institution has changed.
I go to weddings now that wouldn't have been possible a decade or two ago. I scan those rooms, too, and watch some people grappling with the shift, more people reveling in it, and some — like my own kids — unaware that there were ever barriers at all.
That's a reason for joy, and it accounts for a lot of the public glee about Saturday's celebration: the conscious merging of traditions, the sight of upper-crust Brits getting treated to the cadence of a very American sermon, and yes, the bride's imperfect hair. If an institution as weird and hidebound as the British royalty can embrace change, then a huge part of the battle has probably been won.
But in the middle of all of that exuberance, it's worth reserving a small sigh for the people who fell in love earlier, who needed to wait for tradition to catch up.