Anthony Bourdain Taught Us Food Is Much More Than What's On Your Plate
This article is more than 4 years old.
I discovered the late Anthony Bourdain on a business trip one night, many years ago. Sitting in a generic hotel room, weary of looking out a window that didn't open at the parking garage across the street, eating an alliteratively named and otherwise forgettable room service entree, I started channel surfing.
The offerings — a tepid melange of talent shows, "Law and Order" reruns, and college basketball — were dismal. It was down to Wolf Blitzer or this tattooed, rangy guy sitting at a picnic table outside Chiang Mai with a Thai man half his size, drinking beer and eating som tam and rat na, then with equal gusto, licking clean his salty fingers.
I was in an unfamiliar city, not out exploring, but rather glued to my chair, watching the Travel Channel. And Bourdain — writer, chef, connoisseur of the common folk — just by dint of who he was, awakened me to the irony of the situation. He viscerally understood how eating can be an act of discovery.
Cooking and sharing food is a fundamental and powerful form of interpersonal engagement, and that's what Bourdain embodied and taught.
He viscerally understood how eating can be an act of discovery.
"Cooking professionally is a dominant act, at all times about control," he wrote in "The Nasty Bits" (a book that, true to his rebel spirit, he dedicated to punk rockers The Ramones). "Eating well, on the other hand, is about submission. It's about giving up all vestiges of control, about entrusting your fate entirely to someone else. It's about turning off the mean, manipulative, calculating, and shrewd person inside you, and slipping heedlessly into a new experience as if it were a warm bath."
The families that Bourdain dined with, the people he hung out with — from Quebecois beaver hunters to Thai tribesmen to a Palestinian women's auto racing team — seemed to fold into the embrace of his curiosity. They shared not just their bread, but their histories. And both "No Reservations" and "Parts Unknown" captured more spontaneous, authentic laughter than any other show I've ever seen on television.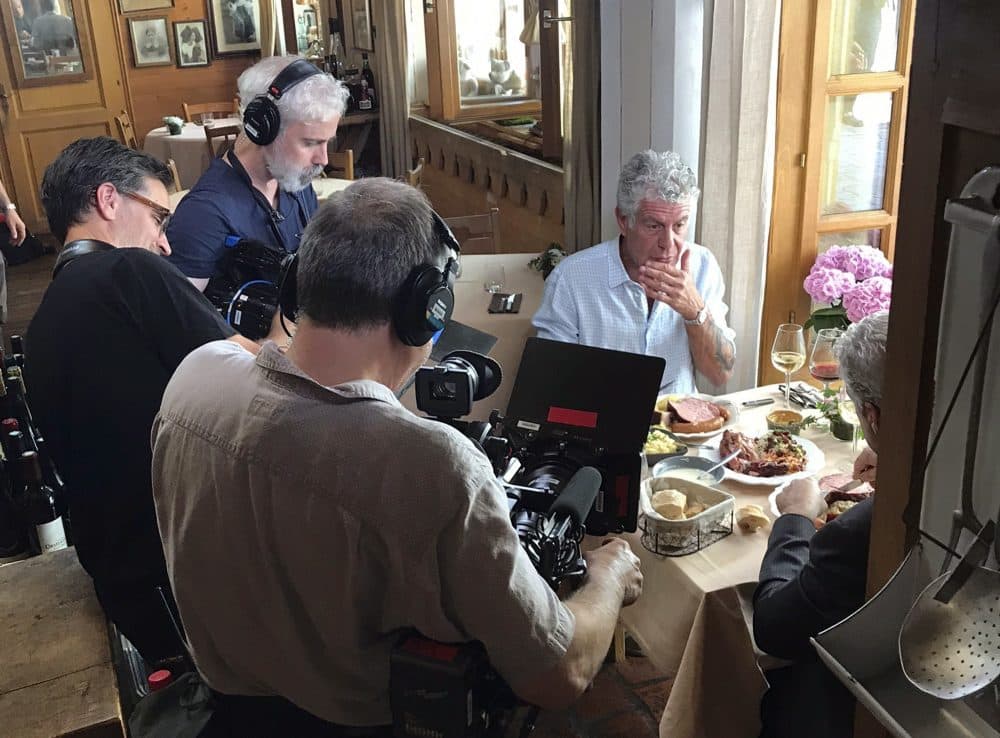 In every way, Bourdain violated the stereotype of the gourmet. Far from being elitist, the man loved street food as much as haute cuisine, and championed the anonymous, often immigrant workers slaving in the basement kitchens of New York's finest restaurants over the high-profile, high net worth people who owned and patronized these establishments. He recognized that food is not only central to our family and ethnic identity, but that its very life cycle — what it is, how it's acquired, who cooks it, who eats it — is inherently political.
"Once you've been to Cambodia, you'll never stop wanting to beat Henry Kissinger to death with your bare hands," he wrote in "A Cook's Tour." "You will never again be able to open a newspaper and read about that treacherous, prevaricating, murderous scumbag sitting down for a nice chat with Charlie Rose or attending some black-tie affair for a new glossy magazine without choking … While Henry continues to nibble nori rolls & remaki at A-list parties, Cambodia, the neutral nation he secretly and illegally bombed, invaded, undermined, and then threw to the dogs, is still trying to raise itself up on its one remaining leg."
The guy didn't hold back. He was a seeker and a rabble-rouser, as voracious in his appetite for knowledge of a nation's history as for its food.
"Maybe that's enlightenment enough -- to know that there is no final resting place of the mind, no moment of smug clarity."

Anthony Bourdain
"It seems that the more places I see and experience, the bigger I realize the world to be," Bourdain said in an episode of "No Reservations" shot at Macchu Pichu. "The more I become aware of, the more I realize how relatively little I know of it, how many places I have still to go, how much more there is to learn. Maybe that's enlightenment enough — to know that there is no final resting place of the mind, no moment of smug clarity. Perhaps wisdom, at least for me, means realizing how small I am, and unwise, and how far I have yet to go."
On this sad day, we've lost a man we needed.