How Should We Respond To Rising Anti-Semitism, Racism And Xenophobia? By Sharing Our Stories
The massacre at the Tree of Life Synagogue in Pittsburgh, Pennsylvania, brings frightening immediacy to a question we have been asking ourselves for some time as the incidents of anti-Semitism, racism, xenophobia and extremism continue to escalate across the West and beyond.
It is a question recently evoked in an arresting exhibit featured in the work of internationally renowned artist and Holocaust survivor, Lenke Rothman. The piece, in a simple glass case, is a cast Rothman herself made of a piece of railway track inside Auschwitz, at the spot where the tracks ended a few hundred meters from the gas chambers where her family was murdered. Set on the tracks is a colorful toy ball that seems to be suspended in time and motion but doesn't feel still. It seems to be rolling, but the direction is uncertain.
The ball on the tracks symbolizes the query that grows more deafening with each act of violence: Is our civilization once again rolling toward Auschwitz or away from it?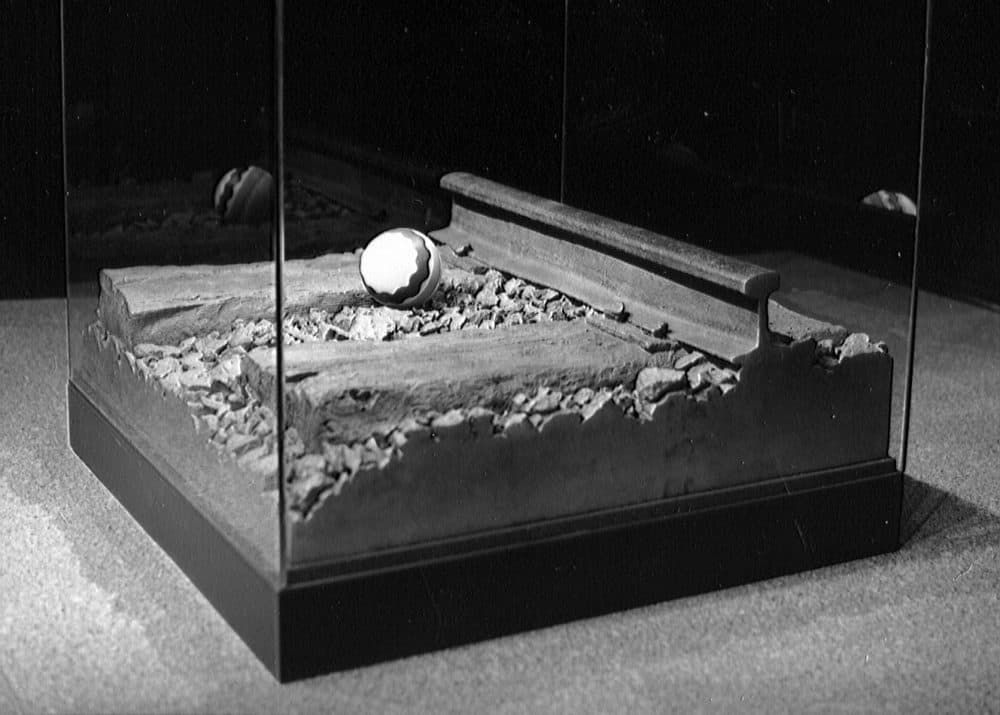 For those who survived the Holocaust, this worry is an animating force that never leaves the mind, and that gains gut-churning legitimacy from the knowledge that anti-Semitic crimes in the U.S. increased sharply last year, up 57 percent in 2017. For others, this is a new question, highlighted by the attack in Pittsburgh, and by the resurgent racism and authoritarianism that now threaten the West's peace and stability.
Even before Pittsburgh, the fear was neither idle nor histrionic, though current events have pushed the matter to national attention. Statistics released in April 2018 gave evidence of a very grave danger: Many in the United States either don't know about the Holocaust or are forgetting about it. The New York Times summarized the findings in this chilling paragraph:
Thirty-one percent of Americans, and 41 percent of millennials, believe that two million or fewer Jews were killed in the Holocaust; the actual number is around six million. Forty-one percent of Americans, and 66 percent of millennials, cannot say what Auschwitz was. And 52 percent of Americans wrongly think Hitler came to power through force.
In the United States, the rhetoric of hate is gaining alarming muscle as a result of the dangerous and brazen strategy of politics-by-division pursued by President Trump. His calls for "unity" and flying flags at half-mast unfortunately feel like hollow gestures following the bloodshed that shocks but comes as no surprise after an electoral campaign and tenure that has played with the fire of white nationalism.
Meanwhile, in Europe, the rise of the far right is working in a pincer movement with imported anti-Jewish prejudice from the Middle East and domestic liberal revisionism, creating new threats to Jews and Jewish communities.
Is our civilization once again rolling toward Auschwitz or away from it?
Viewed together, the violence, the rise of aberrant behavior and the statistics about ignorance starkly illuminate how claims that we'll "never forget" and promises of "never again" are simply not enough.
We are united in bearing witness to a time when too many people are being swept up into a maelstrom of shouting and noise; embarking on journeys through self-proclaimed victimhood with destinations in self-righteousness; and embracing easy assumptions that too easily evolve into prejudice, hatred and now, murder.
It feels as though we are at an impasse. And yet we are in a moment when a breakthrough is imperative, to stop the drift into illiberal democracy and the nightmare of its consequences as borne out in Pittsburgh and beyond.
As Americans, we all have no choice now but to find a way or to make one, because the alternative is the abrogation of our moral duties to both the dead and the living.
So what to do?
As professional storytellers, we know the transformational power of a personal story told well. It touches us at intimate levels of intellect and emotion that can leave an indelible mark. The heart truly is the bridge across our society's reluctance to reflect and engage with the past and its reverberations today. When these stories lean courageously into the winds of modern crises, while also remaining rooted in meticulous research and documented history, we open new space for action and change.
The heart truly is the bridge across our society's reluctance to reflect and engage with the past and its reverberations today.
Storytelling is also a nexus of social practice where ideas and possibilities are exchanged and forged.
One of us is the grandchild of a Nazi SS officer. Two of us are the grandchildren of Jewish survivors of the Holocaust. One of us is a Jewish American whose immediate family was safely ensconced in New England during the war. All of us are keenly aware of how important it is that a diversity of stories feed the narratives and understandings of history and ourselves. We know what can happen when diverse stories meet and the participants endeavor to listen. These interchanges are valuable — they make polarization irrelevant, disempowering those who seek personal gain in division and averting the slide towards violence.
Generationally, we are all entering into a new moment for storytelling — an opportunity that we can embrace or squander depending on how we act. As four creative artists committed to using art and storytelling to bridge gulfs between people and histories, we are launching New Voices, an initiative to promote learning about war and peace. We will begin with a series of joint articles, interviews and public dialogues by the grandchildren of Nazis and the grandchildren of Holocaust survivors. We hope to expand this work, pursuing synergies with institutions of learning or action in the areas of war, genocide and peace.
We've got our eye on that colored ball, and are intent upon doing our part to see to that it rolls away from Auschwitz.
---
Julie Lindahl is the author of "The Pendulum: A Granddaughter's Search for her Family's Forbidden Nazi Past" (Rowman & Littlefield, 2018). She is a contributor to WBUR's Cognoscenti.
Derek B. Miller, Ph.D., is an international relations specialist and an award-winning novelist whose debut, "Norwegian by Night," was named one of the six most important novels of 2013 by The Economist. He has lived in Europe for 22 years and originates from Massachusetts.
Rachel Kadish is an award-winning novelist, most recently of "The Weight of Ink," winner of the National Jewish Book Award. She lives outside Boston and teaches in Lesley University's MFA program in creative writing.
Rachael Cerrotti is an award-winning documentary photographer, writer and educator, and the creator of Follow My Footprints. She is a contributor to WBUR's Cognoscenti.