#MeToo Apparently Missed The Dept. Of Education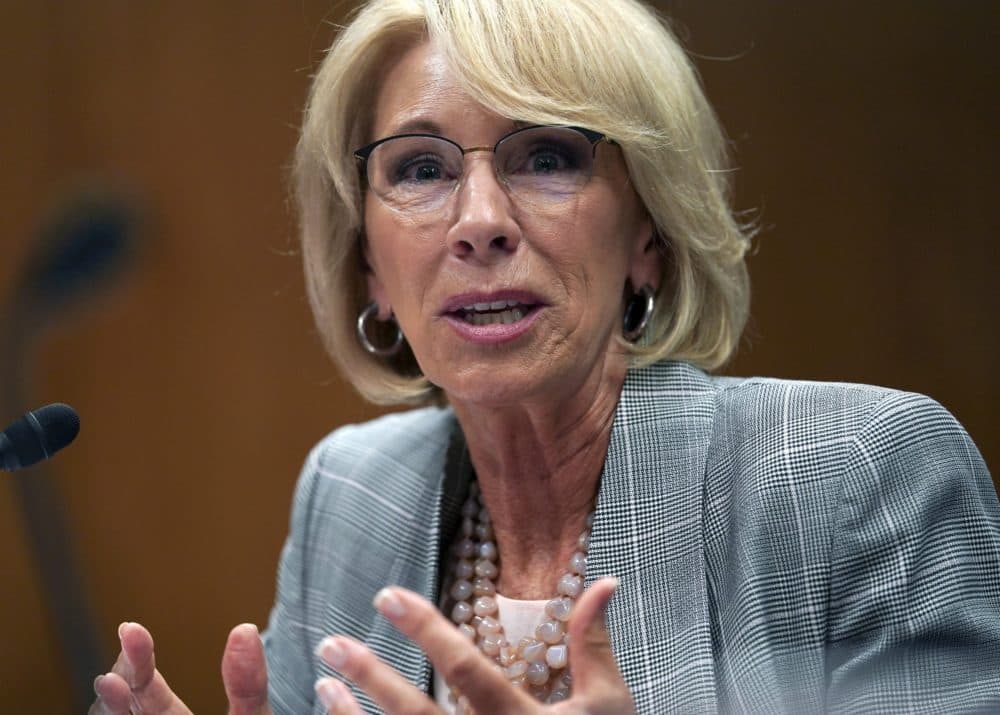 This article is more than 3 years old.
It should come as no surprise that a Harvard student is suing the University to prevent the school from investigating an allegation that he raped a non-Harvard student out-of-state. This is the world that Betsy DeVos has created — one where a student can be accused of sexual assault but, because the alleged incident did not happen on campus, the school may be told it has no right to follow up.
Just as victims of sexual harassment and sexual assault have begun to break decades of silence and report their experiences, the secretary of education has proposed regulatory amendments that will make it less likely that victims will speak up and seek justice, and less likely that schools will have effective tools to protect their students from someone on campus credibly accused of an assault. This lawsuit, filed barely two weeks after the proposed regulations were published, shows how the landscape is already changing.
Shortly after assuming her role as education secretary, Betsy DeVos targeted existing campus sexual assault policies for overhaul. DeVos' jurisdiction arises from Title IX of the Education Amendments of 1972, which prohibits educational institutions that receive federal financial assistance from discriminating on the basis of sex. Over the years, the federal government issued various guidance documents to help schools formulate their responses to allegations of sexual harassment and sexual assault, but had not issued a specific set of regulations mandating a process.
Until now.
In these proposed regulations, DeVos seeks sweeping changes that would strengthen protections for students accused of sexual harassment or sexual assault, including a stricter burden of proof in the disciplinary system adopted by colleges. DeVos appears to start from the premises that false accusations against men are rampant, even as research indicates that is untrue.
In the guise of seeking to create a more orderly process, the proposed regulations would: narrowly restrict the definition of sexual harassment, limit the institution's jurisdiction and obligation to respond or otherwise be subject to liability, and impose a burden of proof that is more appropriate for a court system than a college. The proposed regulations do not recognize the historic silence of victims, fail to provide needed mechanisms to support victims through the process of reporting, and do not recognize the legitimate interest of a university to implement measures to enforce standards of behavior and protect its students.
DeVos appears to start from the premises that false accusations against men are rampant, even as research indicates that is untrue.
Many of the proposed changes rely on the reasoning of Supreme Court cases from the 1990s that limited the scope of Title IX. In the decades since those decisions, however, much has been learned about sexual assault that the Department of Education (DOE) has chosen to ignore — including the extent to which courts rule against victims. Judicial decisions have resulted in a body of law that substantially disadvantages those bringing discrimination and harassment claims. As a result, court precedent should not be the foundation on which to build a regulatory program intended to protect students from sexual assault and sexual harassment. Rather, these cases should be used to offer a roadmap for avoiding the biased judgments that thwart victims.
The DOE's proposed regulations seem to assume that greater protection is needed for the accused, but not for victims. That assumption misses three points:
1. schools have a legitimate need to protect their campus from persons credibly accused of sexual harassment and sexual assault,
2. a school's process is not supposed to be a substitute for the criminal justice system, and
3. the extent to which women stay silent because of their fears — of the process, of being ostracized, of retribution, and, too often, of an institution focused on protecting its reputation.
According to the Department of Justice, one in four undergraduate women will be the victim of campus sexual assault prior to their graduation. That data point is in stark contrast to the far fewer number of campus assaults that are reported. Independent investigations at a variety of prep schools and universities have revealed cultures in which victims' voices have long been silenced.
The learned silence of students has direct implications for women in the workplace. For example, an ABC News/Washington Post poll revealed that 54 percent of American women have experienced unwanted and inappropriate sexual advances from men. Critically, only 42 percent of the women who experienced unwanted sexual advances at work reported the conduct to someone in a supervisory position.
The learned silence of students has direct implications for women in the workplace.
It is ironic that the proposed DOE regulations are being issued at a time when many workplaces are focusing on ways they can encourage victims to come forward. Yet DeVos' proposed regulations are more likely to result in victims remaining in the shadows — behaviors they will carry with them into the workplace.
Universities should model a process to address sexual assault by monitoring the experiences of students, establishing a process that encourages reporting, and then addressing issues through a fair system that does not create additional hurdles for victims, even as it protects the accused. Such a process could also teach an important lesson to those beginning their career journeys.
Sadly, however, if these regulations are adopted after the public comment period, DeVos will have succeeded in using the federal government to tell women to stay quiet. Clearly, the lessons of the #MeToo Movement have not reached the Department of Education.