How To Talk To Your Kids About Vaping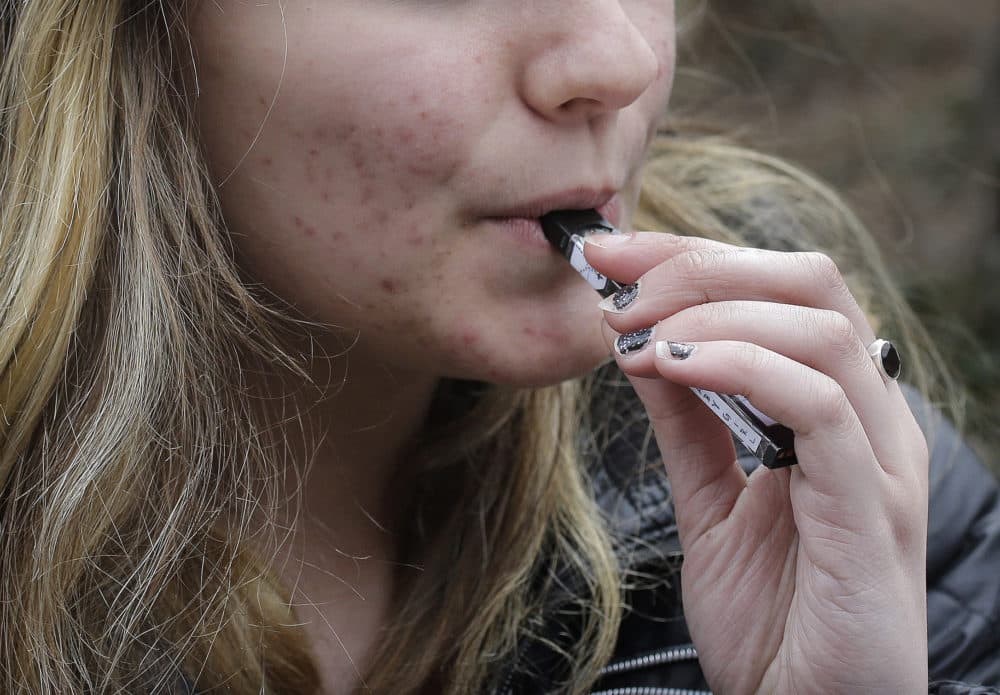 This article is more than 4 years old.
In my role as the state's chief physician and as the mother of two children, I am asked pretty often these days about vaping, a rising epidemic around the country and here in Massachusetts. What surprises me most, despite increasing headlines and news coverage, is the lack of information — or misinformation — about vaping. Young teens are often unsure if there is nicotine in what they are vaping. And parents may think these products are harmless since they are often sold in flavors such as fruit medley or bubble gum.
This concerns me. Let's be really clear: Vape pens and e-cigarettes are not safe for anyone — particularly not youth and young adults. They contain nicotine and other chemicals and are not yet fully regulated by the FDA. Also deeply troubling is that the nicotine in e-cigarettes and other tobacco products can prime the developing brain for addiction to other drugs.

E-cigarettes were originally designed for adult smokers as a substitute for cigarettes, but now the devices are being marketed, often on popular social media sites, directly to young people. They are inexpensive and, even worse, they are being designed and packaged to be especially enticing to children. (Today's parents likely remember the old Joe Camel character created in the late 1980s to attract young people to smoking.)
These products are far from harmless: The nicotine they contain is a highly addictive chemical that can harm brain development. The brain continues to develop through age 25. Nicotine primarily affects the parts of the brain that control attention, learning, mood and impulse control.
Here in Massachusetts, our 2017 Youth Risk Behavior Survey conducted jointly by the Departments of Public Health and Elementary and Secondary Education found that nearly half of Massachusetts high-school students say they've tried e-cigarettes and nearly a quarter say they have used the device sometime in the past month. This compares to about 3 percent of adults, making vaping among high school students nine times higher than that of adults.
Talking with your kids about vaping is one of the most important things you can do. I understand it may be difficult to broach the subject, that's why we've launched a statewide public information campaign about vape pens and e-cigarettes and our website offers parents advice for how to have the conversation.
Parents know best what approach is likely to work with their own child but we do provide some ideas. For example, having a conversation while driving or waiting for an appointment might make sense. Some parents find that connecting the information to current events or a TV show and asking the child's opinion is a good starting point. You might ask your child what he or she thinks about a situation you witness together such as seeing someone use an e-cigarette, passing a vape shop when you are out or seeing an e-cigarette advertisement. Talks with your child about vaping can be a learning opportunity for both of you.
Being open and honest about what you know about the dangers of vaping, and what you don't, can be helpful. Explaining that some e-cigarettes look like regular cigarettes and some look like USB flash drives, pens, or other ordinary items and letting them know that an e-cigarette may also be called a "vape" or "vape pen" are important messages you can share. The main point is that the device delivers nicotine — and you want them to steer clear of it.
Talks with your child about vaping can be a learning opportunity for both of you.
At the state level, we are taking action to address this growing public health epidemic. In 2018, Massachusetts enacted legislation making our state the sixth in the nation to increase the age of sale for all tobacco products from 18 to 21. The law took effect in December and it prohibits the sale of all tobacco products — including e-cigarettes — to anyone under age 21. Just this week, Gov. Charlie Baker proposed in his 2020 budget expanding the cigarette excise tax to e-cigarettes and vaping products.
We know that raising prices will reduce the sale and purchase of vaping products and cut into teen usage rates but we need to continue to have the conversation about the dangers of e-cigarettes. I urge parents to become informed and talk to kids so they understand that using these devices is unsafe and unhealthy and now it's also illegal. I realize that we can't always control everything our children do when they're not with us. But talking with your kids about vaping will let them know that you're concerned about their health and you care about their safety.