There's A Legal Crisis On Our Southern Border — And It Was Caused By Our Government
During the State of the Union, President Trump described the "lawless state of our southern border" where traffickers, smugglers and criminals reign. And he again vowed to erect a wall to protect "the well-being of all Americans."
Trump is right — our southern border is lawless. But this absence of law is a direct result of the policies and regulations promulgated by his administration, which have eviscerated the framework of long-established legal protections at our border, and within our country.
The answer to this lawlessness is not a steel wall or over-reliance on enforcement. Rather, it is the law itself: restoring the due process and legal rights that asylum seekers and refugees were once guaranteed.
We are lawyers and professors, who, like many others, traveled to Tijuana, Mexico with our law students to provide legal assistance and to see this "lawless" state first hand. What we found was dire: families living in tents on the streets outside a soccer stadium; children waiting in pajamas every morning with the hope that they might be allowed to cross into the United States. Everywhere, there were lines: for water, for food, for a shower, for a warm coat.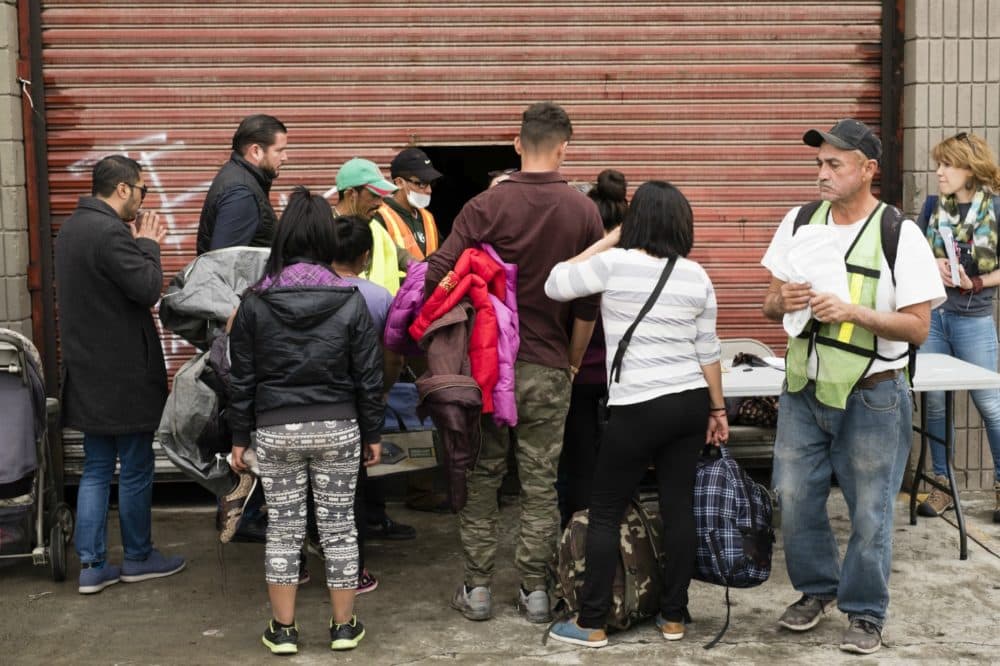 Trump would have the public believe that only a wall and a militarized southern border can protect Americans and immigrants alike from exploitation and violence. While he waits for a physical wall, he and his administration have done everything possible to create an "invisible wall" — policies and regulations designed to systematically shut out refugees and asylum seekers from accessing their legal rights.
More than 5,000 mostly Central American refugees arrived in Mexico hoping to seek protection in the United States. On our first day there, we were among 30 or so volunteers at a nonprofit organization in Tijuana, preparing to give a legal rights presentation. By lunchtime, every folding chair was occupied with children and families. A migrant we'll call Sienna was among them. Her hair was pulled back and she wore donated clothes. A mermaid tattoo peeked subtly out from her shirt sleeve. She was a trans woman in her early 20s, having fled a parade of horrors in her native Honduras — sexual abuse as a child in her family's home and unrelenting abuse by gangs on the street once she left.
In the fall of 2018, she escaped by joining a caravan of refugees traveling north to seek safety in the United States. Two days after her departure, she received news from Honduras: her "sisters," trans women who were part of her chosen family, had been murdered by gang members. When we spoke, her voice shook. She was scared but resolute, inexplicably hopeful and desperate to seek asylum in the United States. However, she — like many others — was prevented from doing so, because of unlawful actions taken by the U.S. government.
The true lawlessness -- engineered by this administration -- is an ongoing deprivation of legal rights.
Sienna, like many (if not most) people in the caravan, left her home not out of choice, but out of crisis. In Tijuana, her ability to access legal rights or legal counsel was minimal — a short presentation on asylum law, a brief consult in the corner of a cramped building, where she spoke quietly and hoped to keep her history of trauma and violence private from a room full of people. Even that minimal counsel was more than most will receive. Many won't be provided any information about their legal rights or about the process for seeking the protection they deserve.
On the day we met Sienna, we also met with 44 children and 42 adults, all seeking safety in the U.S. And still, these were just a few of the more than thousands of people in need of assistance. Sienna and other refugees at our southern border need new approaches. They need more lawyers, more resources and sustained advocacy for systemic legal changes that will protect their rights.
Consistent with the immigration statute, they must be permitted to enter the U.S. and seek asylum anywhere, at any time. They must be provided steady and secure access to legal counsel. Finally, recent decisions designed to specifically impede Central American asylum seekers' access to asylum must be overturned.
The true lawlessness — engineered by this administration — is an ongoing deprivation of legal rights.
Professors Julie Dahlstrom, Karen Pita Loor and Sarah Sherman-Stokes all teach and practice law at Boston University School of Law.