Trump's Proposed Changes To The Census Would Hurt Massachusetts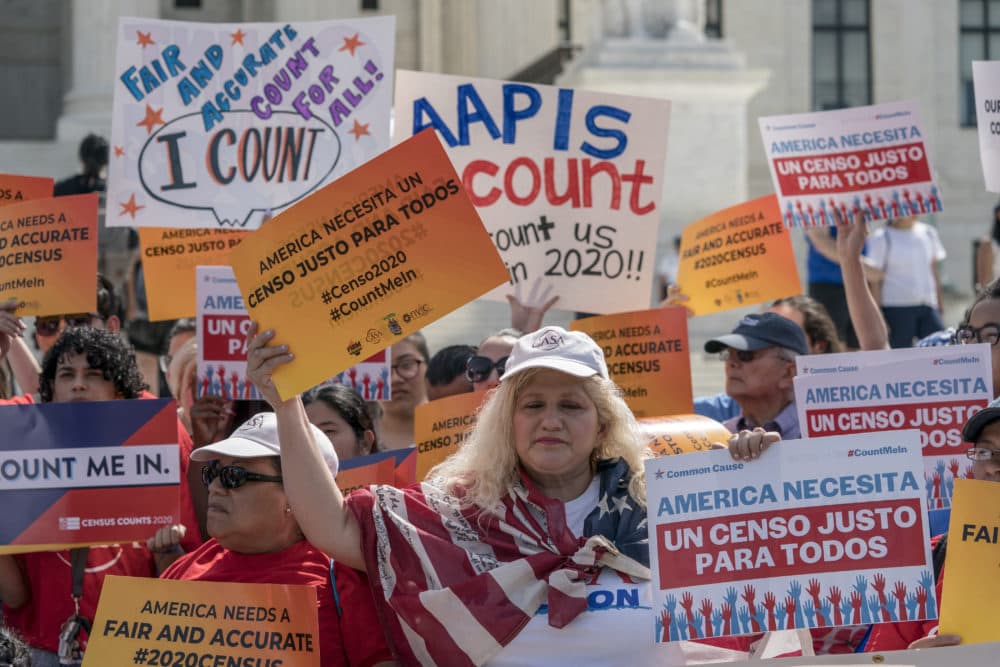 This article is more than 3 years old.
It's tempting, in the wake of the Mueller report and the onslaught of news stories about rogue aides and Russian corruption, to focus on scandalous elements of the Trump administration. But none of these scandals have done as much damage to American society as this government's daily erosion of longstanding institutional norms — the most recent of which is weaponizing the census.
The U.S. Supreme Court is now considering whether the Trump administration may politicize the 2020 Census by including — for the first time since 1950 — a question about citizenship. Supporters of the administration have argued that the proposed change is "mundane" and that there is "nothing untoward" about asking residents if they are citizens.
But to describe this change as a routine bureaucratic measure is to disregard the anti-immigrant environment in which it was proposed. Proponents of the measure utterly ignore its sweeping ramifications, not only for the millions of residents chilled from responding to the census, but for anyone who uses federal programs or funding.
... to describe this change as a routine bureaucratic measure is to disregard the anti-immigrant environment in which it was proposed
Because census data is used to determine congressional representation and redistricting, an undercount could cause Massachusetts to lose at least one House seat, as it did in 2010. Moreover, the census is also used to allocate funding for over 130 federal programs, from MassHealth and the Children's Health Insurance Program, to Head Start, Americorps, and wildlife, highway planning and construction grants. In 2015, Massachusetts received more than $16 billion in census-linked funds.
If immigrants, English-language learners and people of color are afraid to complete the census because they fear revealing their citizenship status will expose them to government scrutiny, Massachusetts will lose money -- over $2,000 per person per year for 10 years. That means less funding for critical, life-saving programs.
Even without the citizenship question, advocates such as Lawyers for Civil Rights were already concerned that turnout for the 2020 Census would be lower than ever. Immigrant communities, who face a daily onslaught of xenophobic rhetoric from the White House, are increasingly fearful of federal agencies, particularly given reports that the Department of Homeland Security is proactively providing the bureau with sensitive data.
Additionally, the 2020 Census is woefully underfunded: In Massachusetts, half of all census area offices were closed, leaving none west of Worcester. As a result, even as the U.S. Census Bureau embarks on the first "all-digital" census, there are scant resources and no infrastructure to ensure outreach to "hard-to-count" census tracts. In the commonwealth, around a quarter of all census tracts are considered hard-to-count because they are primarily home to renters, low-income families, rural residents, the elderly, immigrants and English-language learners. In these areas, fewer than 73% of residents complete and return the census.
In 2015, Massachusetts received more than $16 billion in census-linked funds.
The impact on Massachusetts cannot be understated. Hard-to-count communities disproportionately rely on federal programming and they represent many, if not all, of our newest residents — indeed, all of the commonwealth's growth between 2000 and 2010 was attributable to the Latino population. If these families are deterred from filling out the census, either by the citizenship question, the climate of anti-immigrant rhetoric or the lack of outreach from the Census Bureau, that could mean the loss of millions of dollars over a decade and the dilution of Massachusetts' political power in the federal House of Representatives.
Massachusetts cannot afford an undercount. We need the U.S. Census Bureau to: restore a field office to western Massachusetts, provide adequate language support, hire field workers from hard-to-count communities (without imposing onerous background checks), provide assurance sensitive data will not be used to target immigrant families, and allocate money to community groups to encourage hard-to-count participation in the 2020 census.
The decennial census is an affirmative, constitutional obligation enshrined in our founding documents. Our executive and legislative branches must fulfill their constitutional duty to conduct a complete and accurate accounting of all residents, to ensure we receive the federal representation and programming we are owed.
The authors are affiliated with Lawyers for Civil Rights. Espinoza-Madrigal is the organization's executive director, Sampson is its civil rights fellow and San Pietro is the group's census advocate.