The Trouble With Elizabeth Warren's Plan To Forgive Student Debt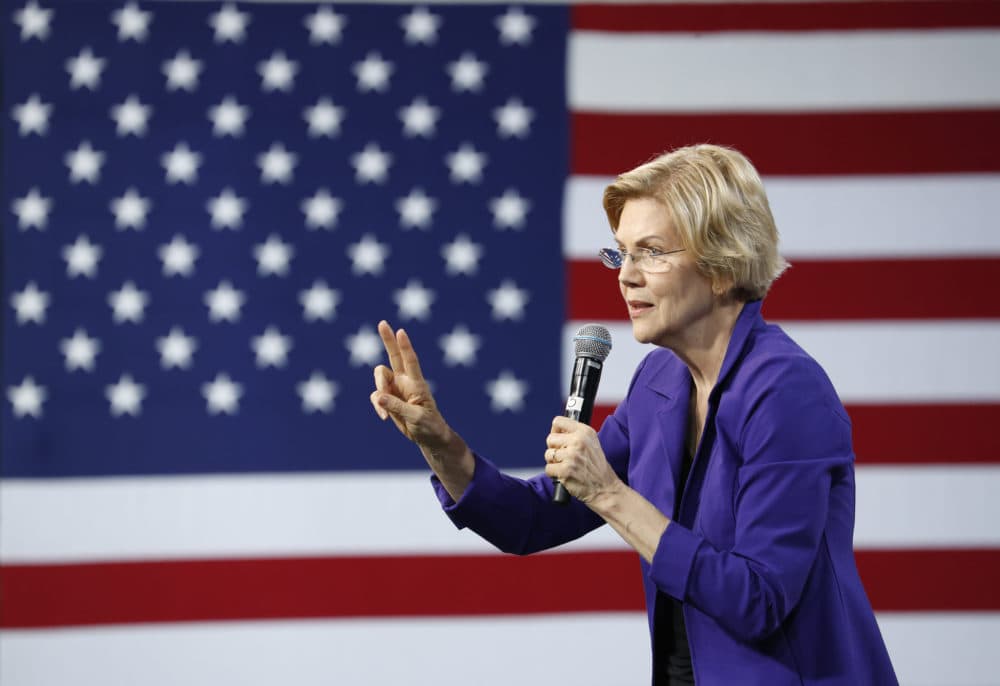 This article is more than 2 years old.
Kudos to Elizabeth Warren for churning out specific plans that address real problems facing the country. This is what a presidential candidate should do. Last week's chapter in the Massachusetts senator's policy book-in-progress — coupling student loan forgiveness with free undergraduate tuition at public colleges and universities — contained, alas, only half of a good plan.
I've argued for the free-tuition part (along with free room and board for the poorest students). It would be expensive, more than $70 billion annually to start, though, contra Warren, I'd pay for much of it by rerouting our current federal spending on higher ed. It's a sound step to ensure that a family's income doesn't deny them this proven ticket to a middle-class life.
The same cannot be said for the headline-grabber in Warren's proposal — eliminating up to $50,000 of debt for college loan borrowers. That's needlessly expensive, giving too much to those who don't need the help. (I speak for myself, not Boston University, where I work.)
the top 40% of households by income would get two-thirds of the savings from Warren's forgiveness, while the bottom 20% would collect just 4%
Americans around the country trying to pay off student loans cheered Warren's plan, and if I were so burdened, I would, too. She tried to make her proposal progressive. If your household income is less than $100,000, she'd erase $50,000 of your debt; that forgiveness goes down as income goes up, with households earning more than $250,000 getting no write-off. But that stab at progressivism isn't enough, as a Brookings Institution analysis by Adam Looney reveals.
It found that the top 40% of households by income would get two-thirds of the savings from Warren's forgiveness, while the bottom 20% would collect just 4%. Warren's plan isn't as bad as a Republican tax cut for the wealthy, to be sure. But it's bad enough. Looney writes:
Debt relief for student loan borrowers, of course, only benefits those who have gone to college, and those who have gone to college generally fare much better in our economy than those who don't … So any student-loan debt relief proposal needs first to confront a simple question: Why are those who went to college more deserving of aid than those who didn't? More than 90 percent of children from the highest-income families have attended college by age 22 versus 35 percent from the lowest income families.
That Warren would tax the uber-rich to pay for this debt forgiveness doesn't justify wasting those dollars, when they could be used for more pressing needs. For all the upper-middle class's economic angst, its financial situation just doesn't merit a big giveaway.
This isn't to say that we should settle for the status quo on student debt. An analyst at the Urban Institute told the New York Times that covering $10,000 of each borrower's loans would have helped many borrowers. More to the point, it would wipe out debt for "virtually all the borrowers who are low-income, who don't have a bachelor's degree, who dropped out of college, who are struggling most."
We also could revisit bankruptcy laws, under which student loan holders have a harder time seeking relief than other types of borrowers.
Why didn't Warren propose a more modest forgiveness? Perhaps she truly believes in an expansive approach that would benefit fully three-quarters of all student borrowers. Perhaps there's also a dash of political self-interest mixed in; as Times columnist David Brooks noted, Democratic primary voters tend to be highly educated and might reward a candidate who'd ease their loan pain.
But policy should focus on helping those who need it most. That includes getting more low-income students into college. Proposals for free public university tuition, advocated by candidates like Warren and Bernie Sanders, would be a step in the right direction. Like a more modest loan forgiveness program, free public college would give some help to upper middle-class families and an enormous hand to the needy. It needn't be a handout; we could embrace Australia's income-based repayment, under which former students reimburse the taxpayers once they're graduated and in the workforce.
Warren deserves credit for free-tuition advocacy and for serious thinking about big problems
Far from some radical notion, free tuition existed at some public universities founded after Abraham Lincoln signed the Land Grant College Act, including California's, which had some of the world's best-regarded colleges before state budget cuts forced the adoption of ever-rising tuition.
Warren deserves credit for free-tuition advocacy and for serious thinking about big problems. Talking about college's potential to rebalance the off-kilter social scales in our inequality-ridden era may seem scant to the pure joy and self-improvement of learning. Yet no less than Plato considered widespread education a conduit of justice, promoting harmony among individuals who felt they'd had the same chance to compete in life.
The present administration is led by a chief executive ignorant of recent history, let alone antiquity. Perhaps his successor, whenever he or she takes the oath, will tweak Warren's plan and run with it.