Welcome To Motherhood, Meghan Markle. Here's What You Should Know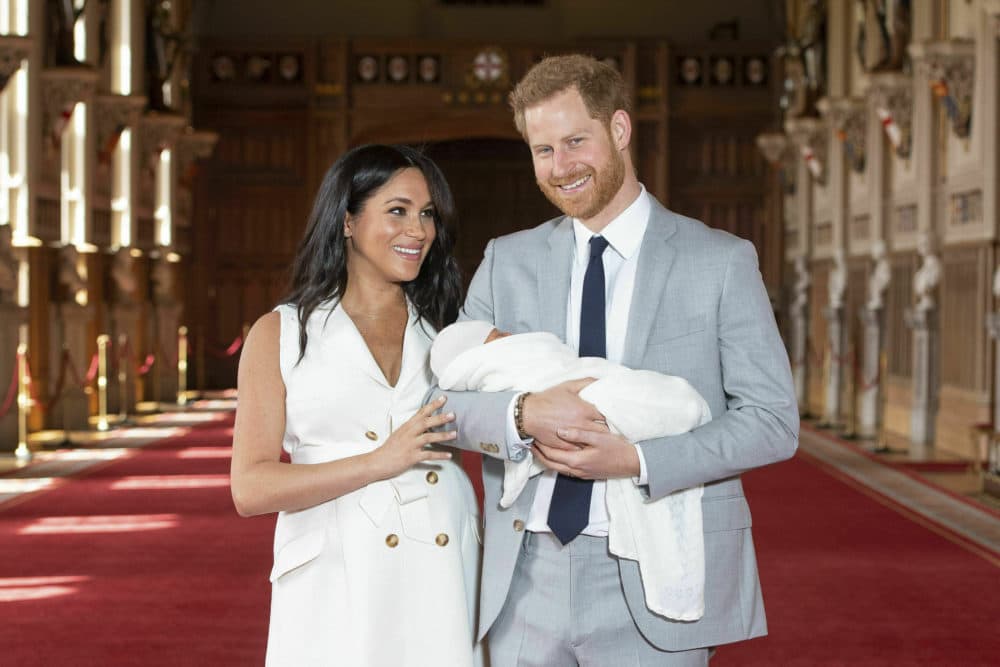 This article is more than 3 years old.
When Kate Middleton, the Duchess of Cambridge, gave birth to her third child a little over a year ago — and introduced the newborn hours after giving birth, looking flawless, in heels — it almost broke the internet.
The latest royal baby — whose name was just revealed to be Archie Harrison Mountbatten-Windsor -- was born Monday to Prince Harry and Meghan Markle, the Duke and Duchess of Sussex. They waited two whole days before introducing Archie to the world. Hours after his son's birth, however, Harry did give a sweet interview, in which he marveled at what his wife had managed to do. "It's been the most amazing experience I could ever have possibly imagined. How any woman does what they do is beyond comprehension," he gushed.
We can surmise what he's getting at: "A live human came out of your body!" Indeed, Harry.
Regardless, Archie's arrival seems as good a time as any to turn our attention, once again, to society's views of motherhood.  What should Meghan know about being a mom? How will parenthood affect her marriage? When will her stomach go back to normal? Where can she turn for answers while she's holding her babe at 2 a.m. googling "symptoms of mastitis" and wondering whether "breast [really] is best?"
Emily Oster, a health care economist, has thought a lot about many of these questions, as the author of books that help parents make choices based on the available data.
A tenured professor at Brown University, Oster has essentially leveraged her social science smarts into clever and entertaining literature studies, with a touch of personal narrative. Her first book, "Expecting Better," examines the conventional wisdom about what women should and should not do during pregnancy. Hopefully, the duchess got her hands on a copy. Some highlights: Drinking a little wine is OK (up to one drink per day in the second and third trimesters, less during the first). Coffee in moderation is fine. Craving sushi or a ham sandwich? Knock yourself out.
Her second book, "Cribsheet," published in April 2019, tackles the scenarios parents face in the first years of life, from the moment the baby takes its first breath through pre-school registration. It covers all manner of issues on which people have very strong opinions that they rarely hesitate to share: vaccination, breastfeeding, screen time, "crying it out," potty-training, discipline, marital bliss and so on.
My husband, who is also an academic economist, likened Oster to Billy Beane, the pioneer of sabermetrics. As anyone who's read or seen "Moneyball" knows, Beane applied a data-driven approach to the game of baseball, overturning lots of what old school students of the game had once professed as fact. Dr. Oster is doing something similar to what we think we know about motherhood.
Duchess Meghan knows a little something about disrupting norms, right? As British journalist Tanya Gold writes:
"Why does Meghan have the press in such paroxysms? Well, she is an interloper: divorced, American, biracial and, apparently, progressive. And she dares not only to inhabit the role of duchess but also to make it her own."
Now she is mother to the first biracial child in the British monarchy's recent history, who is seventh in line for the throne. Maybe Meghan will find Oster's convention-busting approach helpful as she navigates her way through these early months, when every new parent faces a blizzard of decisions big and small. Already, she's opted to do things differently than her sister-in-law, Duchess Kate.
But I imagine the duchesses would agree with each other — and almost every woman I know — that men, even the "good" fathers, don't always share equally the responsibility of child-rearing and running a home. (And by "don't always," I mean "almost never.")
Given that they're royals, with staff dedicated to anticipating their every need, they can probably delegate things like meal planning and summer camp registration. But Meghan and Kate are also modern women. They must sometimes lie awake at night, thinking about big, existential questions about ambition, independence and identity, just like the rest of us. Meghan has identified as a feminist since she was a girl. My guess is she's already familiar with the "special kind of misogyny reserved for mothers," as author and podcast creator Hillary Frank wrote.
But she may not realize that she'll be expected to immediately dedicate a bunch of her own brain space to her baby boy: his schedule, his shoe size, his food preferences, his Christmas wish list. And Harry won't have to give up any of his personal RAM for those things, because he'll rely on hers. The running lists that occupy every mother's mind, wearying as they are, are an essential part of how we build deep connections with our kids, and she'll inevitably have to give up something to make room for it.
In the introduction to "Cribsheet," Oster concludes two big things about parenting life: one is "you have way less control than you think;" the second is, "your choices can be right for you but also not necessarily the best choices for other people … You are not other people."
In my five-plus years as a parent, I think both of these conclusions are true. My own advice is try to enjoy the adventure of young children, because the old saying "the days are long but the years are short," is a cliché and spot on. Also, maybe make sure Harry knows how to properly sterilize a bottle and brew a strong pot of coffee.