Generosity Is Good. Affordable College Would Be Better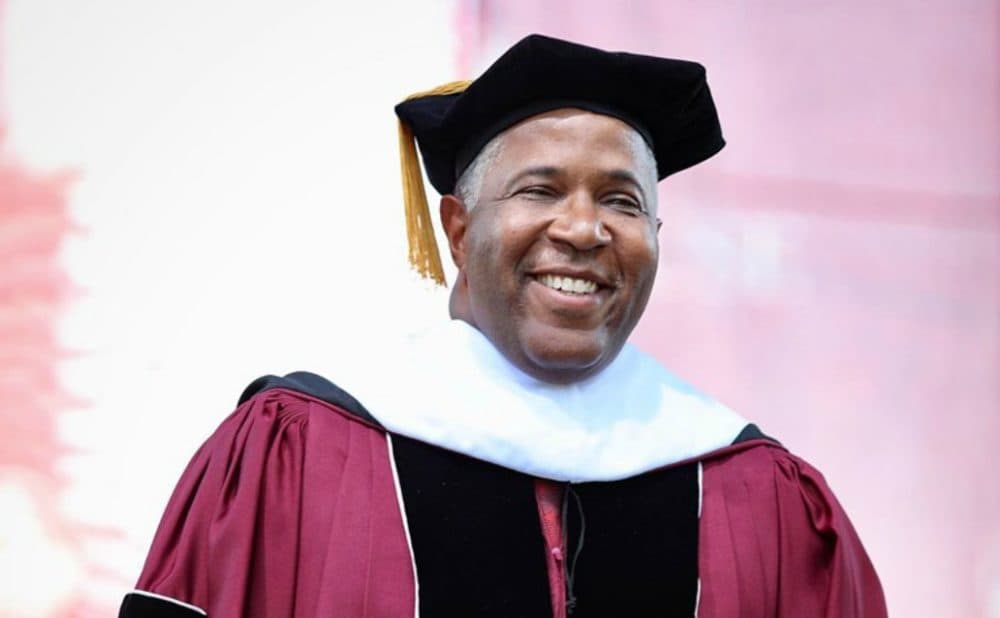 This article is more than 3 years old.
While reporting a story in Cleveland last Sunday, I ducked into a coffee shop to charge my phone, re-caffeinate and read the news. The front-page story on my feed was about Robert Smith — the tech billionaire investor who just decided to pay off the collective student debt of Morehouse College's Class of 2019. (He announced this while giving the commencement speech at Morehouse, to rapturous, incredulous applause.) A middle-aged man sitting beside me at the counter glanced at my laptop screen.
"Can you believe that?" the guy sputtered. "Where was he when I graduated from college?!"
My new friend said this with the kind of bitter bewilderment that you hear from onlookers when a Powerball winner is photographed with their surfboard-sized check. The sheer scale of Smith's gift to this year's Morehouse graduates is epic. Given the prohibitive price tag of higher education in America, along with today's astronomical student loan debt figures -- which impact students of color the hardest, by far -- what Robert Smith pulled off is arguably heroic.
And yet, there's something deeply distasteful about Smith's gift, and its context. It's nearly impossible to celebrate the amazing fortune of this year's Morehouse graduates without thinking of all the other students who will most likely spend years, if not decades, paying off their student loan debt.
Smith's gift is a Spartacus-sized act of generosity in a landscape whose disparity can be traced to austere economic policies pushed by billionaires like Smith himself. (Those policies include cutting funding for public education.) As philanthropy journalist Anand Giridharadas noted, Smith opposes closing the carried interest loophole — a piece of tax code that enriches tech investors while costing the government as much as $18 billion a year. That sum of money could replicate Smith's graduation gift 50 times each year.
The apparent hang-up here, for billionaire philanthropists who've fought against progressive tax reforms like nixing the carried-interest loophole, isn't just forking over more of their wealth when tax season rolls around -- it's also the control they cede when taxes are used to deliver justice to the economically underprivileged. In our society, where philanthropists play an outsized role in delivering justice to a select few, most of us have little hope except begging billionaires for money through processes like grant writing — which is essentially speculative mind-reading -- or simply dreaming that someday, like the Morehouse Class of 2019, we'll be handpicked for the payout of a lifetime.
There's a reason why Smith's gift to Morehouse students has the optics of a lottery payout. Philanthropy is, by nature, a lottery.
But in a different kind of society where the government ensures that everybody has access to free higher education — funded substantially by Nordic-style taxes on income and wealth — billionaires won't get to decide how "their money" is spent. That decision will be ours, so long as this country remains a representative democracy. There would still be room for exceptional philanthropy. But the crucial difference between this version of society and the status quo is that philanthropy from billionaires would no longer be a substitute for the comprehensive welfare system that we need. And those of us who are weary of playing the philanthropists' lottery would have a better path to achieving the economic security that evades so many today — especially indebted college grads.
Philanthropy is, by nature, a lottery.
The good news is that a number of politicians are introducing ideas that could yield an alternative to economic justice via philanthropy. Elizabeth Warren has put forward an ambitious wealth tax plan that would bring in around $2.75 trillion in tax revenue over a 10-year period. A tiny fraction of that revenue could be used to wipe out all student loan debt and create a top-notch system of free public universities, which would offer millions the same unclouded future that Smith gave the Morehouse students. And if enough of us feel this would be a good thing, we can make it happen.
Philanthropy, at its most insidious, can persuade us that the wealthy are the only ones who can fix society and that we should trust this task to them, and not the government. But "the government," while imperfect and corrupted by the influence of the wealthy, still remains within our control. People will gaze at Robert Smith's present to the Morehouse students and think, "I wish more rich people would do something like that."
Wishing won't help us. But voting might.