Watching The Democratic Debates
Watching The Democratic Debates With Joanna Weiss: 6 Takeaways From Night 1
Editors' note: Joanna Weiss will be back tomorrow morning with her take on the second night of Democratic debates.
No, it wasn't really a debate, in the Lincoln-Douglas sense. But that's like complaining that reality TV shows aren't "real." We've got it, move on.
At this stage in the Democratic primary race, with 20 qualifying candidates, a TV event will never be the medium for deep and nuanced policy discussions. That said, Wednesday night's — let's call it a "showcase" — included an impressive amount of substance and civil disputes. It also fulfilled its real purpose: to open the curtain on the campaign and give the candidates a chance to make a first impression. Here are a few observations about how it all played out.
1. Every candidate had the same mission: Ignore the questions.
Bracing for the 10-candidate format, each Democrat onstage had internalized that old debate advice about not bothering to answer the question put before you. These two hours were all about extending the introduction and maximizing your camera time. If you had practiced a line of Spanish for Telemundo viewers, you used it. If you needed to slip in the fact that your dad was in a union, or your son was black, or your uncle had a gun, you grabbed your moment. When Tulsi Gabbard, the congresswoman from Hawaii, was asked about fair pay for women, she launched into a long description of her military service. Former congressman Beto O'Rourke chose to use some of his precious seconds to name-drop cities and people in Texas and beyond.
2. Elizabeth Warren ruled the beginning and the end.
Positioned in the center spot — where Donald Trump stood during the mega-Republican debates of 2016 — Massachusetts' senior senator got top treatment out of the box and the most first-cracks at big questions. She seized the opportunity and set the tone for the night: inveighing against corporations, declaring health care a human right and discussing gun control as a public health issue. Warren was less prominent in the second half; she wound up with only the third-most screen time, behind Senator Cory Booker and Beto O'Rourke. But she got the final closing statement, and thus the last word. She used it to reprise her "fighting" message, leaving the impression (without explicitly saying so) that she's the one candidate positioned opposite not just Donald Trump, but the whole entrenched establishment that Trump ran against in 2016.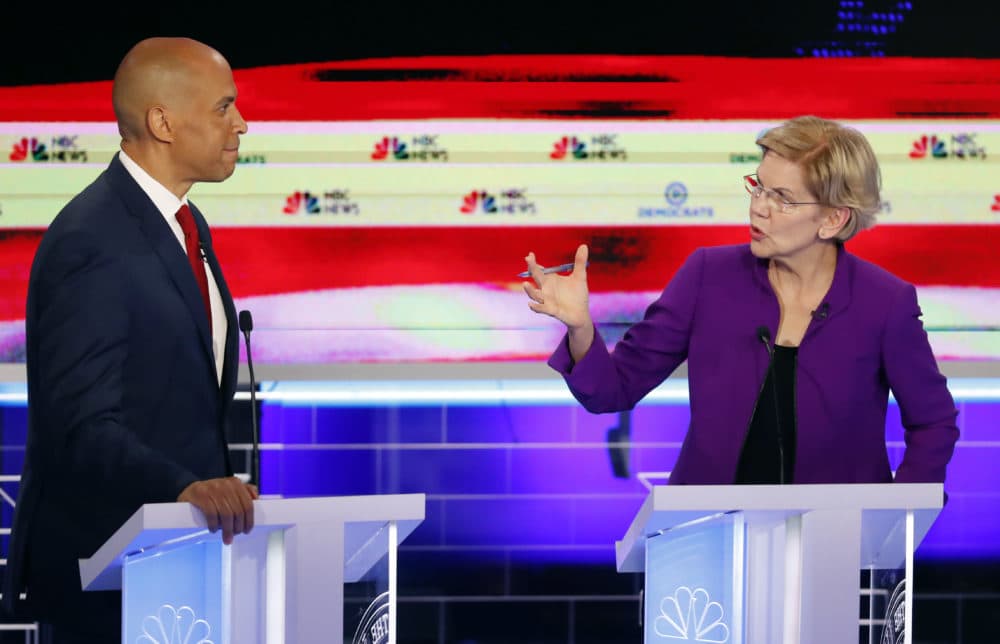 3. There are two kinds of Democrats.
At this stage in the race, Warren is speaking directly to the party's progressive base — and betting that her arguments for economic justice will eventually carry swing voters, too. She wasn't the only one playing to the left: Washington Governor Jay Inslee proclaimed that he'd give power back to unions; Julian Castro, who served in Obama's cabinet, struck out strong positions on immigration; and Cory Booker talked about racial divisions and transgender rights. But other candidates made a stronger show of pushing for the center: notably Amy Klobuchar, the senior senator from Minnesota, who talked about winning Republican districts; and U.S. Rep. Tim Ryan of Ohio, who declared that the Democrats had to win back the working class, and U.S. Rep. John Delaney of Maryland, who said the word "bipartisan" a lot. Tonight, expect Joe Biden to carry the centrists' argument, and to be more explicit about electability.
4. Immigration is going to be a major issue.
Granted, emotions were especially high on Wednesday, when everyone had just seen the horrific image of a Salvadoran man and his toddler daughter, drowned in the Rio Grande. Still, it was striking that immigration was the issue that sparked the most raw passion onstage. Several candidates called for a restoration of DACA and an increase in aid and support to Central American countries. Castro went farther, urging a repeal of Section 1325 of the United States Code — which would effectively make crossing the border illegally a civil offense, not a criminal one. His diatribes likely sent countless viewers to Google, drew a spike of attention to his candidacy, and appealed to a Democratic base that has been horrified by conditions on the southern border. But immigration is emotional for die-hard Republicans, too, and it's not hard to imagine what the Fox News pundits are going to say on Thursday.
 5. Mitch McConnell got a ton of air time.
Blame this one on the moderators, not the candidates. Rachel Maddow and Chuck Todd, who took over in the second half, came in hard with the theory — based on past behavior — that Senate Majority Leader McConnell would block anything a Democratic president attempted to accomplish. But they belabored that point, asking the same unanswerable how-would-you-stop-him question to several candidates in a row. NBC's insistence on letting five anchors in on the action also created an awkward changing of the guard and a nearly catastrophic microphone glitch. Note to the network: Let just one or two anchors preside, and let them not be the pontificating kind.
6. FREE JOHN DELANEY!
The congressman from Maryland, standing far on the right-hand side of the stage, was the most desperate to get a word in, and the most stepped-on by the moderators. Bless his heart, he stood his ground. He should win some sort of consolation prize for that — perhaps more people will walk away remembering him, than Bill DiBlasio.
Joanna Weiss is the editor of Experience magazine.