Watching The Democratic Debate: 6 Personality Types From Night 2
This one, to be honest, felt a little off-the-rails.
If Wednesday night's Democratic primary debate drew out some policy differences among the candidates, Thursday's installment was more about personality. The second batch of presidential contenders largely agreed on the big stuff, from an eventual path to "Medicare for all" to a lenient approach toward undocumented immigrants. But that harmony didn't stop them from yelling. A lot. Loaded with one-liners, aching to break out, incapable of answering a question with a single word, they mostly managed to sort themselves into personality types. Here's who we saw onstage:
The prosecutor
Ultimately, this was Sen. Kamala Harris's night, and her success had a lot to do with her bearing: At one point, when at least six candidates were shouting simultaneously, Harris simply smiled and waited, like the only adult in a room of unruly children. Throughout the debate, she mixed an easygoing style with lawyerly skill, deftly crushing Joe Biden after he fumbled through an explanation of his long-ago compromises with segregationists. It was a tough moment for the former vice president, but he wasn't the actual target. Harris knew that debate viewers would envision each candidate going head-to-head with President Donald Trump in a future debate. Thursday, she made a strong case for why she might be the one to eviscerate him.
The rambler
About that crushing-Biden thing: Did Biden have to make it look so easy? He entered the debate with a lead in the polls and a cloud of Obama-era goodwill. But he's no smooth talker, and some combination of the format and the pressure — he was asked to defend everything from his position on school busing to deportations under Obama — seemed to sap him of personality, charm and the ability to speak coherently. Twice (twice!) he launched into a rambling monologue, then stopped himself mid-sentence to declare, with palpable relief, "My time is up."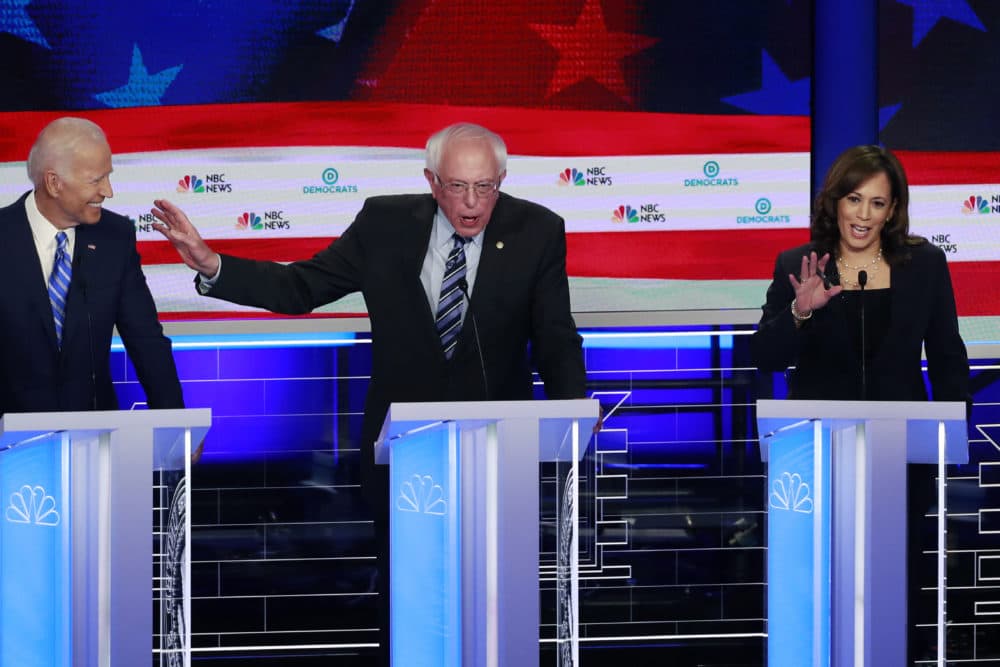 The smooth-talker
Pete Buttigieg's night wasn't as standout as Harris's, but the mayor did show that he can talk his way through complicated issues. He was the guy with a plan to do everything from shepherding "Medicare for all who want it" into existence to investing in technical training in order to compete with China in AI. Aside from Biden, Buttigieg got the toughest question of the night, about the recent police shooting that is roiling his city of South Bend, Indiana. When host Rachel Maddow asked him why the police force was only 6% black in a city that's 26% black, Buttigieg was noticeably undefensive: "Because I couldn't get it done," he said. It was a refreshing moment of honesty from the guy with an answer for everything.
The strivers
Sen. Bernie Sanders and Sen. Kirsten Gillibrand, with vastly different personalities, occupied similar positions on the board: fighting to be relevant, reaching for a breakout moment. Sanders kept trying to pull the conversation back to his fight-the-system mantra from 2016, tossing out a laundry list of enemies, from banks to pharmaceutical companies, health insurance companies, fossil fuel purveyors. Gillibrand emphasized her campaign finance reform plan and her support for women's rights, though she didn't find a place to squeeze in her family-leave ideas until the very end.
Then came her closing statement, when she declared, 'I'm going to harness love for political purposes.'
The one-liners
U.S. Rep. Eric Swalwell repeated himself so much that he seemed like a walking word cloud: "GENERATION." "TORCH." "BUYBACK." "DIAPERS." Andrew Yang barely spoke except to outline his universal basic income "trickle-up plan," which he explained in such a circuitous way that the moderators didn't bother to follow up. John Hickenlooper offered a laundry list of things he'd done as governor in Colorado and repeated his mantra that Democrats shouldn't be socialists. Sen. Michael Bennet pushed back on Sanders about crushing insurance companies. But they weren't nearly as memorable as …
The guru
From her corner of the stage, Oprah-certified self-help writer Marianne Williamson didn't talk much, but when she did, it was sublime. An implausible candidate with no actual chance, she was thus free to say whatever she wanted, which allowed her to sound at once ridiculous and spot-on. She could be a policy conscience, pointing out the roots of current problems: the environmental factors that make people sick; the U.S. foreign policy that contributed to the crisis in Latin America. She suggested that what the Democrats need to defeat Donald Trump isn't policies, but better slogans — which is anathema to say, but on some level, exactly right. Then came her closing statement, when she declared, 'I'm going to harness love for political purposes.' If she had floated off the debate stage and into the night sky at that point, it would have felt perfectly natural.