'Ball Four' And The Forever Boys Of Summer
Jim Bouton, the author of the seminal baseball tell-all book "Ball Four," died this week, and a part of my childhood died with him.
Bouton, who was 80, wrote a book that was a life-changer for me and, I am certain, many other Baby Boomers. "Ball Four" was published in 1970 when I was 13. It chronicled his time with the ill-fated Seattle Pilots, the 1969 expansion team he played for (they quickly became the Milwaukee Brewers), and did something that had never been done before: he violated the "sanctity of the clubhouse," giving readers an inside peek at the big leagues.
Bouton kept a diary, revealing not just the greenies (speed) the players gobbled and the alcohol drunk, but how they reveled in the absolute joy of the game — the banter, the camaraderie, the glee that came with being allowed to play a boys' game well into adulthood, while often acting like adolescents.
Bouton turned baseball heroes into flawed and funny human beings, which made them all the more relatable in my world. He wrote about the kinds of things other people did to their betterment or detriment — drank too much, fretted over the longevity of their careers, tried to enhance performance via drugs, had affairs, fought amongst themselves, envied others accomplishments.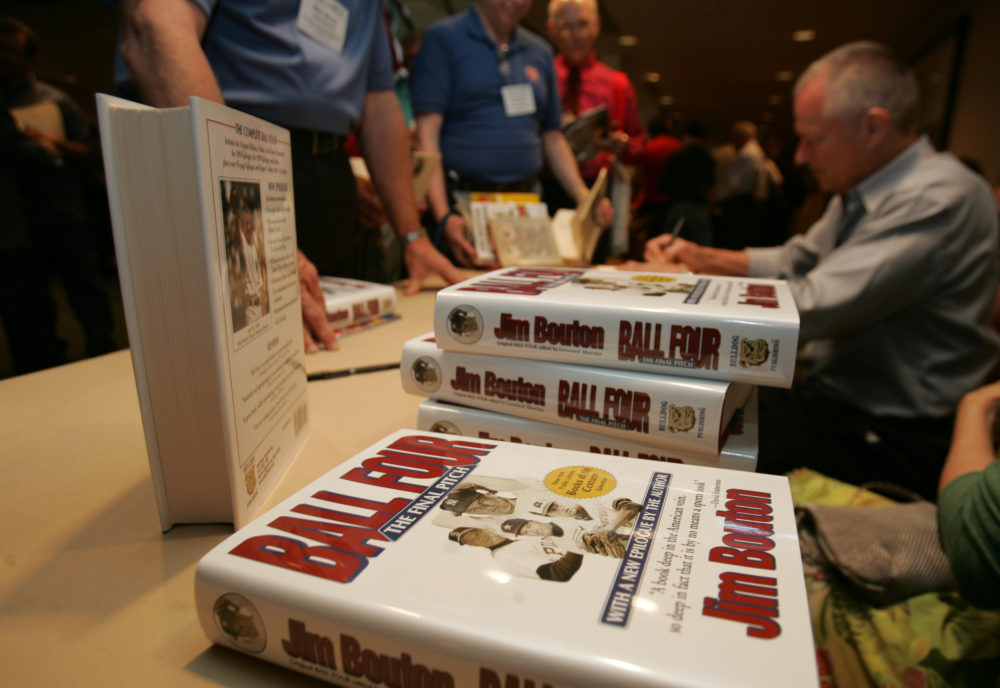 And he wrote about the mundane, time-killing stuff that we all do. For him, it was about bored teammates passing the time by drafting what they considered the "all-ugly" team. He described bouts of trivia with questions like, "What was the name of Roy Rogers dog?" and "What was the name of the cat in the Buster Brown Show?" (Answers; Bullet and Midnight.)
Bouton also told tales out of school about the heyday of the '60s Yankees — of which Bouton was a key part, as a fast-balling youngster. (He won 21 games in 1963, 18 in 1964 and was famous for throwing so hard his cap would come off.) Bouton wrote about Whitey Ford scuffing up baseballs; Roger Maris fighting with fans; Joe Pepitone faking VD with a popcorn kernel under his foreskin; and Mickey Mantle. As a Red Sox fan, I hated Mantle on principle but respected him as a terrific athlete.  
In Bouton's telling, Mantle was injured and expecting to ride the bench, so he'd gone out drinking the night before a game. He was hungover and he was on the bench but got called up in the 10th inning to pinch-hit. He knocked a first-pitch, game-winning home run. Mantle said, "You'll never know how hard that was." (He later told a sportswriter that he saw three balls coming at him and swung at the middle one.)
As budding baseball player ... I was ostensibly doing what these professional guys were doing, at a far lower level
Bouton himself, of course, is at the core of the book and amidst all the comedy is the tragedy: his ultimately futile attempt at a triumphant comeback via a new pitch he'd not quite mastered, the knuckleball.
The characters Bouton wrote about in "Ball Four" will live forever in my mind – Gary "Ding Dong" Bell, Gene "Lurch" Brabender, Marty Pattin (with his imitation of Donald Duck reaching orgasm) and Steve Hovley, who was  considered the team brainiac because he read books, opposed the Vietnam War and went to art museums.
As budding baseball player — I was playing in the Babe Ruth League when the book came out — I was ostensibly doing what these professional guys were doing, at a far lower level. But the camaraderie, pranking and jesting Bouton described among his peers, was what we were doing, too. The dream that I could carry this life — this world — with me for another decade or two provided much fuel for fantasy.
It's that teenage me that I recall when I heard of Bouton's death. On a whim, I bought the 20th-anniversary edition of "Ball Four" back in April and have been re-reading it. (He updated the book every 10 years. Later editions included recent observations, business ventures — he is the co-founder of Big League Chew — and "Where are they now?" sections.)
Bouton opened the door to a lot of other pro sports "tell-alls" — many more scabrous and nastier, but also more dim-witted. Bouton, whose book was edited by sportswriter Leonard Shecter, was a keen observer and wrote with verve.
He was not beloved by many of his brethren players and Pete Rose — the notorious gambler banned from baseball for life, who is also considered one of the game's best hitters and hustlers — yelled, "F--- you, Shakespeare!" whenever Bouton pitched against the Cincinnati Reds.
Over the long haul, the stats say Bouton was an average pitcher: Winning 62 games, losing 63 with a 3.57 ERA. His legacy is "Ball Four."
The New Yorker's Roger Angell called Bouton:
A hard thinker, marvelous listener, comical critic, angry victim and unabashed lover of a sport … an ironic and courageous mind.
David Halberstam, in Harper's, wrote that "Ball Four" was:
... deep in the American vein, so deep in fact that it is by no means a sports book" and "as American as apple pie.
The Boston Globe's George Frazier called it:
... an authentic, revolutionary manifesto.
I'd call it one of the biggest eye-openers in sports history and a treasure trove of tales that, as a teen ballplayer, I fantasied about living out in real life. The Seattle Pilots were my boys of summer.