All Hail The Sisterhood
My college softball team liked to jump into hotel pools with our clothes on. We called the jumps "pj Pamchenkos" — in honor of the cult classic movie, "The Cutting Edge" — and it was one of several ridiculous things we used to do, including chicken-nugget-eating contests, singing "Leaving on a Jet Plane" (while actually on a jet plane) and keeping "lucky" socks unwashed, no matter what.
I've been thinking about all these things as I watch the magnificent women of the U.S. soccer team celebrate their record-breaking fourth World Cup.
Seeing them dominate their opponents — while shouldering withering expectations on and off the field — has been mesmerizing. I love the team's swagger and how much respect they have for the game. Their out-loud example of strength and grace, especially for my own three little girls, feels essential. And I love that they are using their platform — and spending their political capital (or else, what's it for?) — to press for pay equity and equality now.
Game over, U.S. Soccer. Show them the money.
But this past month also has me thinking about why my heart is bursting with pride, because surely it's about more than great soccer. Why do I love this team? Why are my friends pledging to go Rapinoe lavender? Why are we planning trips to the World Cup in 2023 (location TBD)?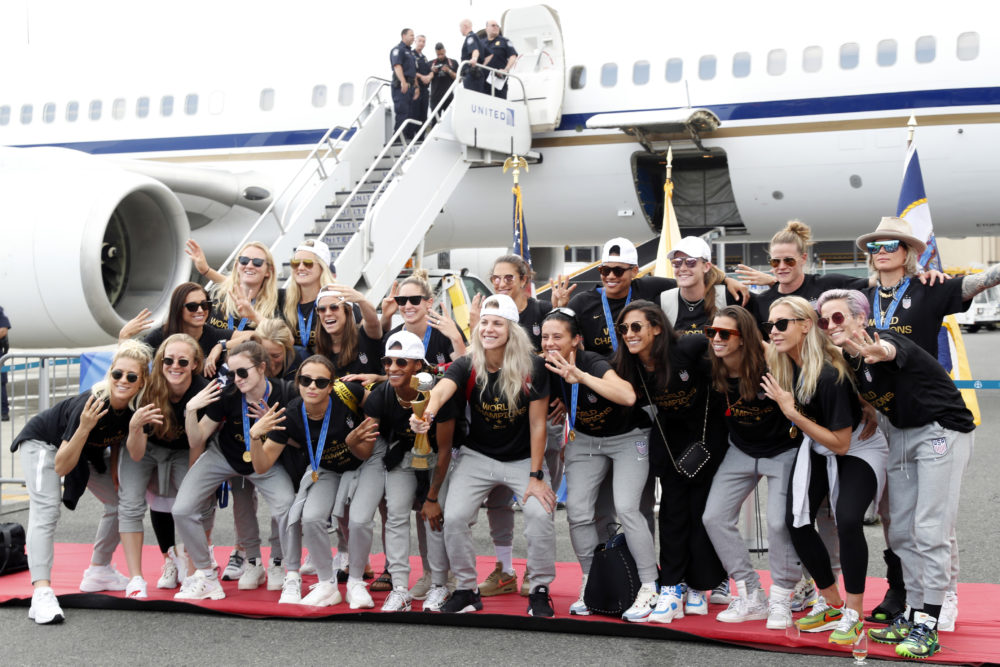 I grew up in the Connecticut town that soccer legend and former U.S. women's soccer coach Tony DiCicco called home. Back then, he owned a store called Soccer Plus. It was situated in a renovated Victorian at the center of our town, which more or less resembles Stars Hollow from the "Gilmore Girls." I visited the shop at least a couple of times a year — including before my high school team started two-a-days in late August — for cleats and shiny new Umbros.
Probably because Tony was the very nice guy who ran soccer clinics in town, the women's U.S. national team felt familiar to me. My family scored tickets to the semifinal at the 1996 Olympics in Atlanta. And when the team won the World Cup in 1999, I cried, jumping up and down on the futon in my sweltering triple-decker in Somerville. Later that summer, home and bored, I jogged around the neighborhood, hoping to catch a glimpse of Mia Hamm and Julie Foudy. (The players hung out at the DiCicco's house sometimes, probably because U.S. Soccer only paid them a $10 per diem.)
I was awed by the '99ers athleticism and their willingness to fight for what's right. Even more so, I was enamored by the sisterhood of women. I feel the same way about the 2019 team.
In them, I recall my own experiences as an athlete: team dinners, games of rummy in cramped hotel rooms, sing-alongs on road trips, suffering through ice baths and grumbling about coaches. The USWNT has been hard at work for decades building a culture that prizes excellence, egoless hard work, winning (yes) — and humor and friendship. They are one unit: a fierce sisterhood built on the intense physical and emotional connections forged in competition.
The legacy of the sisterhood is paying dividends. The 2019 World Cup broke all viewership records; the New York Times committed more resources than ever to covering the month-long event; Nike has already sold more U.S. women's jerseys this season than any other soccer jersey ever; Allstate, the insurance company, is sponsoring a five-city victory tour that kicks off at the Rose Bowl, in Pasadena; Budweiser has committed to a multi-year sponsorship of the NWSL, the National Women's Soccer League; and Sen. Joe Manchin of West Virginia is planning to propose legislation that would block any federal funding for the 2026 World Cup (to be hosted in the U.S.) until U.S. soccer pays the women's and men's national teams equally.
I found an old notebook the other day. Inside, on a page by itself, I'd written this quote from Mia Hamm: "My coach said I run like a girl. And I said if he ran a little faster he could too."
On a team, women get to be goofy and ruthless and comfortable with their own power at a level that's almost impossible to imagine in another arena. Not every team is great, but the ones that are have a magical, ephemeral quality to them: the unique chemistry of 23 souls put through a crucible. What we're witnessing right now — in the way they celebrate goals or burst into song -- is the unbridled joy that comes with a freeness in being themselves, and in supporting one another.
There's a straight line from Mia, to Abby, to Alex, to Rose. Each woman mentoring the next; pushing for the change that — perhaps — has finally arrived.