Then Trump Came For The Scientists
This article is more than 3 years old.
Since first erroneously tweeting that Hurricane Dorian was threatening Alabama on Sept. 1, President Trump's barrage of more than a dozen tweets in his own defense has continued to sow confusion in matters of life, death and property loss. Even worse, he is once again undermining public trust in science and the scientific institutions that benefit us. You'll recall Trump's previous assertions that a winter cold snap disproves global warming (it doesn't), poor forest management led to the California wildfires (it didn't), and wind turbines cause cancer (they don't).
Unlike the causes of climate change, wildfires and cancer, however, weather is visible to everyone — and everyone can compare his words with the hurricane's actual path.
In this case, because Trump's fallibility is so concrete, he has gone to extraordinary lengths to deny it. Trump reportedly ordered a Coast Guard admiral to take responsibility for giving him the erroneous forecast. Commerce Secretary Wilbur Ross is said to have threatened to fire top NOAA officials if the agency didn't disavow the Birmingham National Weather Service office (which contradicted and corrected Trump's mistake). NOAA issued a highly unusual unsigned statement supporting Trump over its own meteorologists. And now we've learned that NOAA staff were warned not to contradict Trump, compromising the integrity of an agency celebrated for scientific rigor and objective service to the nation.
Scientists confront their errors, modify their theories, compare experiment with reality, find new errors then refine and correct again.
Weather is a "chaotic" system representing the day-to-day fluctuation of climate. Chaos is popularly described as the "butterfly effect," the idea that a butterfly flapping its wings, through the accumulation of outside influences, could cause a windstorm thousands of miles away. A hurricane is sensitive to the changing conditions along its path, making it notoriously difficult to predict. It's why the trained professionals at the National Hurricane Center issue public advisories with updated information every six hours -- to keep people safe.
Computer modeling is the basis of much scientific investigation, from the subatomic realm of quantum mechanics to the universe of cosmology. In my own work, I model the properties of certain materials. I add a bit of physics here, some educated guesswork there, factor in geometry, then test the result by computer. When my simulations don't match actual material behavior, I revise and try again. This process is similar to the work of hurricane research.
The constant refinement of computer models has improved forecasting over time, but a model's predictive powers are only as good as the model and the information put to it. Meteorological work is especially difficult, requiring supercomputers to crunch a continual stream of data from thousands of weather stations around the world.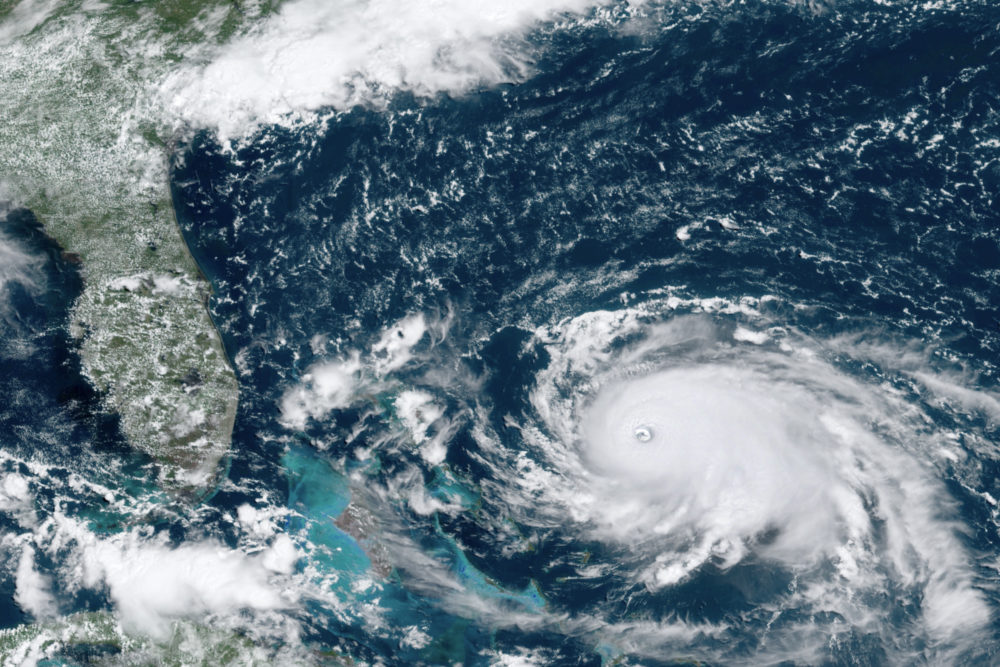 Scientists are sometimes described as "faceless," toiling in laboratories or in front of computers. It's a faintly disparaging image, perhaps, but it's also the picture of someone eschewing celebrity in the pursuit of truth.
Scientists confront their errors, modify their theories, compare experiment with reality, find new errors then refine and correct again. The expertise of faceless meteorologists is what gives people confidence in the National Weather Service, making hundreds of thousands willing to leave their homes and evacuate in advance of Hurricane Dorian.
In the aftermath of this latest tweetstorm, I worry we will lose that confidence. Like a magician waving his hand to distract an audience, Trump is taking advantage of unfamiliarity with the nuances of scientific work. By conflating probability with possibility, his magical thinking obscures the semantic and real difference between saying I have a 0.001% chance of winning Megabucks and proclaiming I could win Megabucks.
When we don't know whom to believe, we believe no one.
What damage will this have done the next time a hurricane hits? Will we know whether to evacuate or stay put? What about the other governmental bodies that rely on science, like the Food and Drug Administration, the Centers for Disease Control, the Environmental Protection Agency, the Department of Agriculture and the National Institutes of Health?
Already these institutions have seen budget cuts, deregulation at the expense of public safety, suppression of research and reports, and elimination of expert staff, often with the whiff that the administration had to destroy this village in order to save it. Can we continue to trust these agencies to tell us which drugs are safe, when the water is clean or who climate change threatens?
Hurricane Dorian wrecked the Bahamas and flooded parts of North Carolina. The storm swept by New England — and Trump still can't admit he was wrong. This would be a tempest in a teacup if only the ramifications weren't so consequential: When we don't know whom to believe, we believe no one.